Demographic composition of PAT and PTI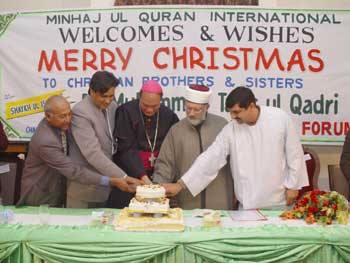 Pakistan Awami Tehreek
Most Sunni Barelvis/Sufis who represent about 60-65% of Pakistan's total population (Shias are 20-25%, Deobandis and Salafis are 10%) support either Dr Tahir ul Qadri (Pakistan Awami Tehreek) or Allama Hamid Raza (Sunni Ittehad Council) as their political leaders. It may be noted that Sunni Sufis/Barelvis represent 95% of the Sunni population in Punjab and Sindh while they represent up to 50% of the Sunni population in Balochistan and Khyber Pakhtunkhwa.
Most Shia Muslims (20-25% of Pakistan's total population) currently support either Dr Qadri (directly or via MWM) or Imran Khan.
There is also a significant number of moderate Deobandis and Salafis/AhleHadith who support Dr Qadri's progressive and anti-sectarian agenda.
A significant nummber of religious minority persons too support Dr Qadri, for example, J Salik, Pakistan's top Christian leader. There are also some Hindu and Sikh participants in Dr Qadri's PAT movement. Recently I saw a very impressive TV report of a Hindu gril, Sissa, who travelled all the way from Larkana Sindh to participate in Dr Tahir ul Qadri's Inqilab rally / sit-in in Islamabad.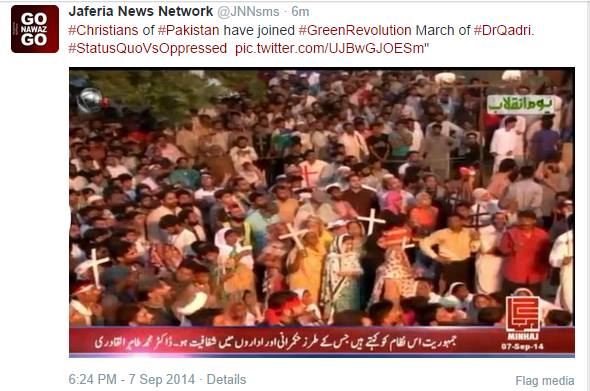 There are many Sunni, Shia, Christian, Hindu and other Pakistanis of middle class and lower socio-economic backgrounds who are today supporting Dr Qadri and/or Imran Khan. The traditional status quo parties, pro-takfiri Islmaist bigots and commercial liberals are opposed to 'change' and their opposition is understandable.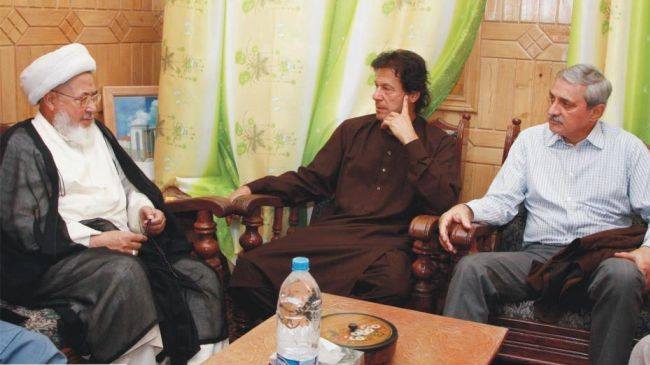 Pakistan Tehreek-e-Insaf (PTI)
PTI, led by Imran Khan, has recently emerged as a truly federal political party because of the significant following it has in Islamabad, Punjab, Khyber Pakhtunkhwa, Sindh, Balochistan and Gilgit Baltistan. Particularly in Peshawar, Lahore, Karachi, Islamabad and certian other areas, the party has brought Pakistanis of diverse ethnic (Pakhtun, Punjabi, Mohajir, Sindhi, Baloch, Balti etc) and faith (Sunni Sufi/Barelvi, Deobandi, Shia, Salafi, Christian etc) backgrounds together under the leadership of Imran Khan. The party seeks to rid country of the status quo parties whose politics revolves around corruption, elitism, dynasties and takfiri sectarianism.
Most of PTI's supporters in KP happen to be moderate Deobandis, Sunni Barelvis/Sufis, Shias and Salafis.
In Punjab, where Sunni Barelvis/Sufis and Shias are in dominant majority, PTI is popular not only in Sunni Barelvis and Shias abut also in Deobandis, Salafis and Christians.
In Sindh, particularly in Karachi and Haiderabad but also in upper Sindh, PTI has a large number of following in Sunni Sufis and Shias, as well as Deobandis, Salafis and Hindus, of Mohajir, Sindhi, Pashtun and Baloch backgrounds.
In Balochistan, PTI has significant presence in Quetta although the party needs to strengthen its organization and base in that province in order to secure some seats in the Assembly.
Comments
comments