Geo-PMLN-ASWJ's London Plan conspiracy theory enabling Sunni Sufi and Shia genocide in Pakistan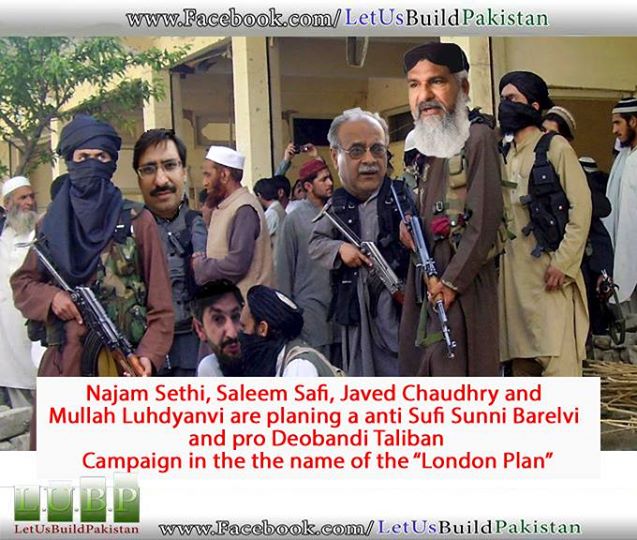 The Saudi backed Takfiri Establishment comprising of ASWJ-TTP, PMLN, Geo/Jang has started a hate campaign against Sunni Barelvis, Sufis and Shias.  This can be seen in the way that PMLN leaders along with Najam Sethi, Saleem Safi, Javed Chaudhry, Luhdyanvi and Tahir Ashrafi are promoting a conspiracy in the the name of the "London Plan" to enable genocide of Sunni Sufis and Shias.
This London Plan was basically a tactic to deflect attention from the Takfiri Plan. The takfiri plan is led by Generals Hamid Gul (DPC fame), former COASs Generals Aslam Beg and Kayani along with their civilian collaborators like  Ludhyanvi, Sethi, Safi, Mir, Ashrafi, Nisar etc.  Their goal is to  to weaken and annihliate Pakistan's Sunni Sufis and Shias and eliminate their presence from the civil and military bureaucracy.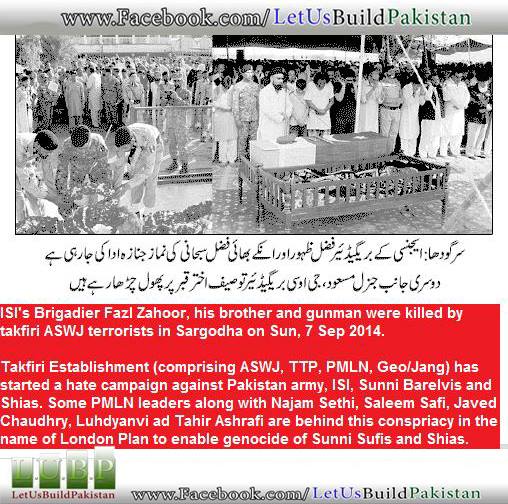 A recent expample is how on 6 Sep (ASWJ's foundation day), an ISI brigadier (Sunni Sufi) was killed in Sargodha, Naval ships were attacked in Karachi, and a senior Shia leader (Kumaili) was killed in Karachi. On the same day, a Sikh trader was killed in Peshawar. All of these innocent people were killed because they did not belong to the Deobandi cult.
In the last couple of days and under increasing pressure to deflect attention away from the Model Town Sufi massacre and the growing rigging allegations by the PMLN regime, Najam Sethi is clearly resorting to vile conspiracy theories.
Sethi is now selectively resorting to an email thread by Ejaz Hussain to deny the systematic rigging allegations against the former Chief Justice, former COAS, other corrupt judges and himself as a part of Jang Media Group (also known as Lashkar-e-Jangvi). In this instance, Sethi is also echoing the slander by the banned Deobandi terrorist organization Sipah-e-Sahaba Pakistan aka ASWJ. Both ASWJ and Sethi are using the same slander tactics to place Dr. Tahir ul Qadri in harm's way. Both are trying to connect the mass protest movement by Dr. Tahir ul Qadri as an "Iranian conspiracy" – a death sentence in Pakistan today where the Saudi establishment hold sway in the shape of the PMLN-ASWJ alliance.
The September 6th killing of a Sunni Barelvi retired brigadier, Fazal Rabbani and his brother, Fazal Qadri who were participating in a Sufi program (Qawwali or Samaa) coincides with the killing of a prominent Shia leader in Karachi, Allama Ali Akbar Kumaili.   A Sikh was also murdered in Peshawar. Sunni Barelvis/Sufis,  Shias, Sikhs, Hindus, Ahmadis and Christians have all suffered at the hands of Deobandi terrorist organizations like ASWJ-LeJ and TTP.  These terrorist groups and certain pro-PMLN or global establishment journalists like Saleem Safi, Najam Sethi, Talat Hussain etc are all on the same platform of being propagandists of  the PMLN regime.
It must be mentioned that Najam Sethi has provided uncontested media space to ASWJ-LeJ both in his Geo TV show and his Friday Times magazine. In fact, Najam Sethi was one of the first to provide airtime to Ludhyianvi – the chief of the banned Deobandi terrorist organization ASWJ-LeJ.
In a recent interview to the BBC, Dr. Tahir ul Qadri very clearly came out against the Taliban and their urban partners, the ASWJ-LeJ who are openly being supported by the PML N and vice versa. His interview to the BBC coincides with Najam Sethi's bizarre allegations. If there is one thing that is clear in the current situation in Pakistan it is this – that commercial liberals like Sethi under the patronage of PML N, are in sync with the ASWJ-LeJ and the Taliban.
It is therefore no surprise that Pakistan's persecuted communities including the Sunni Barelvi/Sufis, Shias, Christians, Hindus and Sikhs, all of whom are victims of Deobandi takfiri terrorism are supporting the banner of Dr. Tahir ul Qadri.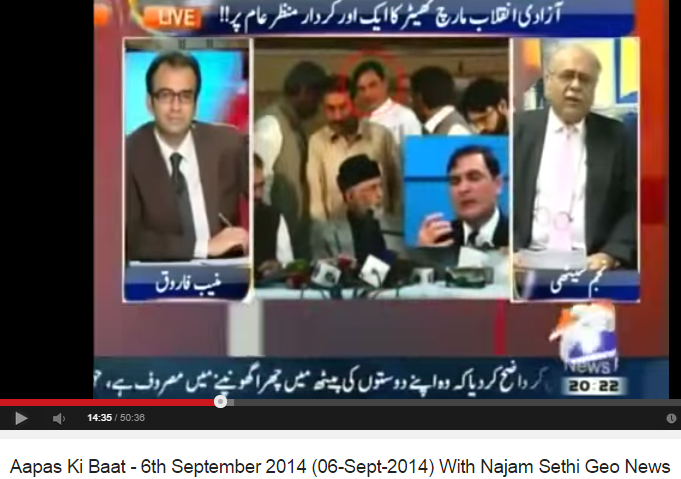 Najam Sethi's video:
Watch this video from 11:20 to pretty much to the end. In short, Sethi is defending the honour of General kayani,  Chief Justice Iftikhar Chaudhry, PM Nawaz Sharif and himself (the caretaker CM of the Punjab). Sethi is implicating Dr Tahir ul Qadri, Ejaz Hussain, Chaudhry Shujaat and Pervez Elahi, Murtaza Poya along with Western and Iranian governments. He is alluding to a grand London Plan implicating Murtaza Poya, Ejaz Hussain, Iran, Dr Qadri. In other words, Sethi is implicating Shias and Sunni Barelvis in a grand international plan against Pakistan, which is pretty much the ASWJ/LeJ discourse. A few days ago, Ludhyanvi too referred to foreign / Iranian conspiracy behind Imran Khan and Dr Qadri's sit-ins in Islamabad.
At 44:00, Sethi refers to and endorses Saleem Safi's takfiri discourse in support of Salafi and Deobandi jihadists while pitching them against conspriators from Sunni Barelvi, Sufi and Shia communities.  Sethi, in the footsteps of Safi and Ludhyanvi, implicates Iran, and promotes the Sunni Barelvi-Shia conspiracy against 'peaceful' Deobandi and Salafi. Sethi supports Safi's discourse and implicates Qadri in Iran's sectarian binary and very cleverly suggests that there 'may be' an Iranian push behind Dr Qadri. Sethi alleges that TuQ tries to curry favor from the West, Pakistan army and Iran etc — what a major conspriacy theory in a very wishy washy way.
******************************
Examples of PMLN sponsored propaganda:

ISLAMABAD: Chief Coordinator of Pakistan Muslim League-Nawaz (PML-N) Siddiqul Farooq on Sunday said killing of 12 people in Model Town Lahore was part of the 'Qadri-Chaudhry London Plan', which was implemented through Minhajul Quran's armed workers and some loyalists of Chaudhry Pervaiz Elahi in Punjab police.
He said the London Plan was finalised in a series of meetings between Pakistan Awami Tehreek chief Dr Tahirul Qadri and and Pakistan Muslim League-Quaid (PML-Q) leaders Chaudhry Shujaat Hussain and Pervaiz Elahi. Under the plan, homecoming of Tahirul Qadri was advanced to June 23 from July to derail the present democratic government by counting on the 'blood of some workers', he said while addressing a press conference here at PML-N Secretariat.
He said the conspirators took advantage of the action to remove illegal barriers outside the Minhajul Quran offices according to the plan, which was hatched to disrupt and sabotage the development process currently underway in the country.

http://www.dailytimes.com.pk/…/model-town-incident-part…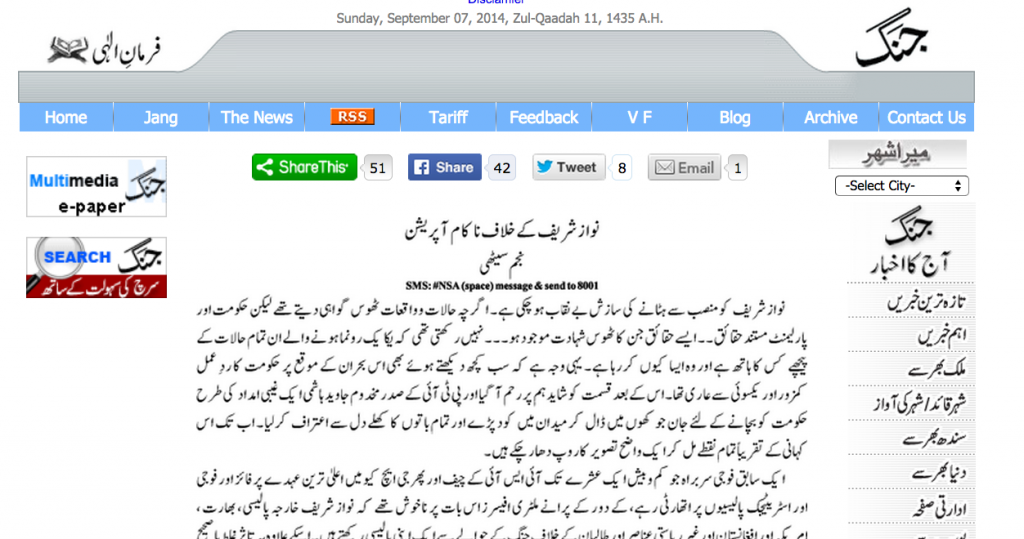 http://jang.com.pk/jang/sep2014-daily/07-09-2014/col6.htm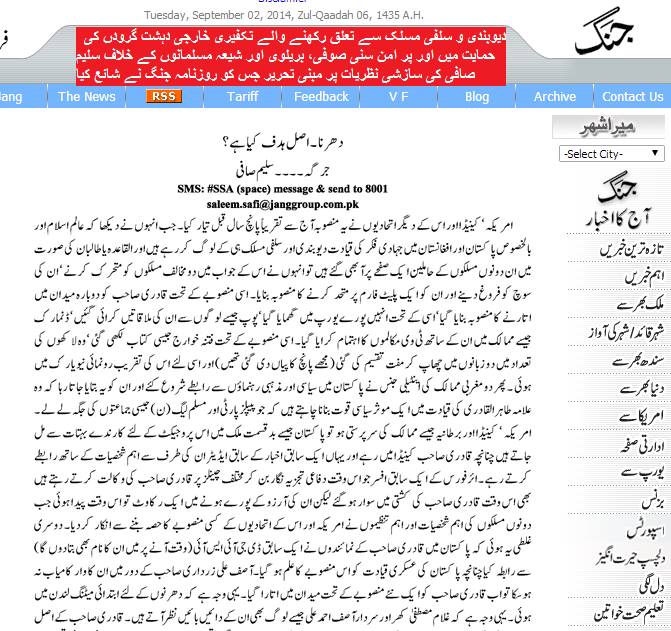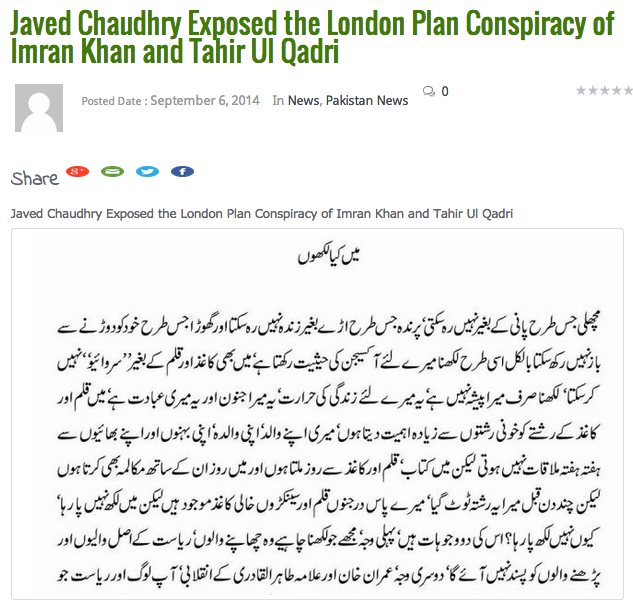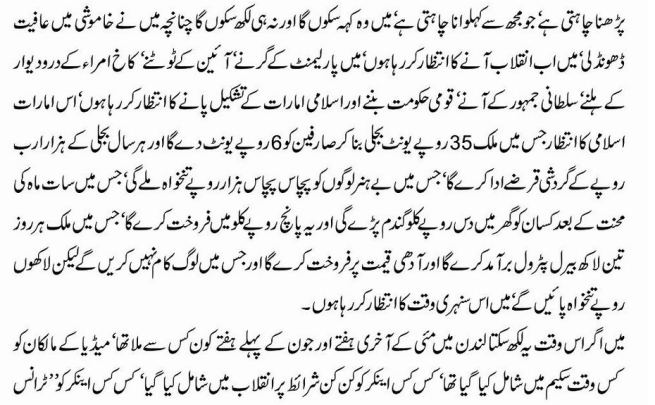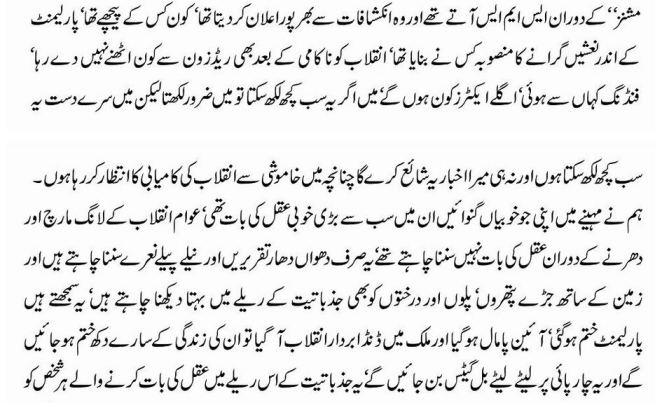 http://newscloud.pk/javed-chaudhry-exposed-the-london-plan-conspiracy-of-imran-khan-and-tahir-ul-qadri/
Similar allegation is being levelled by "secular Deobandi" Pashtun leader Ghulam Ahmed Bilour (the Blasphemy movie murder fatwa fame) who said that Dr Qadri was following an international agenda. http://www.dawn.com/news/1130859/joint-session-of-parliament-underway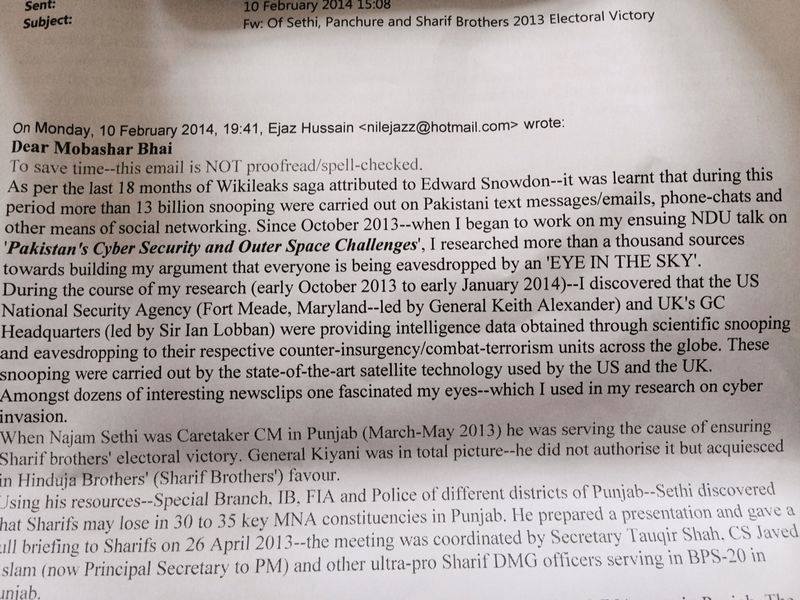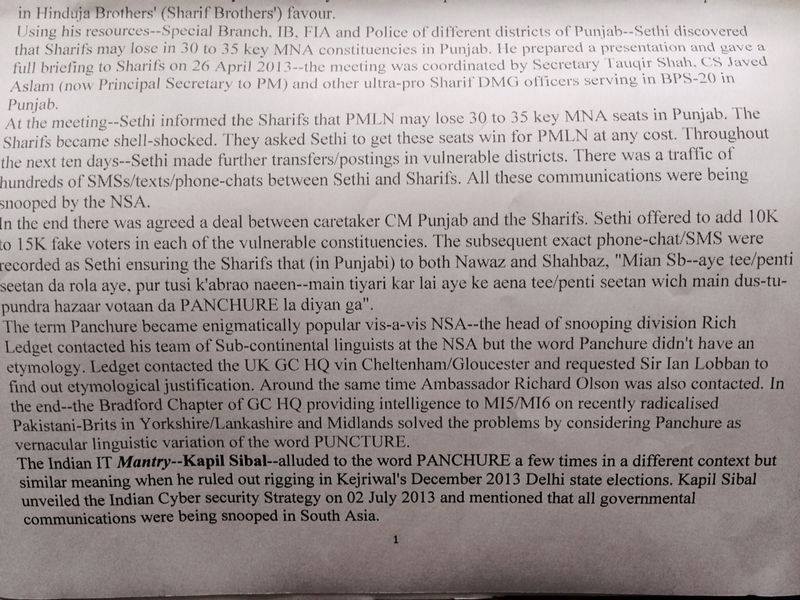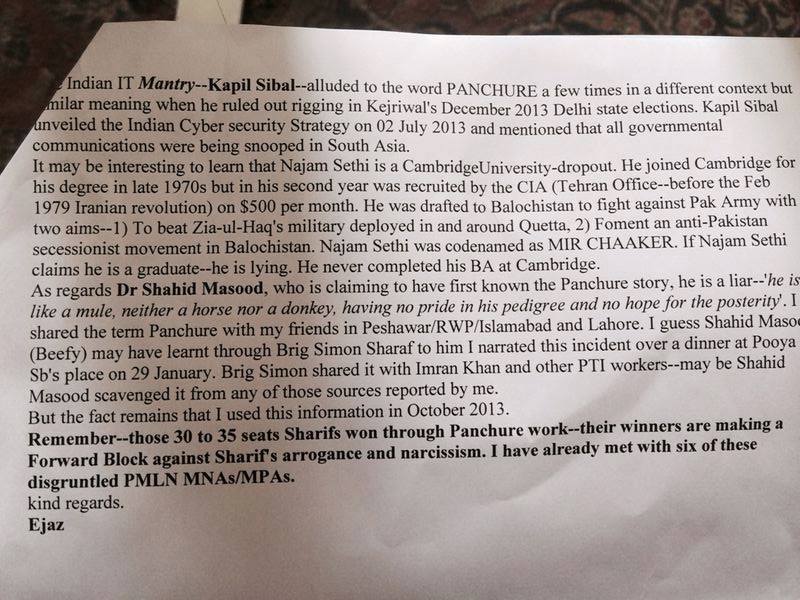 Comments
comments