Dilemma of Muhamamd Amir Rana and other Deobandi propagandists
The Deobandi apologists of Taliban and Sipah-e-Sahaba (ASWJ) like Muhammad Amir Rana are hard at work fabricating facts and framing false propaganda narratives against peaceful Sunni Sufi/Barelvi majority of Pakistan to implement the intolerant and violent agenda of the 5% Deobandi takfiri minority. They propgate lies like Sufi Sunni Brelvis and Shias are small and insignificant part of Pakistan. The truth is Brelvis are sixty to seventy percent of the Muslim population and Shia another twenty percent.
Deobandis are small minority comprising five to ten percent of Pakistan, that seek a version of Islam close to Saudi Arabian Wahhabis (who are also a minority of twenty percent in Saudi Arabia), they want changes like:
1. Women should not drive. Women should be treated like slaves or objects
2. Qawalli, Urs, Eid Milad un Nabi and Moharrum are processions are Bidah and should be forcefully stopped.
3. Only one school of thought (Deobandi) should dominate even if they are five to ten percent  of the population. Centralized clergy and religious policing.
4. Sufi Sunni and Shia should be declared Mushriq and Kafir respectively and forced to follow Deobandi Islam
The Sufi Sunni and Shia or traditional Muslims of India and Pakistan would like:
1. Rights and respect of women.
2. Culturally tolerant Islam that is inclusive and tolerant of Shia and Sunni rituals as well as respectful of rituals of other faiths.
3. Live and let live and accept each other's differences.
4. Not to impose any one school of thought over another.
The Deobandisation (Arabization or Wahhabization) was started by General Zia ul Haq under the guise of Islam, this was heavily supported by Saudi Arabia. Since this started even before the Iranian revolution in Iran, the argument this was somehow a counter to Iran is simply more Deobandi Wahhabi propaganda to scare the Sufi Sunni into joining their austere and hateful interpretations by painting Iran as the boogeyman.
The children of Zia are alive and well and continue to show their face in the form of Amir Rana, Hamid Mir, CJP Iftikhar Chaudry and countless others. Besides the obvious tiny minority of murderers of Sufi Sunni Brelvi and Shia Muslims like Ahmed Ludhanvi and Malik Ishaq, there are score of Deobandi apologists that form the umbrella protection for the Zia'st Suadi Deobandized Islamic dream. The problem of terrorism and oppression in Pakistan is not the tiny amount of killers. The problem is the larger and more powerful group of Takfiri Deobandi apologist and the indifference they create by their false propaganda.
So why would they like Dr. Tahir ul Qadri? He is a leader of the majority Sufi Sunni Brelvi and Shia Pakistan.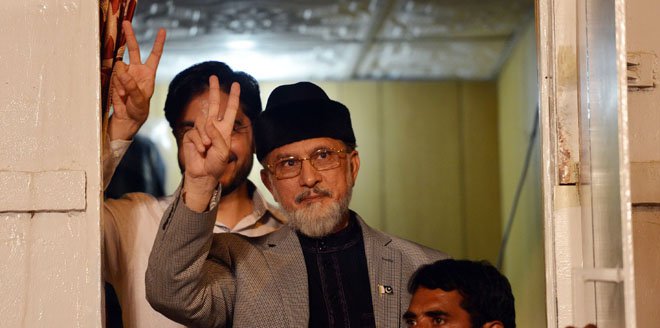 This anti-Sunni Sufis/Barelvi article by Amir Rana was printed with the title "Qadri's Dreams" in The News on Sunday on August 31, 2014. 

The future of Tahirul Qadri's quest for a revolution is uncertain, but his scuffle will certainly add to persisting sectarian polarisation in the country. Small Barelvi and Shia groups and parties struggling to go up against their Deobandi sectarian rivals may come under the influence of Qadri's Pakistan Awami Tehreek.

Though Tahirul Qadri claims he does not have any sectarian agenda and vows to eradicate sectarian hatred and persecution from the country, he seeks support only from the Barelvi school of thought and factions of Shia community, who admire his oratory.

One apparent reason for not giving sectarian colour to his recent agitation and sit-in was Qadri's desire to emerge as a non-controversial 'revolutionary' leader in the country, which is his longstanding dream. A review of his earlier publications suggest that he has been following this dream since late 1980s, when he started revealing his controversial dreams.

His dreams had created anger among religious scholars including those belonging to the Barelvi school of thought. However, he has gradually succeeded in influencing a segment of middle-class communities in central and northern Punjab. Interestingly, migrants from these regions constitute a bulk of Pakistani diasporas in Europe and North America, particularly in the UK, Nordic countries and Canada. Through his followers belonging to central and northern Punjab, Qadri has been able to hold influence among Pakistani diaspora communities. Also, this influence helped him strengthen his image of a modern religious scholar.

Though most among Pakistan's credible religious scholars have serious concerns about his dreams and religious interpretations, he has successfully managed to sustain his popularity through rhetorical claims and rabble-rousing. Another reason for his sustained popularity among diaspora communities is that the latter interpreted his dreams by themselves without consulting some credible experts of Islamic law.

He decided to transform his day dreaming into reality by converting his religious support base into political support base. He formed a political party and contested four consecutive elections. But only once, during General Musharraf's reign in 2002, he could manage to win a seat from the Jhang district of Punjab. However, during his political career he has remained part of alliances of opposition parties. But that too was perhaps not enough to achieve his political ambitions.

Qadri's failures in Pakistan's politics and growing resentment among his followers over his political adventures convinced him to quit politics and settle in Canada.

It provided an excellent opportunity to small Barelvi and Shia parties to pool their resources in Qadri's movement to maximise their impact and to protect their interests. Sunni Tehreek, Sunni Ittehad Council and Majlis Wahdatul Muslimeen have already joined Qadri.
During the early years of his political career, Qadri had tried to stay away from the Barelvi political parties; the Barelvi political leadership also did not take him seriously. Though Barelvi parties themselves were not performing well in electoral politics, they were considered part of the religious-political mainstream. The Barelvis were not alone in their weak electoral performance; Jamaat-e-Islami (JI) and Jamiat Ulema-e-Islam (JUI) were facing similar crisis. Most importantly, the Barelvis were not facing any serious sectarian challenge, unlike Shias. Their representative party Jamiat Ulema-e-Pakistan (JUP) was part of Muttahida Majlis-e-Amal (MMA), an alliance of religious-political parties, which led governments in Khyber Pakhtunkhwa and Balochistan provinces in 2002.

Now the situation is different. The JI and JUI still enjoy shares in power, either in federal or provincial governments but, after the death of its senior leadership, JUP has weakened over time; the Taliban and sectarian groups have created a survival challenge for them as well.
As his supporters were against any repeat of earlier failed political adventures, particularly those among Pakistani diaspora communities in the West, Qadri came up with the slogan of revolution and found the space to continue his political adventures.

On the other hand, it provided an excellent opportunity to small Barelvi and Shia parties to pool their resources in Qadri's movement to maximise their impact and to protect their interests. Sunni Tehreek, Sunni Ittehad Council and Majlis Wahdatul Muslimeen have already joined Qadri.

Tahirul Qadri has emerged as a flicker of hope for these parties, which may not be very hopeful of Qadri's revolution but look up to him and his movement as a fitting response to the rise of Deobandi groups in Pakistan. They hope they can create some sectarian balance in the country.

The Deobandi organisations also see Qadri's adventure in the sectarian perspective and take it as a challenge. Their reaction suggests they have taken these developments very seriously. It is not a good sign for the society, which is already fragmented on sectarian, religious and ideological bases. These developments will increase sectarian divide and confrontation, which may further disturb the sectarian balance in the country. How can Qadri avoid this situation? It will be a tougher challenge to confront than his revolutionary movement.

http://tns.thenews.com.pk/tahirul-qadris-dreams/#.VAPPpvldUgV
Comments
comments