Army upset at banned terror outfit's support for PM Nawaz Sharif, wants immediate political settlement with Imran and Qadri – Dawn's report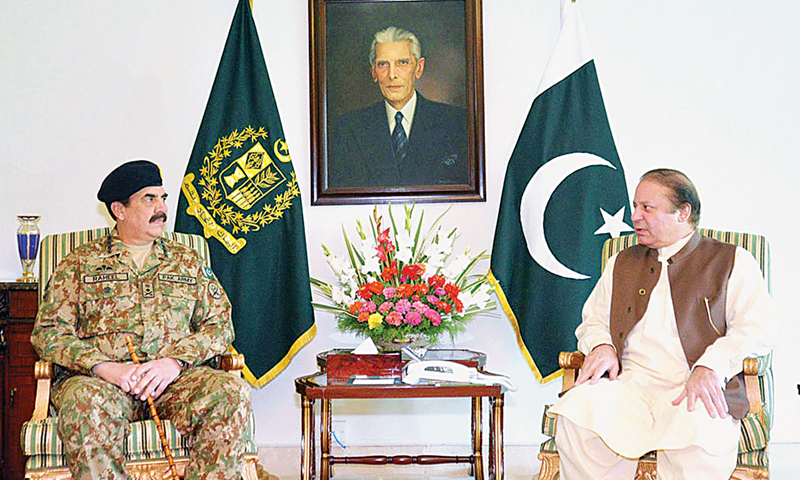 ISLAMABAD: The army warned on Tuesday against protracted protest by agitating political parties and called upon the government to urgently reach a political settlement.
Chief of the Army Staff Gen Raheel Sharif, who met Prime Minister Nawaz Sharif on the ongoing political crisis, conveyed the "institutional concerns" and asked for staving off a situation that could potentially draw the military into the conflict, according to a source privy to the meeting.
A statement issued by the Prime Minister's Office after the over two-hour long meeting said: "There was a consensus on the need to resolve the ongoing issue expeditiously in the best national interest."
This was Gen Raheel's second meeting with the prime minister since Pakistan Tehreek-i-Insaf and Pakistan Awami Tehreek protesters marched on to the federal capital to press their demand for the government to step down.
General Raheel warns against protracted protest
The earlier meeting, exactly a week ago, was followed by a statement by the ISPR asking both the government and the protesting parties to exercise restraint and find a way out of the crisis through dialogue.
The latest meeting at the PM House included a one-to-one session between the army chief and the prime minister and one in which the two were assisted by their top aides.
The meeting that was seen as "extremely important" across the political spectrum took place as negotiations between the government and PTI and PAT stalled over their insistence on resignation of the prime minister and registration of Model Town police firing case, respectively.
On Monday, PAT chief Dr Tahirul Qadri set a 48-hour deadline for the government to meet his demands.
Gen Raheel, while stressing on an early resolution of the crisis, referred to the "overall security context" and said it did not allow for continued confrontation.
The military is carrying out a counter-militancy operation in North Waziristan, while skirmishes are continuing on the de-facto border with India.
He feared that prolonged agitation could be exploited by external elements.
The army chief was reportedly particularly concerned about the counter-rallies brought out by the ruling party in its support, the involvement of sectarian groups in pro-government rallies and reports about plans for use of force against the protesters.
The army pressure for quick resolution of the dispute compelled the government to resume its negotiations with the PTI that had hit an impasse on Saturday.
However, no fresh effort was made to placate the PAT. The last attempt to reach out to Dr Qadri was made on Sunday when Railways Minister Khawaja Saad Rafiq of the PML-N visited the cleric in his container at the protest site.
Source:
http://www.dawn.com/news/1128059/army-wants-immediate-political-settlement
Comments
comments