What next: Najam Sethi's latest sophistry in defense of PML-N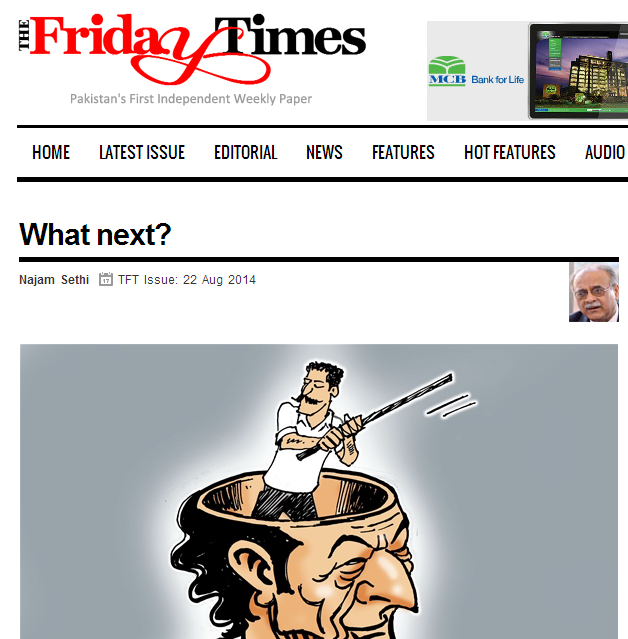 In Najam Sethi's "What Next" (The Friday Times,  August 22, 2014), he tries hard to be neutral but in his typical style, he cannot resist making some ridiculous assertions.  He also carefully wipes out any mention of his own central role in the heavily rigged, controversial 2013 elections.
With nuggets like this:
The third is a consensus in civil society that Imran Khan's charges of institutional election rigging are unmerited because all domestic and independent pollsters and monitors have declared these elections to be the fairest and freest since 1970
Can one really  blame the reader for questioning Sethi's credibility as a journalist!  Then again, this article makes more sense if it is read from the perspective of a PML N (paid?) loyalist diluting the misdeeds of his superiors.
After making this assertion, without any references of course, Sethi then goes on to counter his own argument.  If these elections are so fair and free, then why the need for an Independent commission!
It would be so much better for the readers if Sethi was honest about his own central role in what is emerging to be one of the most sham elections held in Pakistan's history and on par with the 1990 and 1997 elections in which Sethi's currently employers, the PML N also benefited.  The rigging in these elections started much before the actual polling when the Taliban threatened the PPP, MQM and ANP and issued support statements in favour of PML N and PTI.  The rigging continued when the Election Commission was effectively hijacked by PCO CJP, Rana Iftikhar Chaudhary and his selective direction to the Returning Officers.
Before the 2013 elections, in a self defeating move that has become typical of its recent history, the PPP recommended Najam Sethi for the role of the all-important caretaker Chief Minister of Punjab.  This in spite of a long history of Sethi's role as a hatchet man of the establishment/PML N in framing dubious charges against the PPP and in his central role in maligning  Shaheed Mohtarma Benazir Bhutto.
After the death of Benazir Bhutto, the PPP has become spineless and infiltrated by backing stabbing opportunists like Aitzaz Ahsan.  However, the rot starts at the top and the blame for this mess lies with Asif Zardari and Bilawal. They should have listened to the loyal cadres of their own party when senior PPP Punjab leader Raja Riaz had this to say as early as 2013
Exposing the alleged role of former caretaker Punjab Chief Minister Najam Sethi behind rigging in the province, Raja Riaz Ahmed said that his appointment as the PCB head had come as a reward of his services for the Sharifs. Besides, he said, special favors, in and outside, the country had also been given to Sethi for his support to the PML-N.

Raja alleged that Najam Sethi, in connivance with the Election Commission, the Judiciary and bureaucracy of Punjab manipulated the results to defeat PPP. He said the results were not acceptable to the PPP.

To another question, he said that supporting the names of Fakhr ud Din G Ibrahim and Najam Sethi as caretaker CM were two great mistakes on the part of the PPP"

http://www.thenews.com.pk/Todays-News-5-188266-PPP-demands-fresh-elections
While Asif Zardari and son Bilawal have made some half hearted statements, they have done nothing substantial to dispel the notion that the PPP has now been reduced to the B team of the PML N.  When Bilawal had tweeted about the PML N government not having a real mandate, he should have taken his observations beyond twitter.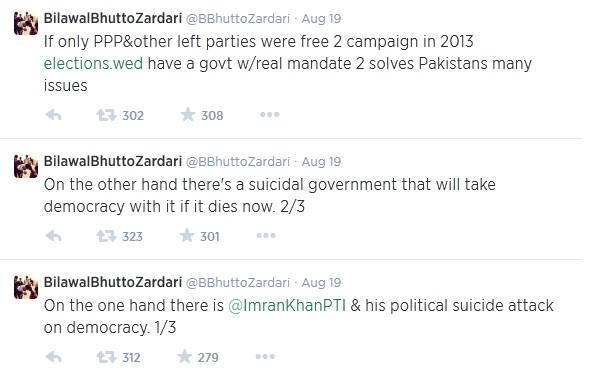 Sethi continues to make some strange and revealing "observations"
All political parties, ulema groups, civil society organisations, lawyers associations and media are on the same page on this account. Now parliament is demonstrating its resolve to resist any encroachment on its sovereignty.
Who are these Ulema groups?
Isn't one of them the banned Deobandi organization, the ASWJ-LeJ formerly known as Sipah Sahaba.  This is the same group whose leader was first hosted by Najam Sethi and even provided a free pulpit on the Friday Times pages of which Najam Sethi is the editor.
The other one is LeT/JuD followed by another Noora loyalist, Maulana Tahir Ashrafi, head of the Deobandi supremacist Pakistan (Deobandi) Ulema Council.
It seems that all…. Ulema groups" clearly excludes the country's majority Sunni Barelvi organizations like MeQ, SIC and ST.  No mention of the country's largest Shia ulema group, the MWM. Sethi does not even bother to talk about the Christians under the leadership of J. Salik who are also opposing PML N under the PAT banner.  PML N has overseen some of the worst pogroms against Pakistani Christian community.
Is Sethi being exclusive or selective? 
Either ways, it is a pathetic.  In the media groups, he has perhaps forgotten to mention that the only ones displaying blind allegiance to PML N are his own JANG/GEO group.  In his typical arrogance, other media groups that are providing coverage to PAT and PTI protest rallies are not worthy of a mention.
A couple of dozen civil society activists made up of commercial liberals and boutique leftists has mostly been on the wrong side of history in Pakistan. As for the lawyer's, the current judges are one of the chief perpetrators of rigging so why lawyers hurt their commercial interests.
On the rigging investigation issue, Sethi proposes punishment for Nawaz Sharif and Imran Khan but hides the fact that his role as caretaker CM of Punjab is in question too. Of course he doesn't propose a punishment for himself.
On the model town massacre Sethi doesn't explain why PMLN govt is reluctant to register FIR in violation of court's order and how a fair inquiry is possible when Shahbaz remains in charge.
By omitting the most important details, Najam Sethi still cannot come up with a convincing argument as to why his PML N bosses and himself should not be held accountable for subverting democracy via rigged elections.
As for the murder and injury caused to over 100 Sunni activists of PAT, Najam Sethi is not alone in his carefree approach.  Most of Pakistan's celebrated human rights activists  have spent more time mocking and jeering PAT and its leader Dr. Tahir ul Qadri as opposed to expressing the proportionate condemnation of this police brutality under the tight control of the PML  N Punjab government.
Nawaz Sharif and co must face accountability.  The claim that this will somehow harm democracy is specious at best.  Former US President Nixon was indicted for far lesser crimes than the rigging and murder committed by the Sharifs and their hired cronies.  Nixon had to resign.  In the interests of justice and democracy as the two are not mutually exclusive, the Sharif brothers need to stand in the dock for their crimes.

Comments
comments