Islamabad sit-ins: What did Imran Khan and Tahir ul Qadri achieve?
Notwithstanding the emphasis on the minus-one formula, Imran Khan, Dr Qadri and tens of thousands of their followers have achieved most, if not all, of their objectives. Politics as they say is the art of the possible.
Weakened, bruised, and humiliated; even the Police and Army won't listen to him. Pakistan's Sharif is the New Karzai.
It would be a good idea for Prime Minister Nawaz Sharif to fight back and remain in power if there is any chance that he will recover in the days ahead and restore his former glory.
However, there is little evidence that he will be the same powerful prime minister that he was ten days ago i.e. on 14 Aug 2014.
Which raises the question: why is he adamant to remain in power at the cost of unnecessary humiliation?
The crisis has reduced him to becoming dependent on smaller politicians; including those he would not shake hands with ten days ago.
If he survives the mass demonstrations by young Pakistanis and by the newly politically-active middle class, Sharif is doomed to spend the rest of his days in office as a "deputy commissioner-type character."
This description does not come from his opponents. It comes from within his inner circle, from a close aide who spoke to Reuter's news service. The quote could indicate how much respect Sharif has lost inside his own party.
But a closer analysis of the rapid downfall in Sharif's fortunes paints a different, more ominous picture.
Nine days into the massive protests at the Azadi Square, Nawaz Sharif today could be the new 'Mayor of Islamabad' along the lines of Karzai, who is spoofed as a president whose authority is limited to the capital Kabul.
Sharif has seen a rapid downfall from power in less than a week.
He has been weakened, bruised and humiliated. No Pakistani prime minister since 1947 faced the kind of denigration that is heard daily on loudspeakers at Azadi Square in front of the Parliament and the federal government secretariat. A sizable chunk of young Pakistanis, the largest segment of the population, see the Sharif family as representative of everything wrong in Pakistani political system: the nepotism, corruption and organized violence.
Tuesday, August 19, 2014 will go down in Pakistani history as the day the federal Police, the provincial Punjab Police, and the Army all refused Nawaz Sharif's orders to use force against anti-Nawaz protesters.
Police officers declined to take telephone orders to attack the crowd and demanded written ones, which none of Sharif's ministers were ready to give. The Army refused to confront the protesters and limited itself to guarding key federal offices and buildings, including the Prime Minister House.
The legendary Lawyers Movement in 2007 took four months of nonstop protest demonstrations to force the government to reinstate the chief justice. But in PTI's Azadi March and PAT's Inqilab March, it took the activists about a week, starting Aug. 14, to bring Prime Minister Nawaz Sharif on the verge of collapse.
In just seven days, the swagger and arrogance that marked Sharif's one-year in office disappeared. Key ministers, like Saad Rafiq and Ahsan Iqbal, who openly scorned the opposition, are now forced to sit on the negotiating table with PAT and PTI.
Sharif finds himself begging the military to support him. This is the same military that was a target of an organized PMLN defamation campaign months earlier [through its media arm – Jang Group/Geo TV].
The verdict on Sharif government's ineptitude was sealed at 12:27 AM on Aug. 20, when the military spokesman released a statement urging the government and the protesting opposition to resolve the crisis peacefully.
The statement was especially embarrassing for Nawaz Sharif. The implicit message: his government was unable to manage the problem thereby forcing the military to intervene.
There is, however, a larger context to this story, linked to Sharif's ability to run Pakistan.
For some time, Sharif managed to have the media and political parties promote a conspiracy theory that linked the military to PAT/PTI protest. Sharif did this through incentives to amenable journalists and television anchors. This helped whip up anti-military sentiments thereby inviting likeminded parties to support Sharif against the military.
This is how Sharif shifted the debate from his own political failures to an alleged military coup in the making.
The fact is that this whole crisis is about one thing: government ineptitude. Prime Minister Nawaz Sharif has exhibited a gross inability to manage a crisis. His closest aides in the cabinet, who are known elements of instability, pushed him toward confrontation with the opposition and nearly led the country to a dangerous divide.
Sharif allowed an average political issue [alleged electoral fraud in a handful of constituencies] snowball in one year into a major political crisis that forcing opponents to the streets to seek justice.
His attitude as the chief executive of the country is characterized by recklessness. He manipulated the media and some sections of the judiciary.
When PAT and PTI decided to launch a long march to Islamabad, Sharif showed no interest in averting the march. Instead he created another crisis in the country by seizing commercial cargo containers to block roads, caused a bloodbath in Lahore, and nearly caused a bigger one in Islamabad. He did all this to stop the opposition from protesting peacefully inside the Red Zone of Islamabad. Ironically, Sharif and his party protested at the same place merely four years earlier, in 2011, against then President Zardari. No one stopped Sharif. There were no containers and no roadblocks.
Politicians sympathetic to Sharif concede today that the prime minister showed indecisiveness and a lack of acumen in managing a political crisis.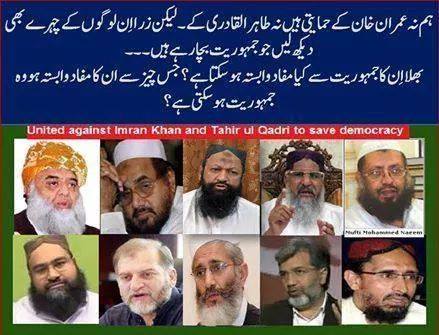 The icing on the cake came on Friday, Aug. 22, when Sharif asked rabid religious extremists [of banned takfiri Deobandi outfit Sipah-e-Sahaba Pakistan SSP aka ASWJ] to come out in his support and engage the PAT/PTI protesters. PAT being a follower of peaceful Sunni Sufi/Barelvi sect, this had the potential to ignite a sectarian conflict. [Bear in mind that more than 10,000 Sunni Sufis/Barelvis, 22,000 Shias, along with thousands of army soldiers, policemen and ordinary civilians have been massacred by Deobandi takfiri Khwarij of TTP-ASWJ-LeJ in the last few years]. Sharif knew this but went ahead anyway because the resulting takfiri chaos would take the heat off of his back. In another incident on the same day, Sharif sent PMLN's hooligans armed with sticks to intimidate a peaceful sit-in in Lahore by women and children demanding Sharif resign.
These examples of mismanagement come from a seasoned, third-time elected Prime Minister of Pakistan. The quality of leadership that Nawaz Sharif brings to top echelons of power in Islamabad is disturbing.
If Prime Minister Sharif fails, it will fall to Pakistan's military to clean up the mess, one way or the other.
In this case, should the military live with a weakened Sharif, hope that he will mend his ways? Or should the military help PTI, PAT and the country's activist middle class introduce a new political culture in Pakistan?
The first option seems more plausible, and safer. The only problem is that Sharif is a vengeful man. There is little chance he will repent. His 29-year record in politics shows that the only person he did not clash with while in power was President Zia, his mentor. Apart from that, Sharif's governments are a tale of confrontations and battles.
Sharif spells trouble, and there is no telling what a bruised and humiliated Sharif will do. His eyes are set on Pakistan's military. Under his watch, the ISI and its chief were humiliated on a local TV channel (Geo) in April. [The Sethi, Mir, Ansar Abbasi, Umar Cheema lobby is known to be loyalist to the Nawaz Sharif Enterprise.]
Another anomaly is that the Sharif family controls the party that founded Pakistan in 1947. This is preventing natural change and the rise of fresh blood.
The business empire of the Sharifs now stands at the intersection of State's interests and family interests. It is clear to many watchers that the Sharifs are integrating Pakistan's regional interests with their own business interests. The latter precedes the former in priority and importance.
The second option would mean that the military would lend support to a civilian government of professionals that would implement tough administrative and electoral reforms, redesign the political system, and then hold elections. Ideas developed by PTI, PAT and other stakeholders would be incorporated.
Sharif has been in power in Pakistan for 29 years, three times as Prime Minister and three times as Chief Minister of Punjab, the province with the most seats in Parliament. That is a long time for one man and one family by any democratic standard.
This may just be the right time for him to make an exit.
Whatever he decides today would mean the difference between saving his family fortunes and losing everything.
Author: Ahmed Quraishi – with minor edits
Comments
comments