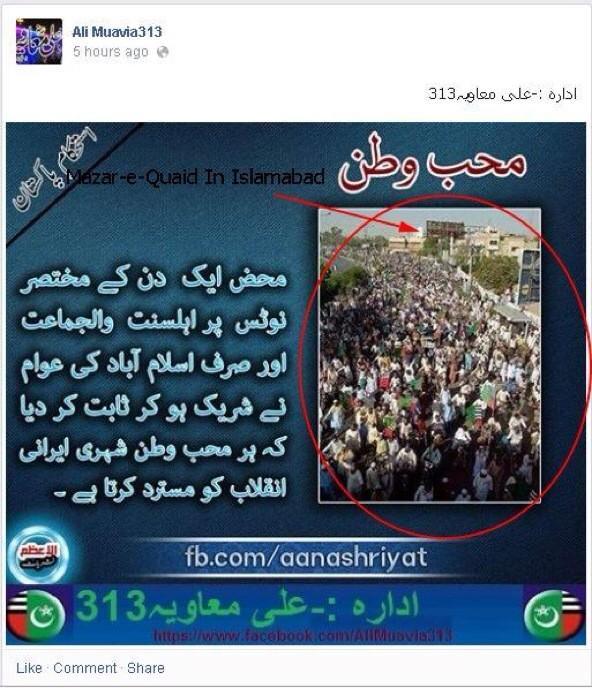 ISLAMABAD: The Pakistan Muslim League-Nawaz (PML-N) received a vote of confidence from some unlikely allies, as the proscribed  Takfiri Deobandi Ahle Sunnat Wal Jamaat (ASWJ) – formerly known as the Sipah-i-Sahaba Pakistan (SSP) – rallied in support of the ruling party after Friday prayers. The ASWJ, a Deobandi outfit, is known to be the pubic face and facilitator of the proscribed Takfiri Deobandi Tehreek-e-Taliban Pakistan (TTP) and Takfiri Deobandi Lashkar-e-Jhangvi (LeJ).
The demonstrators, led by ASWJ chief Ahmed Ludhianvi, marched from the Lal Masjid to the National Press Club, in opposition to what they called "attempts to replicate an Iran-style revolution in Pakistan".
However, the rally was punctuated by sectarian slogans. ASWJ and the Jamiat Ulema-i-Islam-Sami (JUI-S) members who spoke at the rally also used derogatory language towards Pakistan Tehreek-i-Insaf chief Imran Khan, Pakistan Awami Tehreek leader Tahirul Qadri and Raja Nasir Abbas of the Majlis-i-Wahdatul Muslimeen (MWM).
Participants of the Deobandi rally, titled the 'Defence of Islam and Stability of Pakistan' also denounced J. Salik, Sheikh Rashid Ahmed and the Chaudhrys of Gujrat for siding with Mr Khan and Dr Qadri.
Consisting mostly of students and teachers from local Takfiri Deobandi ASWJ-affiliated madressahs and Lal Masjid, rally participants even carried placards bearing incendiary slogans, including one that said: "Those opposing the PML-N government would do so over our dead bodies".
The primary thrust of all the speakers was the claim that Allama Tahirul Qadri was trying to force a revolution on the country, along the lines of the Ayatollah Khomeni-led Iranian revolution of 1979.
Ludhianvi said that Dr Qadri was "conspiring against Sunnis in Pakistan by importing the Iranian Revolution".
"Ahle Sunnat is the majority (sect) in Pakistan and we want our brand of Sharia in the country," he said, stopping short of hurling direct threats against both the PAT and PTI. [It may be noted that Deobandi sect represents 5% of Muslims in Pakistan whereas Sunni Sufis/Barelvis represent 75% of Muslim population. However, the Deobandi sect has become powerful due to generous Saudi support and Jihadist military training by Pakisan army during the Afghan Jihad.]
Challenging both PTI and PAT leaders, Ludhyanvi said his party ASWJ could call so many people to the capital that there will be "no space left", adding that the protesters on Constitution Avenue would "all run away after seeing the numbers of our supporters".Mr Ludhianvi also had a word of advice for both PAT and PTI.
"I regret the 14 deaths in Model Town, but more than 7,000 of our workers have been assassinated, yet we have never taken to the streets in protest. Imran Khan is upset about electoral rigging; I too am a victim of rigging but I've taken a legal recourse," the ASWJ chief said, adding, "My advice to both of you: learn from our example and don't act like extremists".
JUI-S Islamabad chapter head Sheikhul Hadis Abdul Rauf Deobandi called the PTI and PAT marches "a conspiracy against Islam and Pakistan" and called upon all Sunnis to rise up in defence of their religion and country.
PML-N youth wing leaders and members of the party's Islamabad chapter, who were also present on stage at the time, lauded the ASWJ for coming out in support of Islam, Pakistan and democracy.
As the participants raised sectarian slogans, PML-N Youth Wing's Yasir Abbasi said that neither Imran Khan nor Dr Qadri had ever stood up against threats to Islam or the country. [On social media, PMLN-ASWJ and Deobandi activists Samad Khurram, Aamir Saeed Deobandi, Shahid Saeed, Mubashir Akram, Mohsin Hijazi and others are busy in justifying or obfuscating the PMLN's links with the banned terrorist outfit ASWJ.]
"Maulana Ludhianvi is the real defender of Islam. He is our leader – we look to you whenever Islam faces hard times," Mr Yasir Abbasi of PMLN Youth Wing said.
Senior ASWJ leader Masoodur Rehman Usmani even went as far as to suggest that the term 'Mustafavi Revolution' – being used by Tahirul Qadri and his supporters – had nothing to do with the Holy Prophet (peace be upon him)."This refers to the name of one of Ayatullah Khomeni's daughter, who was called Mustafavi. She would indoctrinate Tahirul Qadri with ideas from the Iranian revolution," Usmani told the crowd, branding Dr Qadri "an infidel" and denouncing Imran Khan for "spreading obscenity and shamelessness among the women of Islamabad".
However, political analysts have a grave view of the Takfiri Deobandi ASWJ's decision to join the fray in defence of 'democracy'.
"It seems the PML-N has unleashed its ally among extremist groups, but it is dangerous to give them space," senior journalist and commentator Zahid Hussain told Dawn, adding, "The government needs to resolve the issue through political means, not by bringing proscribed groups to its aid".
Source: http://www.dawn.com/news/1127195/proscribed-allies-make-outlandish-claims