On PAT and PTI's Dharna against Nawaz Sharif govt: Demanding resignation from PM or CM is part of the democratic process – by Shakeel Arain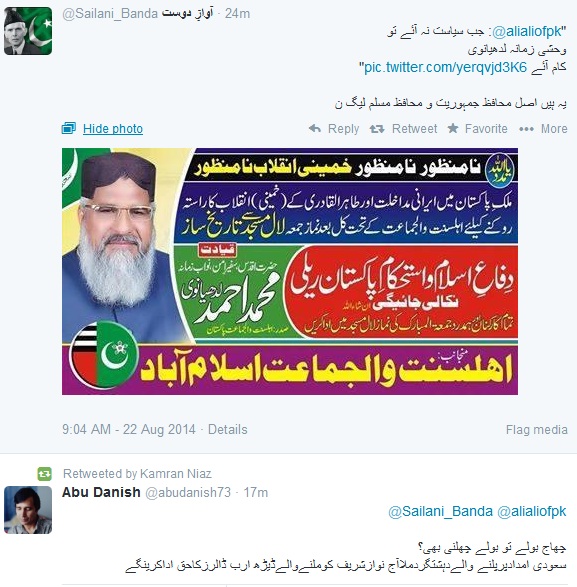 In my honest opinion, demanding resignation from a public office bearer is not anti-democratic demand and opposition against it lack merits. People even in established democracy ask for resignation of public-office bearer for lesser issues than the coldblooded murder by state machinery .
I've supported Shias Hazara community demand for resignation of then Chief minister Baluchistan ,Raisini . I will leave it to the readers to judge whether CM Raisni's resignation weakened democracy or strengthened it . Same rules should be applied on CM Punjab as well.
http://www.shiatv.net/view_video.php?viewkey=16b9a39adcc8bbac07a4
Imran Khan's allegations against ex-Chief Jutice Iftikhar Chaudhry and Justice Ramday look plausible and should be investigated. Downplaying rigging allegation against judiciary is actually disservice to democracy ideals. By calling it military establishment's move against PML N and brushing it under the carpet will not help democracy and rule of law.
PTI is a political reality and discrediting it based on a "fear" or "allegation" that military establishment has orchestrated their protest would not help democracy .
On a side note: From General Hamid Gul to Ijaz ul Haq, Sami-ul Haq and Tahir Ashrafi to Ludhivani to Sajid Mir , Lal Masjid to Hafiz Saeed have clearly sided with PMLN and our (commerical or Nawaz Yafta) liberal media is calling with utmost authority that army is behind the Qadri & Imran antics. If our liberal friends feel Imran Khan has put his political career at stake just to get Musharaf release then its good for them.
Comments
comments