Nigerian soldiers kill 25 anti-Israel Shia protesters on Quds Day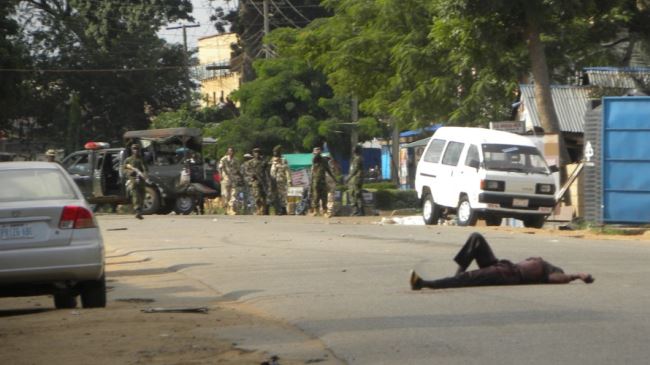 A protester is gunned down by Nigerian military forces during a rally marking International Quds Day in Zaria, Nigeria, on July 25, 2014
Twenty-five demonstrators, including the sons of the leader of the Islamic Movement in Nigeria, have been gunned down during an anti-Israeli rally held to mark International Quds Day in an ancient city of the African country, Press TV has learned.
The deaths occurred on Friday during anti-Israel rally, as Nigerians took to the streets to denounce Tel Aviv's deadly military assault on Gaza.
The Quds Day rally in the city of Zaria in Kaduna State turned violent when armed soldiers opened fire on protesters, killing 25 demonstrators and arresting 12 others.
Among those killed was 18-year-old Syed Mahmud Ibrahim Zakzaky, a son of Sheikh Ibrahim al-Zakzaky, the leader of the Islamic Movement in Nigeria, which had called for the rally. He is a critic of political corruption and Boko Haram.
Reports say another son of the Muslim leader was injured and two others were arrested. Later, military forces reportedly killed all detainees, including the two sons of Sheikh Ibrahim al-Zakzaky, before handing over their bodies to Ahmadu Bello University (Abu) teaching hospital. As a result of the crackdown, al-Zakzaky lost three of his sons while another one was among those injured by government forces.
Meanwhile, government forces attacked a mosque in Nigeria on Saturday, killing three people.
Imam Khomeini, the late founder of the Islamic Republic, designated the last Friday of the lunar month of Ramadan as the International Quds Day, during which Muslims across the world hold rallies to show their solidarity with Palestinians.
This year's anti-Israel rallies are being held as Israeli warplanes and tanks have been pounding numerous sites inside the Gaza Strip. More than 985 people have so far been killed and over 6,000 others wounded since the Israeli military first launched its offensive on the Palestinian enclave on July 8.
Source:
http://www.presstv.com/detail/2014/07/26/372879/25-killed-in-nigeria-quds-day-rally/
Comments
comments