BBC: Three Israeli teens were killed by a lone cell, not operating under Hamas leadership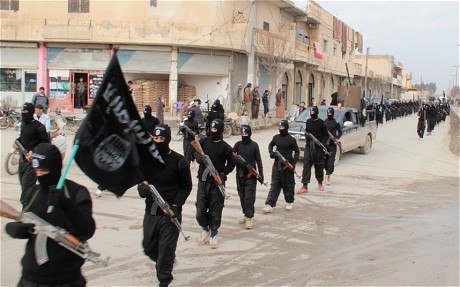 BBC's senior correspondent Jon Donnison makes an interesting revelation:
Jon Donnison @JonDonnison
Israeli police Mickey Rosenfeld tells me men who killed 3 Israeli teens def lone cell, hamas affiliated but not operating under leadership. Seems to contradict the line from Netanyahu government.
Israeli police spokes Mickey Rosenfeld also said if kidnapping had been ordered by Hamas leadership, they'd have known about it in advance.
Mickey Rosenfeld said lone cells much harder to track. Said they would find whoever was now protecting the two suspects.
I got it from the conversation I had with him in East Jerusalem this afternoon.
Source; Twitter
https://twitter.com/JonDonnison
Editor's note: We are posting a theory presented by Patrick Cockburn of the Independent in his July 21st article. The Saudi/ Gulf States, Turkey and Qatar sponsored Takfiri Khariji Deobandi Salafi ISIS wanted to take the world attention away from the atrocities they are committing in Iraq.  To achieve this ISIS kidnapped the three Israeli teenagers to provoke Israel.
Following this we are also posting an article by Global research which confirms this theory.
Did ISIS kidnap the three Israeli children to provoke a war so the may continue Genocide while media is predictably making Gaza it's focus?
"Do you think it possible," asked my Syrian friend tentatively, "that Isis might have arranged to have the three Israeli teenagers killed – it certainly has militant cells on the West Bank – knowing that this would provoke an Israeli assault on Gaza and divert attention from its own operations?" I pooh-poohed the idea at the time as one more conspiracy theory based on no real evidence, but thinking it over I am not so sure.

http://www.independent.co.uk/voices/comment/the-truth-about-conspiracy-theories-is-that-some-require-considering-9616863.html

Hamas Had Nothing to Gain – And Everything to Lose – By Starting Violence Now

While Israel has claimed that Hamas was behind the murder of 3 Israeli boys and subsequent rocket attacks, the Times of Israel reported last week:

A new Palestinian jihadist group pledging allegiance to the Islamic State (formerly known as ISIL) [or "ISIS"] has claimed responsibility for the killing of three Israeli teenagers last month in the West Bank, as well as other recent deadly attacks against Israeli soldiers and civilians.

Hamas has denied responsibility for the attacks.

The New York Times also reported on Wednesday:

On Tuesday evening, Israel's antimissile system, called Iron Dome, intercepted a rocket "over the Tel Aviv area," the army said, showing the reach of Gazan rocketry. The rocket was believed to be of Iranian design, a Fajr-5, and Islamic Jihad claimed credit. Tel Aviv opened some public shelters, and in a city near Tel Aviv, Rishon LeZion, people were instructed to leave the beach.

Given that countries all over the world – including Israel and Muslim countries – have admitted to carrying out false flag attacks, we should carefully investigate who was responsible before cheering on a new Arab-Israeli war. (And the head of Mossad had predicted such an occurrence shortly before it happened.)

Palestine has gained a lot of support recently.  For example, Palestine was accorded observer nation status by the United Nations.  The movement to boycott and divest from companies doing business with Israel has gathered tremendous momentum. And the two main factions in Palestinian politics – Hamas and Fatah – have formed a unity government.

As Michael Rivero points out, it makes no sense for Hamas to have committed brutal acts of violence when it is winning through peaceful political means:

HAMAS and FATAH formed a unity government. They need the support of the world right now, and neither HAMAS or FATAH is going to carry out an act that would wreck the very public support they need. It's like George Washington trying to kick out the British by shooting students in the colonial schools; it is just not going to happen.

And the Jewish Daily Forward notes that – if rogue Hamas members did carry out the murders – it was not with the permission or knowledge of Hamas leadership:

In the flood of angry words that poured out of Israel and Gaza during a week of spiraling violence, few statements were more blunt, or more telling, than this throwaway line by the chief spokesman of the Israeli military, Brigadier General Moti Almoz, speaking July 8 on Army Radio's morning show: "We have been instructed by the political echelon to hit Hamas hard."

That's unusual language for a military mouthpiece. Typically they spout lines like "We will take all necessary actions" or "The state of Israel will defend its citizens." You don't expect to hear: "This is the politicians' idea. They're making us do it."

***

It was clear from the beginning that the kidnappers weren't acting on orders from Hamas leadership in Gaza or Damascus. Hamas' Hebron branch — more a crime family than a clandestine organization — had a history of acting without the leaders' knowledge, sometimes against their interests. Yet Netanyahu repeatedly insisted Hamas was responsible for the crime and would pay for it.

http://www.globalresearch.ca/the-isis-islamic-state-not-hamas-claimed-responsibility-for-murder-of-three-israeli-boys/5390861
– See more at: https://lubpak.com/archives/318149
Comments
comments