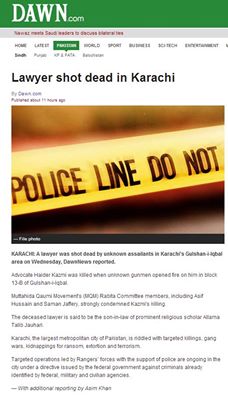 Editor's Note : 4 Shias killed in a day because of their faith and this is how DAWN, Pakistan's leading newspaper, reports the incident. Find me the word Shia and Electra is yours. Sham journalism.
KARACHI: A lawyer was shot dead by unknown assailants in Karachi's Gulshan-i-Iqbal area on Wednesday, DawnNews reported.
Advocate Haider Kazmi was killed when unknown gunmen opened fire on him in block 13-B of Gulshan-i-Iqbal.
Muttahida Qaumi Movement's (MQM) Rabita Committee members, including Asif Hussain and Saman Jaffery, strongly condemned Kazmi's killing.
The deceased lawyer is said to be the son-in-law of prominent religious scholar Allama Talib Jauhari.
Karachi, the largest metropolitan city of Pakistan, is riddled with targeted killings, gang wars, kidnappings for ransom, extortion and terrorism.
Targeted operations led by Rangers' forces with the support of police are ongoing in the city under a directive issued by the federal government against criminals already identified by federal, military and civilian agencies.
Source:
http://www.dawn.com/news/1121086/lawyer-shot-dead-in-karachi