61% of Americans favor cooperating with Iran to contain Islamic State Deobandi/Wahabi militants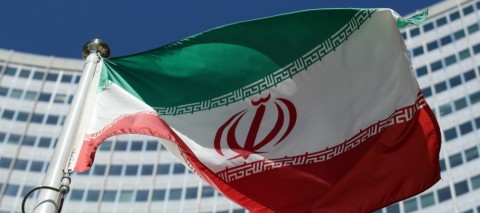 A new poll has found that the majority of Americans are in favor of cooperating with Iran to help the Iraqi government beat back militants from the Islamic State.
The poll, conducted by the University of Maryland's School of Public Policy and the Program for Public Consultation, found that 61 percent of Americans favored the United States cooperating with Iran over Iraq, with 66 percent of Democrats and 62 percent of Republicans saying they favored such a policy. Fifty-one percent of independents were in favor.
The question does not go into specifics about what that cooperation should look like. With the Islamic State, a Sunni Islamist militia, taking  control of vast swaths of Iraq and leaving the Shiite-led government of Prime Minister Nouri al-Maliki looking powerless, there was discussion about whether the United States would cooperate with Iran, a regional Shiite power with links to Maliki.
In June, Secretary of State John Kerry would not commit to working with Iran, but he said the United States "wouldn't rule out anything that would be constructive to providing real stability."
The high number of Americans who appear to support cooperation with Iran stands out when compared to other polls. In June, 53 percent of respondents in a CBS/New York Times poll supported cooperating "in a limited capacity," while a separate Quinnipiac University poll of registered voters found only 39 percent of respondents felt the U.S. should work with Iran.
The majority of the poll, conducted between June 28 and July 7, focuses on Iran's nuclear program and the options for dealing with it, including sanctions. In total, the poll found, 61 percent of Americans were in favor of a long-term agreement that would limit Iran's enrichment of uranium and force it to accept intrusive inspections of its nuclear program. A comparatively low 35 percent did not support Iran having any enrichment and would favor new sanctions on other countries to get them to cut their economic relationship with Iran.
Iran and other key players are currently in Vienna in a bid to reach an agreement about the nuclear program. Negotiations are set to continue until Sunday.
The poll, which has a sample size of 748 and a margin of error of 3.6 percentage points, is unusual in that it attempts to simulate the decisions made when drafting policy. Respondents were briefed on issues surrounding Iran's nuclear program and the ongoing negotiations, and then presented with  policy options and asked to evaluate the arguments. They were then asked which of the policy options they would finally recommend: an agreement that allowed some limited uranium enrichment or more sanctions.
The poll generally found broad support for working closer with the Iranian government, though 79 percent of respondents said they have a somewhat unfavorable or very unfavorable opinion of the government in Tehran.
Source :
http://www.washingtonpost.com/blogs/worldviews/wp/2014/07/15/poll-finds-61-of-americans-favor-cooperating-with-iran-to-contain-islamic-state-militants/
Large Majority of Americans Favor Making a Deal with Iran on its Nuclear Program
As the clock runs out on negotiations with Iran over its nuclear program, a new study of the American public finds that 61 percent favor making a deal with Iran that would limit Iran's enrichment capacity and impose additional intrusive inspections in exchange for the lifting of some sanctions. This includes 62 percent of Republicans, 65 percent of Democrats and 51 percent of independents.
The alternative option, being promoted by some members of Congress, calls for not continuing the current negotiations but increasing sanctions in an effort to get Iran to stop all uranium enrichment. This approach is endorsed by 35 percent.
The deal that was backed by a majority specified that Iran could enrich uranium to the level necessary for nuclear energy, provided that it accepts intrusive inspections to ensure that Iran is not building nuclear weapons. Some sanctions would then be gradually removed, provided that Iran upholds the agreement.
The study is unique in that respondents were first given a briefing on the issue and evaluated arguments for and against the options of making a deal with Iran or pursuing further sanctions. The briefing and arguments were vetted with Congressional staffers from both parties and other experts. Majorities found the arguments for both options convincing.
"Americans find convincing the arguments for making a deal as well as for ending the negotiations and ramping up sanctions," said Steven Kull, director of the Program for Public Consultation. "But when asked to finally decide, a clear majority breaks in favor of a deal."
The study was conducted by the Program for Public Consultation and the Center for International and Security Studies at the University of Maryland (CISSM). It was fielded with a representative sample of 748 Americans drawn from the GfK Knowledge Panel.
The study also finds that 61 percent favor working together with Iran to deal with the situation in Iraq. More than seven in ten also favor various confidence-building measures, such as more cultural exchanges and sporting events, as well as more extensive government-to-government talks on issues of mutual concern.
"While there are no easy or definitive answers to the dispute about Iran's nuclear program, most Americans clearly favor diplomatic engagement and cooperation over the alternatives," said Nancy Gallagher, research director at CISSM. "Majorities of Republicans, Democrats, and independents all think that compromise makes more sense than yet another round of sanctions."
Source :
http://www.public-consultation.org/studies/Iran_july14.html
Comment by Shia Awareness North America:
It will be wise for Iranian leadership to realize 35 year old mistake of unnecessary hollow rhetoric against USA and Israel for political mileage. Iranian celrics were clueless of American strength. For regional and national gains, to acquire hegemony over Islamic world Iran devised a foolish strategy of populist rhetoric against USA and Israel. Missed several opportunities to end differences with powerful America. One cannot ignore the American positive role for Shia liberation in Afghanistan and Iraq. Iran continues its ill-planned agenda and conspired even against the Marja of Iraq Sistani to annex Iraq as Iranian subordinate. US and other democratic societies should engage with Shia intellecttual encouraging them to engage with Israel and other regional players. USA played cards wisely and Iran has taken Shia world to the valley of death and disaster. Still majority Shia are suffering from retardation and unable to understand what they have done in last 34 years.
Comments
comments