Ex-Mossad chief calls for Israel-Hamas talks: 'There are worse options than Hamas'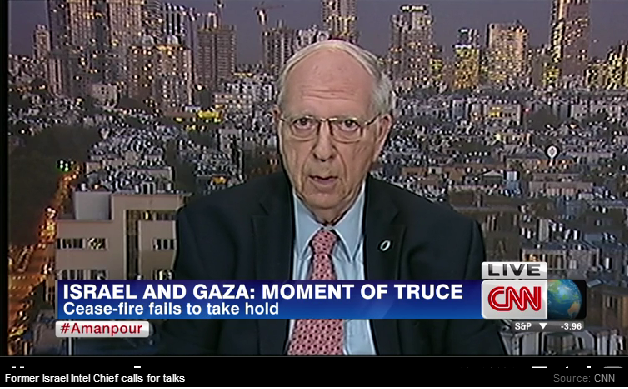 The former Israeli Intelligence Minister called for negotiations with Hamas in an interview with CNN's Christiane Amanpour on Tuesday (15 July 2014).
"Hamas is a very bad option, undoubtedly. But there are worse options than Hamas," Efraim Halevy, former Mossad chief, said. "And we already know what some of them might be, especially one of them: the ISIS – which is operating now in the northern Iraq and central Iraq – has its tentacles in the Gaza Strip too."
Halevy said that just as in Europe, ISIS is recruiting in Gaza.
It is "inconvenient politically," Halevy said, for both Israel and Hamas to admit that they negotiate. But the truth, he said, is that they have already been doing it for years.
"We have coined a new method of diplomacy in the twenty-first century: we don't meet with them, we don't talk to them, but we listen to them. Each one listens to the other side. Somehow in the end an understanding is crafted."
"We have had several rounds with Hamas in recent years, and the previous rounds ended up in agreements … arrangements, as it was called – 'arrangements,' not even agreements."
"But in effect it was a negotiation between us and Hamas. When you had the deal on the kidnapped soldier Shalit, we negotiated with Hamas."
http://amanpour.blogs.cnn.com/2014/07/15/israel-intelligence-efraim-halevy-hamas-mossad/
However, in addition to talks with Israel, Hamas is also seeking to improve its relations with Iran and Hezbollah which were strained after Hamas sided with Free Syrian Army aka Al-Nusra during the Saudi-Qatar funded civil war in Syria. In dire need of financial aid, Hamas had little choice but to restore its relations with it key financier, Iran. This is despite the fact that many Hamas militants, particularly thsoe in its second and third teir leadership and ordinary Jihadists, are staunch supporters of Al Nusrah and ISIS's atrocities against Shias, Sufi Sunnis and Christians.
Back in March 2014, Al Monitor reported that Hamas wanted to improve its relations with Iran and Hezbollah.
A senior Palestinian figure in Lebanon sought to mediate reconciliation between Hamas and Hezbollah in conjunction with that between Hamas and Iran. In a telephone interview with Al-Monitor, he confirmed that Hezbollah claims that Hamas elements are turning a blind eye to the smuggling of weapons to Syria through Lebanon and that some Hamas elements have been discovered fighting in Syria. He also noted that some Palestinians have been involved in the bombings in the southern suburbs of Beirut, although this is denied by Hamas.
"The closed-door mediation efforts between Hamas and Hezbollah in Beirut has culminated in them 'agreeing to disagree' regarding Syria and in continuing the 'strategic partnership,'" he noted.
This same idea was expressed by Hamas figure Salah Bardawil, who said that Hamas' relationship with Hezbollah is good despite the differences over Syria. He also noted that efforts are being made to restore relations as beneficial to both parties.
Hamas is not limiting itself to talk of improving its relationship with Hezbollah, but has begun to send delegations to Lebanese parties to absolve Hamas of accusations that it is the main incubator of jihadist and Salafist groups in Palestinian refugee camps in Lebanon; this has prompted Hamas representatives to act to prove their innocence to Hezbollah. The links between the two sides are still there and neither side is thinking of cutting them, despite the complexities and differences, especially since their common ground is substantial.
Jihad Taha, a Hamas figure in Lebanon, said in a March 16 interview with Sadaaden.com that his movement is considering launching an initiative to strengthen Lebanese-Palestinian relations and prevent sectarian strife, indicating that Hamas wishes to improve its relationship with Hezbollah through a series of intensive meetings and visits with Lebanese security authorities to ensure its success.
A source close to Hamas told Al-Monitor that the return of Hamas' relations with Tehran can be seen as part of the "card reshuffling" in the region in the last few months as a result of the changes in Egypt and Syria.
"The return of the relationship between them is now at hand, because the decision-makers in Shiite Tehran, in light of the sectarian and political polarization dominating the region, want to restore the relationship with Sunni Hamas and strengthen ties with it. Hamas, in turn, needs such a relationship at this critical stage and hopes that Meshaal's visit will accomplish that. This will pump new support in Hamas' arteries and help it withstand the siege, which is worsening in an unprecedented way."

http://www.al-monitor.com/pulse/originals/2014/03/iran-hamas-finance-economy-resistance-axis-gaza.html
Comments
comments