In Pakistan, Deobandi militants pledge allegiance to Abu Bakr Al-Baghdadi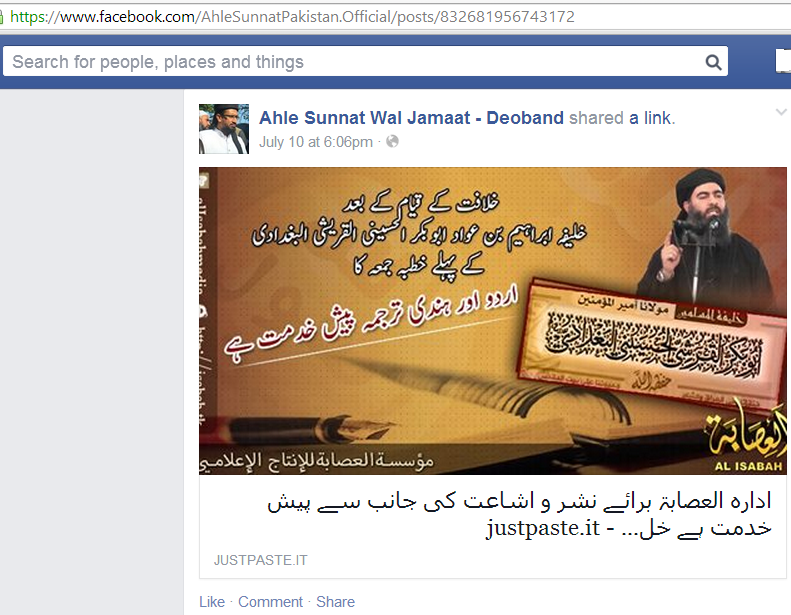 In daily Telegraph (11 Jul 2014), Rob Crilly reports:
This week a Pakistani militant group declared its allegiance to the Islamic State (IS or Daish) and its leader, Abu Bakr al-Baghdadi al-Salafi.

In Pakistan and Afghanistan, the Islamic State has been the subject of much discussion on social media forums, winning praise at a time when local extremist leaders are in hiding, dodging American drones or an army offensive in North Waziristan.

"We are happy with the great efforts of Abu Bakr al-Baghdadi," one Pakistani militant, who claimed to command 60 men, told the Reuters news agency.

"Dozens of my colleagues from here are with them. Soon Sham and Iraq will be Islamic states," said one militant in his thirties who commanded 60 men.
Reuters journalist Taha Siddiqi has recently reported graffiti on a wall in Bannu, Pakistan, congratulating Abu Bakr Al-Baghdadi Al-Salafi. Taha Siddiqi also reports that Al-Rehmat Trust, a charity front of the banned Deobandi outfit Jaish-e-Muhammad (JeM, led by Maulana Masood Azhar), is active in that area in the guise of assistance to IDPs of North Waziristan.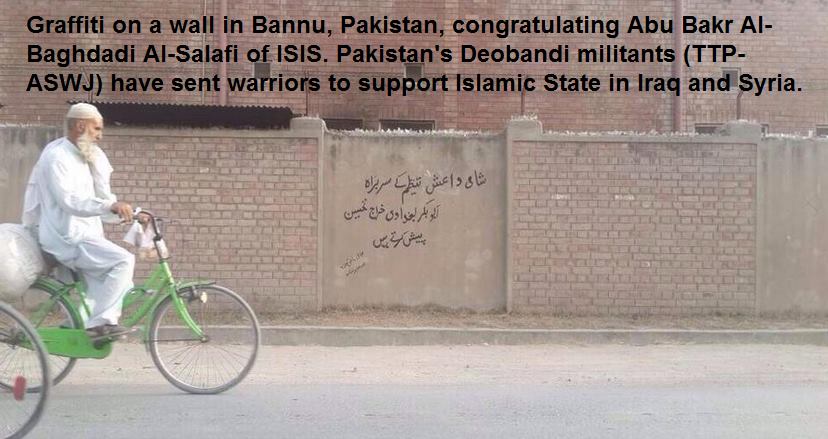 In recent past, it has been reported that Pakistan's Deobandi militants (TTP, ASWJ) have sent Jihadist warriors to support Al-Nusra Front and the Islamic State in Iraq and Syria.
In the meanwhile, Pakistan's banned Deobandi terrorist outfit Sipah-e-Sahaba (currenty operating as ASWJ) supports the ISIS's Caliph in Iraq on its official facebook page.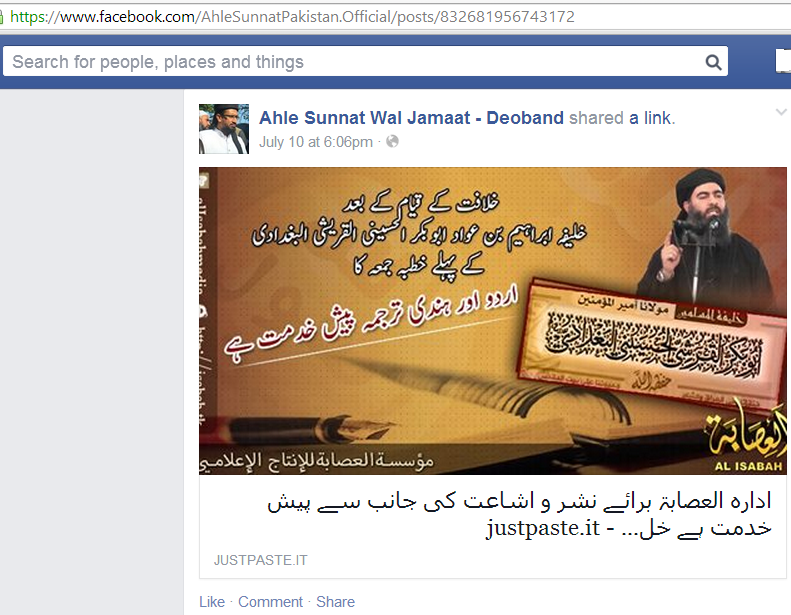 In Karachi, ASWJ's Abu Bakar Siddique Mosque in Gulistan-e-Joher Block 7 in publicy collecting donation for the ISIS terrorists after every prayer, five times a day.
Another media report confirms that a Pakistan-based terror group, Tehreek-e-Khilafat, has sworn its allegiance to al-Baghdadi's self-declared caliphate in Iraqi and Syrian territory. The Telegraph called Tehreek-e-Khilafat's declaration of allegiance to the Islamic State a "breakthrough" for al-Baghdadi, representing one of the first major coups for his extremist movement outside of the Middle East. Tehreek-e-Khilafat itself is a little known group operating in Pakistan that has claimed responsibility for a handful of terror attacks in Karachi and is known for links with Lashkar-e-Jhangvi, the militant arm of Sipah-e-Sahaba (ASWJ). The group has allegedly pledged to "raise the Islamic State's flag in South Asia and Khuarasan — the historic name used by Islamist militants for an area covering Afghanistan and Pakistan."
Another report confirms that Abu Bakr Al-Baghdadi spent considerable time in Afghanistan during the Deobandi Taliban regime and served as a member of the Malik Ishaq Group of ASWJ, which had close links with Taliban. The Ishaq Groupwas active in Bagram under Al-Qaeda leadership during Taliban's rule.
We ask Pakistan army chief General Raheel Sharif to expand the military operation against Deobandi Khawarij holed up in North Waziristan to other areas of Pakistan including Karachi, Southern Punjab, Quetta, Mastung etc, rounding up the TTP Khawarij who find easy refuge in Deobandi madrassas associated with Sipah-e-Sahaba aka ASWJ.
Comments
comments