Iftikhar Muhammed Chaudhry conflicted corrupt and meddling in politics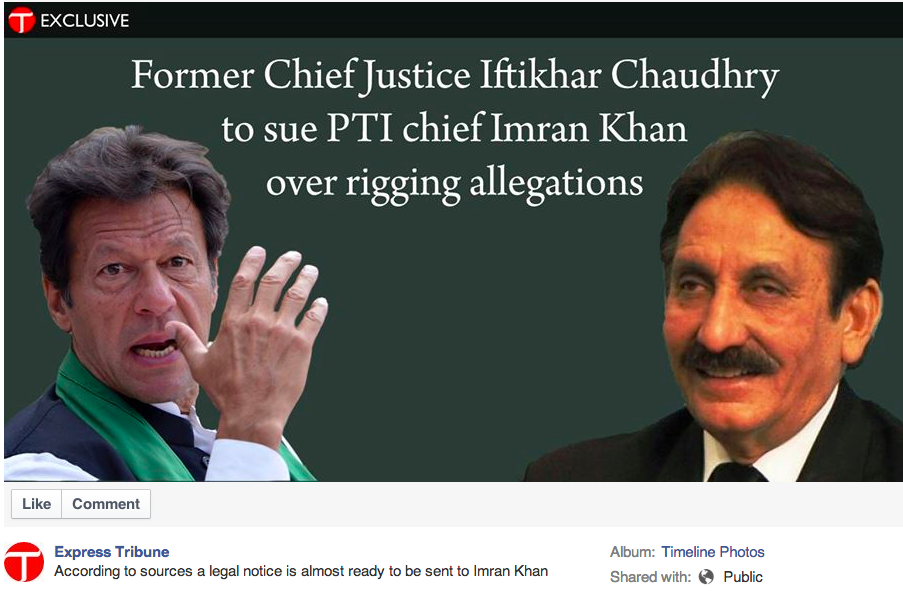 Iftikhar Muhammad Chaudhry's legendary status as a one man chaos machine refuses to die down even after nearly 8 months of his retirement, on which a large population of Pakistan heaved a sigh of relief. He refused to leave his official residence till the end of June 2014, requested for bullet proof car with tinted glasses for security as well as security detail to massage his ego, announced establishment of a "Think Tank" to bring Pakistan out of its problems, had his over ambitious and maaqool son named Arsalan seen getting appointed as Vice Chairman of Balochistan Board of Investment and then claimed that he came to know about it from newspapers about the appointment. Arsalan had to resign after the admiration he received from public at large.
Pakistan Tehreek-e-Insaf Chairman, Imran Khan had in no uncertain terms called Iftikhar Muhammad Chaudhry as one of the reasons for the rigging that took place in elections last year. While addressing a rally to mark PTI's 18th  Founding Day anniversary the PTI chief said the Chaudhry was involved in match fixing of May 11, 2013. He had also alleged that Iftikhar Chaudhry chaired a meeting of returning officers prior to the elections. PTI chief had demanded that those who are involved in election rigging should be exposed and put on trial under Article 6 of the Constitution.
It is reported in Express Tribune that Iftikhar Muhammad Chaudhry is set to send a legal notice to Imran Khan over his allegations while at the same time in public he is saying there is no point of responding to senseless allegations. Additionally, his erstwhile and maaqool son, Arsalan is appearing on television shows as a spokesman for his father. He had fight with PTI's young MNA, Murad Saeed on a show of Absar Alam, who has been a loyal chamcha of Iftikhar Muhammad Chaudhry. The clip can be seen here:http://goo.gl/bN5z00. Arsalan living up to his status of a don could be heard hurling abuses and expletives at Imran Khan and Murad Saeed.
We feel that Iftikhar Muhammad Chaudhry should relax and wait for his two years cooling down period to end and then formally join the PML-N. The more he speaks and more he allows his maaqool son, Arsalan to come on TV shows being conducted by his chamchas, things will get worse. On a serious note, he should learn from a gentleman judge, Mr. Tassaduq Hussain Jilani, whose near seven months term didn't attract any controversy and who on his day of retirement left his official residence, as reported by another chamcha newspaper, Jang (http://e.jang.com.pk/07-07-2014/karachi/pic.asp?picname=1825.gif)
Related: Documentary evidence of payments made to Pakistan's Chief Justice's son Arsalan Iftikhar
Comments
comments