Maj. Gen. Athar Abbas, the former head of the ISPR, has revealed in no uncertain terms that it was Gen. Ashfaq Pervez Kayani who didn't allow the launch of an operation in 2010 because of his indecisiveness. According to Gen. Athar Abbas
"It had been decided in principle that preparations for the operation would take place between 2010 and 2011, and that it would be launched in 2011 to rid North Waziristan of extremists once and for all. He was very reluctant when it came to the North Waziristan operation. Kayani thought the decision to launch the operation would reflect on his personality and people would take it as his personal decision, which is why he kept delaying the operation"
We as a nation have had to pay a heavy price for this "indecisiveness" of Gen. Kayani who ruled the roost as head of ISI and then Chief of Army Staff for an unprecedented six years. His time was the one in which Pakistan bled. Starting from the nonsense of Lal Masjid to the ridiculous Lawyers Movement in 2007, Pakistan was submerged in a pool of blood during his tenure. Targeting Shaheed Benazir Bhutto, the militants against whom Gen. Kayani didn't take action through a comprehensive military action, Pakistan lost thousands of men and women to merry killers.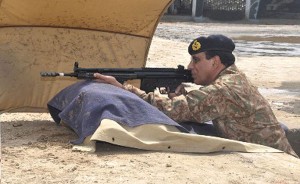 On the other hand, Gen. Kayani supported people like Iftikhar Mohammad Chaudhry, Gen. Shuja Pasha and the mindless media circus to bring the PPP led coalition down on one pretext or the other. Be it corruption stories or Memogate or Drones or Raymond Davis saga or actual killings of leadership of the coalition of PPP, ANP and MQM, one can now link Gen. Kayani in no uncertain terms to all the ills Pakistan has faced post 2007.
Maj. Gen. Athar Abbas is now being asked by mindless Chaudhry Nisar and members of the media by saying "Senior retired army officers should be very careful while making statements regarding the current sensitive situation prevailing in the country. At this stage of history, bringing into open decisions of the current or former leadership of the military in this way may create difficulties but cannot be helpful in providing a solution".
It is quite certain that what Maj. Gen. Athar Abbas has said is pricking everyone who have benefited most from the mayhem caused by Gen. Kayani and his indecisiveness. While Maj. Gen. Athar Abbas has been very decent in calling just indecision, one can see through the method to madness of Gen. Kayani and his cohorts in the military, media and judiciary.
The need to have a Truth and Reconciliation Commission asked first by Shaheed Benazir Bhutto in 1997, cannot be lesser in this critical time. The military generals and their mindless policies in collusion with their foot soldiers in political, religious, judiciary and media have brought a nation of 200 million people on its knees. The Truth and Reconciliation Commission must ascertain what went wrong and who were responsible for their actions. Demanding people to be hanged for their sins is a wishful thinking whose only targets can be politicians and especially the PPP. The nation needs to know who is responsible. Thank you Athar Abbas. You have done a service to this country.