Resignation is the last refuge of a failing scoundrel – by Laleen Ahmad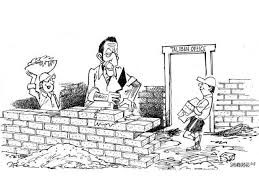 "If our demand for the verification of votes is not met, my part will resign from the National Assembly and the KP Assembly," thus thundered Imarn Khan. One would imagine that the counting of the votes must be a matter of extreme gravity; otherwise, why would Imran Khan and his parliamentarians resign en bloc? And the number of the votes to be counted must certainly be in the millions.
But on a closer view, things are not what they seem. Why would Imran Khan get his parliamentarians to resign given that in the KP assembly his is the ruling party and in the National Assembly his PTI is the third largest Party? Certainly, Imran Khan will call it a matter of principle for which any sacrifice can be made. But here are a few facts:
1. Before the 2013 elections, Imran Khan vociferously claimed that he would end corruption in 90 days. Certainly, Pakistan's gullible people, amnesiac intellectuals, and dishonest media men did not connect Khan's 90-day promise to his political-spiritual predecessor General Zia ul Haq's promise of holding elections in 90 days.
Now that Imran Khan is well past 90 days and well over 300 days, his promise has taken a strange turn. His own party ruling the KP stands accused of massive corruption. Even he himself has confessed his party members' involvement in corruption. That he has sacked some of those members proves the corruption allegations. One may say that it goes to Imran Khan's credit that he has sacked some people. But it indeed goes against him: he has not been able to control his party men, and he has sacked only those whose corruption had become blatant and persistent. It is widely alleged that PTI legislators in the KP are still having a field day with corruption without any fear of reprisal from anyone including Imran Khan. Khan will act only when the corruption of his cronies will be documented in the media.
2. Before the elections, Imran Khan claimed that he would restore peace in the KP within six months. After taking over the KP government, Imran Khan blatantly sided with the Taliban and other Deobandi parties. He even blockaded the NATO communication supply lines to Afghanistan. But he could not placate the Taliban. It is on account of his and his party's sheer incompetence that the KP today is far more violent than before the 2013 elections. There is no hope that under Khan's PTI there will be peace in the KP.
3. Imran Khan claimed that he would bring down the unemployment rate in the KP. But on this count too, there is no improvement. The graph of unemployment in the KP has gone from bad to worse.
4. Imran Khan claimed that he would improve the standard of education in the KP. His policies have undermined the whole system of education in the KP. His stupidity is proven by the fact that he gave the education department to Jamat-e-Islami. It was like allowing a robber to guard a bank. To add insult to injury, Imran Khan has accepted the Jamat view that the jihadi contents will continue to be taught in schools and colleges. The KP education continues to rot and produce Islmaofascists.
Now that he has failed on all counts, the only way out for Khan is to resign 'in protest'. He knows that next time around, people will not vote for him because he has been a disaster to the KP in every way. A stronger person would have tried to improve the situation by kicking out the corrupt, getting rid of the Jamat, and breaking with the Taliban. But Khan is a weak character. He has found a perfect alibi to push his failures under the carpet. Resigning from the assemblies is the perfect refuge of Khan the Failed Scoundrel.

Appendix: News item (The News, 27 June 2014)
Will resign from NA, dissolve KP assembly if demand not met, warns Imran
June 27, 2014 – Updated 345 PKT
ISLAMABAD: Pakistan Tehreek-e-Insaf (PTI) chairman Imran Khan has said that he would give a deadline for verification of votes in the four constituencies of the National Assembly, Geo News reported.
Talking in a private TV programme, Imran Khan warned that they would resign from NA and dissolve Khyber Pakhtunkhwa if their demand for verification of votes was not met. He said they would also protest on the streets after the deadline.
http://www.thenews.com.pk/article-152065-Will-resign-from-NA-dissolve-KP-assembly-if-demand-not-met-warns-Imran
Comments
comments