Deobandi identity is more precious than Pashtun identity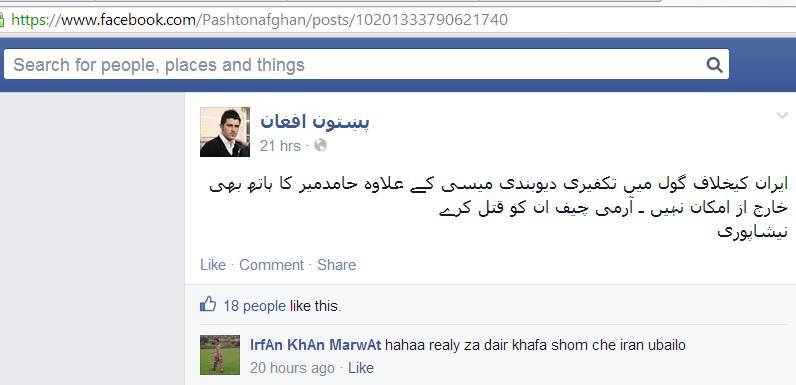 This facebook status of a secular or nationalist Pashtun shows that for some Pashtuns, Deobandi takfiri ideology is more important than their Pashtun ethnicity. Can you detect the subtle ShiaPhobia (abuse Iran and Shias by association) and DeobandiApologia in this status?
Most Pashtuns (right-wing or secular) remain vague or silent on Deobandi ASWJ identity of terrorists who are killing Shias, Sunni Barelvis and Christians. This status offers an insight into the reasons for the silence.
پشتون قوم پرستوں میں ایک طبقہ چاہے وہ جتنا بھی سیکولر یا لبرل ہونے کا دعوا کر لے لیکن اس کے اندر سے شیعہ مسلمانوں کے ساتھ بغض و عناد بہرصورت ظاہر ہو کر رہتا ہے – ان میں سے ایک حضرت جو نا صرف شیعہ مسلمانوں کے ساتھ اپنے بغض کا کھلا اظہار کر رہے ہیں بلکہ ایران کے ساتھ شیعہ مسلمانوں کے تعلق ( جو صرف ان کو نظر آتا ہے ) کو بلا واسطہ تنقید کا نشانہ بنا کر اپنے اندر کے دیوبندی کو خوش کرنے کی ایک کوشش کرتے ہوے دکھائی دے رہے ہیں
پشتون قوم پرستوں کی اکثریت شیعہ سنی ، احمدی اور مسیحوں کے قتل عام میں مصروف تکفیری دیوبندیوں کی دیوبندی شناخت کو چھپا کر صرف اور صرف اپنے اندر چھپے دیوبندی کی آواز پر لبیک کہتے ہیں اور جب بات دوسرے فرقوں کے مطلق نفرت انگیزی کی ہو تو ان قوم پرستوں میں اور تکفیری دیوبندی دہشت گردوں میں رتی برابر فرق نہیں رہتا –
An example: A 'secular' Deobandi Pashtun activist tries to deny the Deobandi identity of the TTP, ASWJ terrorists.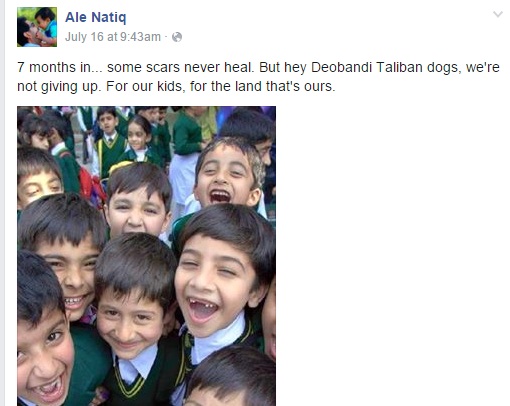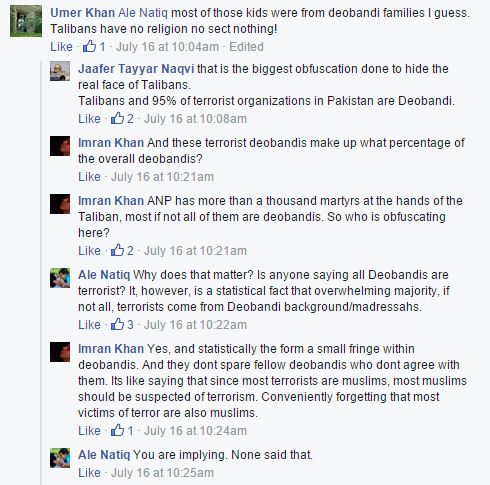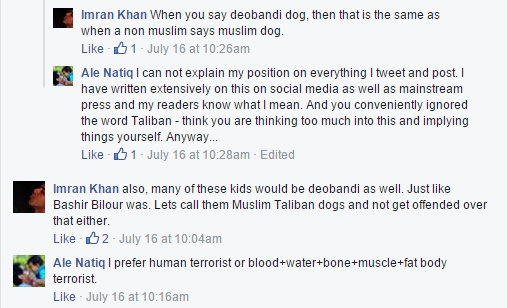 Comments
comments