Pakistanis on Twitter condemn Sharmeen Obaid Chinoy's racist tweets against IDPs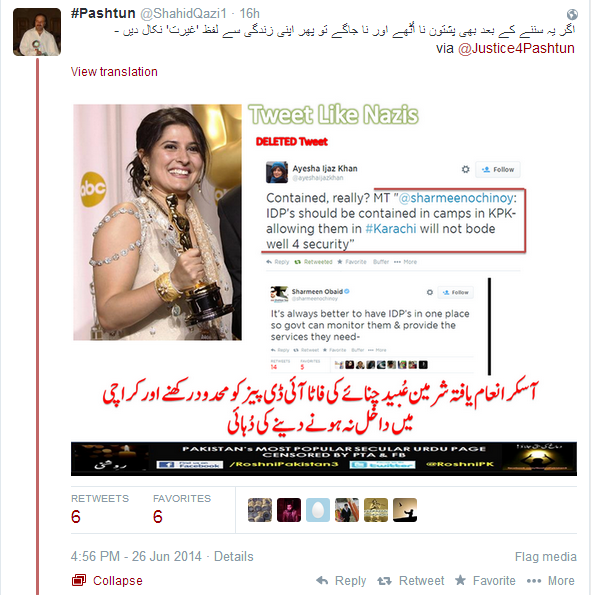 Hundreds of Pakistanis on Twitter have strongly reacted to Oscar award winner Sharmeen Obaid Chinoy's racist tweets in which she suggested to 'contain' the internally displaced persons (IDPs) displaced due to Pakistan army's Operation Zarb-e-Azb against Deobandi and Salafi terrorists (namely Taliban, ASWJ-LeJ and Al Qaeda) holed up in North Waziristan.
While we support a thorough registration and scanning of all IDPs in order to stop anylikely  infilitration by Deobandi TTP-ASWJ suicide bombers in the guise of IDPs, we also demand the federal and all provincial governments to treat all genuine IDPs with equality and dignity, providing them maximum relief wihin their limited resources.
However, any attempt to cast doubts on all IDPs (all of them are Pashtuns), to 'contain' them in the name of security is outright racism and a breach of their human rights. This coming from a self-avowed liberal is indeed a big irony, and shows they hypocritical and shallow nature of elitist liberal class in Pakistan. Then what else can be expected in a country where elitist fake liberals such as Sherry Rehman (of Jinnah Institute), Bushra Gohar (Sherry Rehman of ANP), Sana Saleem (Selective Bolo Bhi), Ayesha Tammy Haq (PTI fan), Beena Sarwar (Jang Group), Nadeem Paracha (the Najam Sethi fan) etc are presented as champions of human rights despite the fact that some of these people/groups promote Deobandi hate clerics (Tahir Ashrafi, Ahmed Ludhyanvi) as prophets of peace while all of them remain completely silent or vague on Deobandi ASWJ identity and idelogyy of terrorists who are as abdundantly found in North Waziristan as they are found in Karachi, Lahore, Jhang, Mastung, Quetta and other areas.
It is not the first time that Sharmeen Obaid Chinoy has shown her pseudoliberal colours. She has a simialr track record which can be reviewed here: https://lubpak.com/archives/tag/sharmeen-obaid-chinoy
Comments
comments