How US and Britain were warned of Isis advance in Iraq but 'turned a deaf ear' – by Richard Spencer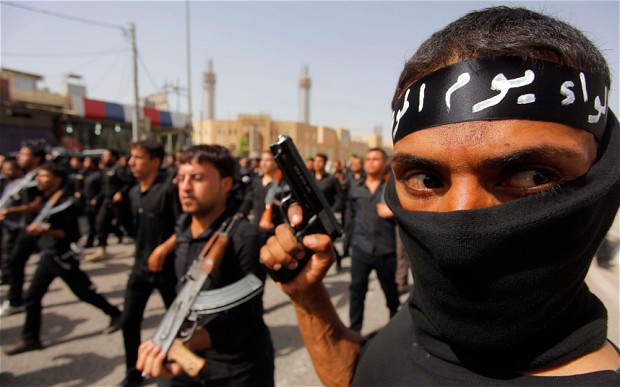 Five months ago, a Kurdish intelligence "asset" walked into a base and said he had information to hand over. The capture by jihadists the month before of two Sunni cities in western Iraq was just the beginning, he said.
There would soon be a major onslaught on Sunni territories.
The Islamic State of Iraq and al-Sham (Isis), a renegade offshoot of al-Qaeda, was about to take its well-known cooperation with leftovers of the regime of Saddam Hussein, and his former deputy Izzat al-Douri, to a new level.
His handlers knew their source of old, and he had always proved reliable, officials told The Telegraph. So they listened carefully as he said a formal alliance was about to be signed that would lead to the takeover of Mosul, the biggest city north of Baghdad, home to two million people.
Parts of the city were already a no-go zone due to the terrorist presence. Westerners were advised not to enter the city due to the risk of attack or kidnap. Isis was partly funded by extorting a tax from local businesses.
But the group was too small to carry out its plans on its own. These involved an ambitious sweep through northern Iraq, to take on Baghdad itself.

Iraq crisis map: how the Isis front line has shifted
For the ex-Baathists, it was a chance to get revenge on the country's new, Shia-led leadership, much of which had spent years in exile during the Saddam years. The Baathists are also Sunni – though previously not seen as religious – and resented their loss of power to the Shia majority.
"We had this information then, and we passed it on to your (British) government and the US government," Rooz Bahjat, a senior lieutenant to Lahur Talabani, head of Kurdish intelligence, said. "We used our official liaisons.
"We knew exactly what strategy they were going to use, we knew the military planners. It fell on deaf ears."
The extremist insurgency has been growing ever since Britain and the United States pulled out its troops, the last Americans leaving in December 2011. In December last year Isis took over Fallujah and Ramadi, two cities in the largely Sunni Anbar province which was a hotbed of the al-Qaeda-led uprising against the western occupation of Iraq.
The insurgency has been fostered partly by resentment among Sunni Arabs at the Shia-led government of Nouri al-Maliki, which they say discriminates against them and whose armed forces and militias they accuse of harassment and in some cases torture and murder.
It has also been fed by recruits to Isis's other war, in Syria where it holds large parts of the east of the country.
Mr Bahjat estimated that there were now 4,000 foreign fighters with Isis, of which 4-450 were British.
He warned that the Isis leader, Abu Bakr al-Baghdadi, was now a greater threat to western countries than Osama bin Laden had been in 2001.
He and his boss, Lahur Talabani, head of Kurdish intelligence, both said that a lack of resolve by the West to finish what they had started in removing Saddam Hussein was responsible for the current crisis, rather than the 2003 invasion itself.
Their claims about the intelligence they provided the West are partly an attempt to increase the pressure to provide more support now.
"Abu Bakr al-Baghdadi is now something bin Laden could only dream of being," Mr Bahjat said. "The sleep of reason produces monsters. It's the lack of resolve in the West that is the most important thing.
Reason has been sleeping and now we have lots of monsters."
The Kurds officially cannot appeal for more arms to defend themselves except through the federal government, but Mr Talabani said more could have been done.
"I have completely lost hope in America after listening to President Barack Obama," Mr Talabani said. "I blame him personally for what has happened in Syria, in the Middle East, in Iraq at the moment. I have no hope any more.
"The British should still somehow support the Iraqi army, and what's left of Iraq."
Mr Bahjat pointed out that the Kurdish Peshmerga – its army – were now fighting a "guerrilla force" that was much better armed with American weapons, seized from the Iraqi army bases they overran, than the Kurds, even though they were long-standing American allies.
"We have seen being used against us armoured vehicle, humvees, M4 and M16 rifles, howitzers, mortars," Mr Bahjat said. "But when we asked for American weapons to help us, they refused."
There is a widespread sense in Iraq that Britain and America were so disillusioned by their failures in the war that they lowered their presence in the region. Since the Cameron government came to power in May 2010, it has been explicit in refocusing Britain's diplomatic efforts in the Arab world on its traditional allies in the Gulf.
That led allegedly to a downgrading of intelligence resources in Iraq.
"Both the Americans and the British had options to upgrade their presence on the ground many months before this happened but seem not to have acted on that," said Michael Stephens, an analyst with the Royal United Services Institute, a think-tank close to Whitehall.
"For one reason or another there was a feeling that Iraq was not an important foreign posting and as a result it was seen as a place where careers go to die rather than a place to build a career. That meant the assets that should have been available to us weren't really when this kicked off."
The Foreign Office said it did not comment on intelligence matters.
Comments
comments