Deobandi Khawarij are enemies of Pakistan and Islam – by Zaid Hamid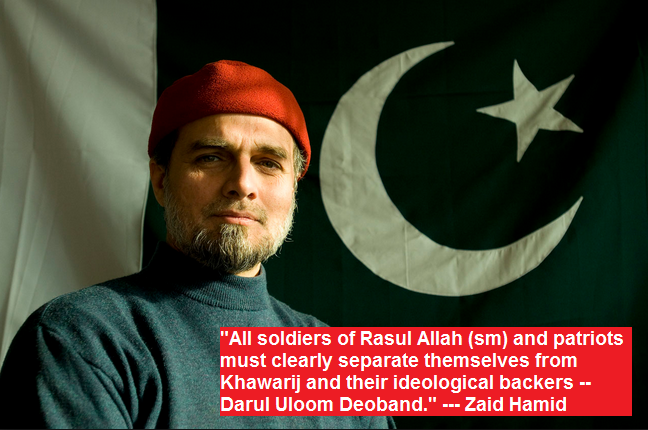 Just as there are Good Taliban and Bad Taliban, there are good deobandis and bad deobandis. Bad deobandis are waging a war against Pak. #TTP
This war is as ideological as it is military. Pakarmy is fighting against a deviant sect of Khawarij from Deobandis, whose fatwas fuel war.
It is the duty of pro-Pak deobandis to make a firm stand against their deviant sect-brothers. TTP will not listen to other sect scholars.
Deoband Fatwa declares Jihad in Kashmir as Haram. The greatest betrayl of Muslims by pro-Khawarij pro-Hindu Mullahs. http://www.jammu-kashmir.com/archives/archives2008/kashmir20080228d.html
Many are curious that why I used the word Deobandi with Khawarij. Bc TTP/Lej openly call themselves as Deobandis.
http://www.zemtv.com/2014/06/21/the-debate-with-zaid-hamid-kya-dehshat-gardi-ka-khatma-ho-paye-ga-21-june-2014/

Pakistan army is waging a war against Deobandi Khawarij — the entire axis of military and ideological war.
The future of democracy after Lahore Massacre ! The Debate Friday Night. http://tune.pk/video/3919801/96-the-debate-with-zaid-hamid-lahore-massacre-and-fate-of-nawaz-govt-20-06-14
My English one hour interview with Dr. Kevin Berret, a free voice in the West managing the TruthJihad Radio https://vimeo.com/98564877
Why I strongly criticize Sh Imran Hussian and Darul uloom deoband India ?? Their fatwas are shedding Muslim blood. https://www.facebook.com/syedzaidzamanhamid/photos/a.109687115752775.23119.109463862441767/666978870023594/?type=1&theater
my critical national security analysis on Sach TV today — from political chaos to asymmetric wars, the 4thGW in Pak. http://www.dailymotion.com/video/x1zpo9k_goya-17-06-2014_people?start=1
Kharjiites, is a term used in Islamic law for militants groups who are neither Sunnis nor Shias & use violence to spread chaos. #TTP, #ISIS
West reporting ISIS as a Sunni militants group ! Sunnis should sue western media. Kharjis like TTP/ISIS are out of Islam NOT Sunnis/Shias!
Takfiri/Khawarij are the greatest fitnah deployed within Muslim lands by CIA/Mossad/RAW. Pak army is the only army beating them back!
…………
Syed Zaid Zaman Hamid [Official]
There are many myopic short-sighted fools here who are objecting to our criticism of Sh Imran Hussian's view on Ghazwa e Hind. They even say that I am not an alim to understand what deen is
Remember one thing: Guidance, Hidayat, Sharah Sadr and Noor e baseerat is a gift from Allah (sm) which is radically different from a paper degree on Islam. It is fazal of Allah whom He choses for guidance, hidayat and vision. Sayyadi Rasul Allah (sm) has clearly said and its mafhoom is that "in the end times, fitnahs will emerge and enter from those who claim to be scholars of deen"! Ibless is the greatest of alims but he lacks Hidayat. Ilm and Hidayat are two different things. Iqbal was not an alim but Sayyadi Rasul Allah (sm) chose Iqbal. There is no greatest true alim than Iqbal despite the fact that he was not considered alim by Mullahs. Baba Quaid was not an alim in Mullahs' terms but Sayyadi Rasul Allah (sm) chose Quaid and not a mullah or alim to lead the Ummah. Think over it.
If any sect or alim serves the interests of Kufr, we will reject him, attack him and expose him. Khawarij of TTP are using the interpretation of Sh Imran Hussian to attack Pakistan. TTP is saying that attacking Pakistan is part of Ghazwa e Hind which TTP is fighting because they consider themselves the army of Khurasan. Bloody liars they are but unfortunatly, they are relying on the interpretation of Sh Imran Hussian. This is a fatal catastrophic blunder of Sh Imran Hussian which is killing muslims and destroying an Islamic state at the hands of Khawarij. I have talked to Pak army officers who have complained to me that they are seriously demoralzied by the interpretation of Sh Imran Hussian. Astaghfurullah !! This is unforgivable. This has nothing to do with being an alim or ilm of deen. This is pure wrong interpretation of deen, hadees and serving the interests of Kufr, He may be doing it unknowingly, but his blunder is shedding Muslim blood.
Similarly, Darul Uloon Deoband is serving the interests of Kufr since creation of Pakistan. I have NO problem with their beliefs but their political statements are poison. They sided with the Congress against Quaid. Now they stand with Modi against Ummah. Now they have given fatwas that Kashmir is part of India !!! They support Khawarij of TTP as they are from their sect. This is not a question of being an alim e deen. this is simple and pure war against Islam and Ummah.
anyone, from any sect or political party, if they attack Pakistan or Pak army or Pak ideology, they will find us their enemies. NO Compromise here. NEVER ! In times of war, we will show no mercy unless they apologize, mend their ways and stop supporting the Kufr, knowingly or unknowingly
Daniyal Shaikh: Agar yahi bt thi tou Quaid ka janaza aek deobandi ns prhata
Like · Reply · 15 · June 18 at 10:14am
Syed Zaid Zaman Hamid [Official]: Allama Shabbir ahmed Usmani had left deoband and formed his own party Jamiat e Ulama e Islam after he saw a dream in which Sayaydi Rasul Allah (sm) asked him to support Quaid e Azam, Allama shabbir was insulted, humiliated and harmed by Jamiat e Ulama e Hind deoband after his decision to leave Deoband. He was NOT a deobandi in political sense though he was part of it earlier. Just as Quaid was part of Congress but you cannot call him congressi. ZH
Daniyal Shaikh: hr firqe me kuch keere hote hein, like TTP apne aap ko deobandi kahte hein jo k mehz naam nihad hein. Aap un ki waja se pure Deobandis ko ghalat ni kah skte
Like · June 18 at 11:11am
Syed Zaid Zaman Hamid [Official]: The HQ of Deoband is supporting Mushriks. It is not a small group of Deoband but DEOBAND itself. now what you want us to do with Darul Uloom ?????
Like · 22 · June 18 at 11:52am
Honey Lodhi: sir I really condemn their decision but all Deobands are not as such as them.
Like · 4 · June 18 at 12:00pm
Syed Zaid Zaman Hamid [Official]: This fatwa is from the HQ of deoband. which "other" deoband are you talking about dear ????? This is THE deoband which controls all deoband in world.
Like · 19 · June 18 at 12:08pm
Syed Zaid Zaman Hamid [Official]: Deoband support to congress is also fake. their support to Modi now is also fake. their oposition to Quaid is also fake. their opposition to pakistan is also fake. you are also fake. get a life kid. we will block you for stupidity.
—————
Syed Zaid Zaman Hamid [Official]
June 18 at 11:48am ·
Those idiots who say that we have posted the fake news, should read this also. Darul Uloom Deoband has now officially declared war against Islam and Jihad. Deoband supporters must either break their relations from Deoband, as Maulana Shabbir ahmed Usmani did, or they should share the crimes and sin of this war against Ummat e Rasul (sm) by Deoband.
I ask all deoband supporters — where do you stand now ??? DO NOT let your arrogance and pride stop you from sppeaking the truth against your madrassa. Stop them from the zulm they are doing or seperate yourself from them. Else, you are part of them…..
Kashmir Mujahideen reacted to this pro-Mushrik fasadi fatwa as :
"Two days after the Kashmiri guerrilla outfit Jamiat-ul-Mujahideen rejected the fatwa as 'poison for all Islamic movements in the world', militant conglomerate Muttahida Jihad Council (MJC) has termed the declaration as 'one-sided' and asserted that 'Jihad' would continue till Doomsday" !!
Wallah, Jihad will continue against Mushriks and Khawarij !!
"Deoband fatwa ruffles feathers of Kashmiri separatists
28 February 2008
The Daily Excelsior
From Ahmed Ali Fayyaz SRINAGAR: The historic congregation of over 10,000 clergymen in the Sub-continent's theological seat of Deoband on February 24-25 has understandably ruffled the feathers of Kashmiri separatist politicians and militants as the declaration adopted unanimously has not only dismissed 'terrorism' as un-Islamic but has also asked all Muslims to 'continue their loyalty towards their motherland'. Two days after the Kashmiri guerrilla outfit Jamiat-ul-Mujahideen rejected the fatwa as 'poison for all Islamic movements in the world', militant …"
http://www.jammu-kashmir.com/archives/archives2008/kashmir20080228d.html
Zeny Teli: Being a fan of Zaid hamid since yearrrsssssss …and now i m turning against this man…
Unbelievable, ur agenda is ambiguous now..
A request.. properly elaborate the reason behind being against deobandis .. would definitely want fo know evry bit of it.
Syed Zaid Zaman Hamid [Official]: just reply to the fatwa of deoband. you want me to hide it, support it or condemn it ???? why are you silent about the "secret" agenda of this deoband fatwa ???? speak or we will block you.
Like · 36 · June 18 at 1:08pm
Syed Rafi Uddin: we want you and all of us to condemn the fatwa……but stop blaming the whole sect for this…….Dar-ul-uloom deoband don't represent muslims of Pakistan and even don't represents Muslims of India as a whole…..
Like · 4 · June 18 at 1:49pm
Syed Zaid Zaman Hamid [Official]: if they dont represent you, dont feel offended. the fatwa is wrong and we condemn it. why are you upset about it ??
Talha Iqbal: Pak Deoband are following Mulana Tariq jamil nd Mulana Abdul Wahab nt these sold mullah's by god these deserve 1st to be shoot.Sir we r following Islam nt Mullas dnt wory if tommorow any of our Mulana give fatwa against mushrik jahad we wil leave him coz we r understanding Islam not just beliving sold mulla's
Like · Reply · 24 · June 18 at 12:03pm
Hide 13 Replies
Syed Zaid Zaman Hamid [Official]: no. Pak deobandis are following Fazal ur trehman and Samee ul Haq, both supporters of Khawarij.
Tariq Zia: Sir you r dividing muslims by working on american agenda.deoband,ehle hadees,bralvy all r muslims.instead ov tableegh u r dvdng mslms by sitting on FB..I am not deobandi but i support them bcause they r spreading islam,,,,,i was following u since years but today i came to know abt your agenda…Stop this non sense n try to unite muslims.
Like · Reply · 6 · June 18 at 1:33pm
Syed Zaid Zaman Hamid [Official]: read the post slowly. pl tell deoband to take their fatwa back. can you say that ??
Atif Rauf: see ppl like zahid hamid wants to divide pak on sectarian basis
Like · Reply · 3 · June 18 at 12:40pm
Syed Zaid Zaman Hamid [Official]: atif, are you insane???? can you read what is posted ?? you dont seem to have a problem with the fatwa of deonband but with zaid hamid for pointing it out ???
Shahbaz Ahmed Randhawa: quaid e azam ka namaz e janaza jisne parhaya wo deoband ulma tha . Tumhare so called brelvi ulema sab chup thay .
Like · June 18 at 12:28pm
Syed Zaid Zaman Hamid [Official]: you are wrong. Allama Shabbir ahmed usmani had left deoband.
Basit Khan Mohammadzai: I am deobandi.but I can never support pro mushrik fatwas
Like · Reply · 5 · June 18 at 11:53am
Syed Zaid Zaman Hamid [Official]: then you must seperate yourself from deoband and their fatwas else you are one of them. know this for fact. if your father becomes an enemy of Rasul Allah(sm), whose side will you take ????
………………
Syed Zaid Zaman Hamid [Official]
Now this is what Allah says that he has made them deaf, dumb and blind !! I am sharing a fatwa of Darul Uloom deoband against Kashmir Jihad which is extreme Khiyanat with Ummat e Rasul (sm). But instead of condemning the fatwa, the blind supporters of Deoband are attacking me for spreading sectarian hatred !! astaghfurullah ! These people will be raised with Hindu Mushriks on the day of judgement because they have decided to stand with Mushriks today.
All good deobandis must do what Allama Shabbir ahmed Usmani did !! Openly separate themselves from Head Quarter of Darul Uloom deoband and declare them as enemies of Ummat e Rasul (sm). Allama Shabbir ahmed Usmani rebelled against Deoband, resigned, formed his own party and joined Quaid e Azam. He was once a deobandi, just as Quaid was once a congressi. But Quaid left Congress and Maulana Shabbir left Deoband ! This is true fact. Only idiots can deny.
This is a test of all Deobandi Muslims. Where do you stand ???? Are you with Darul Uloom deoband or are you with Pakistan and Ummat e Rasul (sm) ???? this is NOT sectarianism. This is plain defence of Pakistan and Ummat e Rasul (sm).
Allama Iqbal called Hussian ahmed Madni of deoband as followers of Abu Lahab !!!!! This is still in Kulliyat e Iqbal. NO One can deny this. Was Iqbal spreading sectarianism or telling the fact to protect Muslims ????? Iqbal baba also said that Darul Uloom deoband and Qadianis have damaged Islam too much !!! Now what would deoband say about this statement of Baba Iqbal ?????
That is why Allama Shabbir ahmed Usmani left deoband and Joined Quaid e Azam !!!!
To all blind supporters of Deoband — if you cannot reply to the post decently, then you will be blocked. InshAllah, on the day of judgement, Allah will raise you with Modi and Congress and Khawarij because today, you stand with them in dunya !!!!
Today Narender Modi is preparing to attack Pakistan and Deoband has given fatwa to support Modi. What is this if not open war against Pakistan and Ummat e Rasul (sm). Modi is worshiping guns here to prepare for attack on Pakistan.
Darul Uloom has taken their side. Now Deobandis in Pakistan must chose their sides.
We reject Modi. We reject Fatwas of Deoband. We support Jihad in Kashmir and we are the soldiers of Ghazwa e Hind !!!
Basit Khan Mohammadzai: I am a deobandi.and I am against the political views of deoband.this is anti Islamic.we will fight to defend Pakistan
Like · 3 · June 18 at 6:03pm
Syed Zaid Zaman Hamid [Official]: Basit, once you know that Deoband HQ has done rebellion against Rasul Allah, then you must NOT call yourself deobandi. You are a Muslim alone. Allah did not name you deobandi or barelvi. if deoband is doing Kufr, then still you would like to be called a deobandi?? why ???????? you must separate from them else you are with them. It is like saying I am not a Kharji but I belong a Kharji school ??? what does that mean ???
…………..
Syed Zaid Zaman Hamid [Official]
TTP Khawarij of Congressi deoband have given fatwa that since Pakistan has military alliances with non-Muslim countries, therefore Pakistan army is Kafir army and Jihad against Pakistan is halal. Under this fatwa from Deobandi TTP, over a 100,000 Pakistanis have been killed or wounded and today entire Pakistan is in a state of war. Congressi deobandis like Samee ul Haq, Fazal ur Rehman etc are the biggest mouthpiece of Khawarij, defending the dogs of hell at all forums.
Now what should be the fatwa against them when Darul Uloom deoband forms strategic allies with Hindu Mushriks and declare war against Jihad in Kashmir and Pakistan ???? what should we call them ??? What should we call them when Deoband decides to fight Muslim league and support Congress in the greatest battle for the defence of Ummah of the 20th century in creation of Pakistan ?? It was because of deception and lies of Darul Uloom that millions of Muslims did not prepare for migration and were slaughtered in their homes… astaghfurullah !! How can we forget these crimes ????
I ask all those who have studied from Deoband madrassas. Separate yourself from name Deoband. Allah has named you Muslim NOT deobandis, barelvis or anything else. You should NOT be called Deobandis if you know that Darul Uloom and its 10,000 Mullahs have decided to fight Allah and Rasul Allah (sm). All Khawarij in Pakistan take their fatwas from Darul Uloom Deoband. Allama Shabbir ahmed Usmani did exactly that. He LEFT Deoband. YOU must also do that. Else, on the day of Judgement, in front of Rasul Allah (sm), you will NOT have any excuse !! That would be the greatest of Khasara !!
You are a Muslim and a Pakistan !! That is it !!! Nothing else….
Allah will NOT take duty from those who prefer sects over love for Sayyadi Rasul Allah (sm) and Pak Sarzameen. It is your choice now. If your name is deobandi, you will be raised with deobandis. if you are a Muslim, you will be raised with Sayaydi Rasul Allah (sm). Your choice….
We are slaves, servants soldiers of Rasul Allah (sm). Labbaik Ghazwa e Hind!! Labbaik Jihad e Kashmir !! Labaik Ya Rasul Allah !!!
LikeLike · · Share · June 18
Strange Unique: Syed Syed Zaid Zaman Hamid [Official] I'm proud of Sunni (Barelwi). Sunni scholars in 1946 organized "Sunni Conference" in Banaras for the creation of Pakistan and more than 5,000 Sunni Ulama and Mashaikh attended the conference. So please don't mention "Barelwis" with "deobandis" and remember that a Hadees has also clarified the division and declared only one group as successful and in Heaven.
………….
Syed Zaid Zaman Hamid [Official]
22 June 2014 at 7:41pm ·
Pakistan army's war against Congressi Deobandi Khawarij and the entire exis of military strategy being deployed against RAW backed pro-Hindu Mushriks Khawarij,
http://www.zemtv.com/2014/06/21/the-debate-with-zaid-hamid-kya-dehshat-gardi-ka-khatma-ho-paye-ga-21-june-2014/
………………
Syed Zaid Zaman Hamid [Official]
12 hrs ·
Everyone who follows us knows that we created these terms of Good Taliban and Bad Taliban to make a clear distinction between Mujahideen and Khawarij !!! Anyone defending Bad Taliban would be a anti-Pakistan, pro-Khawarij idiot.
Similarly, we have always made clear distinction between pro-Pakistan Deobandis and Congressi deobandis. We have always supported good deobandis who reject Khawarij and their war against Pakistan. Darul Uloom deobnand India is still the strongest enemy of Muslims and Pakistan and they are supporting Modi and Khawarij in Pakistan. Ony a Kharji or a Mushrik will support what Darul Uloom Deoband India is doing to Muslims, Kashmir and Pakistan.
Be very clear — if you are a Muslims — you CANNOT support Darul Uloom Deoband and TTP Khawarij and their supporters in Pakistan.
We have asked all good deobandis to stand up and make it clear that unless Darul Uloom Deoband and TTP do tauba from their war against Rasul Allah (sm), all good Deobandis will seperate themselves from them like Allama Shabbir ahmed Usmani did !!! This is Farz on all good deobandis else if they defend Darul Uloom and TTP then they are part of them !!!
What we say is pure deen, Haq and truth and NOT firqa wariat. When Fatwas are used to declare war against Pakistan and Pak army, is that NOT fitnah in the name of deen which Darul Uloom deoband is spreading ???????
IN our team, we have a huge majority of closest team members who were from Deoband but they rejected Khawarij, they reject Darul Uloom deoband India and now they are just Muslims and Ummati of Rasul Allah (sm). Darul deoband is just a school. If that school side with Kufr, will you still support it and proudly say that you are a deobandi?? NO !! think about it. You are a Muslim, Mujahid of Rasul Allah (sm) for Ghazwa e Hind. Enemy of Khawarij and enemy of pro-Hindu Mushrik, even if they appear as Muslims…
You will NOT support the Kufr of Khawarij !! Never !
Rao Tahir: If U plz abandon segregating Muslims into Shia, Sunni, Deobandi, Brelvi, Ahl-e-Hadith etc… Bad r Gud, implicating sects / beliefs is highly provocative and no Service to Islam & Pakistan.
Like · Reply · 9 · 12 hours ago
Hide 9 Replies
Syed Zaid Zaman Hamid [Official]: tell TTP NOT to use religion to attack Pakistan. if they use religion, we will attack their sect as well. they must be exposed, even if they are shias, barelvis or anyone else. Khawarij are enemies, thats it.
Like · 30 · 12 hours ago
Furqan Tahir Butt Islam ≠ Pakistan. #Checkmate
Like · 2 · 12 hours ago · Edited
Rao Tahir: This discussion would lead us nowhere, the wisdom demands to abstain from such rhetoric. The assertions of Mian Bilal ve point in that only Deobandis are involved in Jehad world-wide. So the admin should remain confined to Pak security interests and requirements n condemn Anti-state Terrorism / TTP on the basis of their barbaric acts against the state and Society in PAKISTAN. PLZZZZZZZZZ
Like · 7 · 12 hours ago
Syed Zaid Zaman Hamid [Official]: Rao Tahir the assertion of Mian Bilal are based on lies and disinformation. Afghan Taliban are NOT deobandi. Major Kashmir groups are also NOT deobandi. Is Hafiz Saeed deobandi ?? you guys only thrive on lies and propaganda not reality. We do know that all wars against Pakistan are being fought by Deobandis . thats a fact — look at Khawarij of TTP.
Muhammad Ali: I am Deobani but I am Pakistani and supports Pak Army to the core of my heart. Zaid Hamid Sb you need to use soft words in condemning any wrong steps of Darul Uloom Deoband (if any). Don't involve in maslaki issues other-wise your true cause of support to Pakistan Army and Pakistan would be compromised. you should stay on one issue at a time. We also need to minutely evaluate the Fatwas of Darul Uloom Deoband and get their feedback also before criticising them. Deoband is strong opponent of Qadianiat which is an importent point here need to be considered.
Like · Reply · 2 · 11 hrs
Syed Zaid Zaman Hamid [Official]: do you know what Allama Iqbal said about deoband and Qadiani ?? do you know that Allama Iqbal compared Hussian ahmed madni with Abu Lahab ?? do you know that Allama iqbal said that deoband did equal damage to Islam just as Qadianis ?? why did dervesh of the time Allama Iqbal said this ????? think… think…
………..
Syed Zaid Zaman Hamid [Official] shared Syed Zaid Zaman Hamid's video: Zarb-e-Azb – Final Blow to TTP Khawarij.
11 hrs · Edited ·
There are many who are asking why are we attacking the Congressi Khawarij Deobandi now on the social media?
Our reply is:
"Because Pakistan army is attacking them on ground in the final battle against Khawarij and our war on social media is the second axis of the same war to support Pak army operations. This war must be won both on ground and on ideological axis. The military and ideological power of the Khawarij must be broken totally together. Pak army can destroy them militarily but we the patriots must attack and destroy the Khawarij through the argument of Quran and sunnah!! "
All soldiers of Rasul Allah (sm) and patriots must clearly separate themselves from Khawarij and their ideological backers — Darul Uloom deoband India !! If anyone stands with Khawarij and their fitnah gar sect, then he is one of them and not from Ummat e Rasul (sm) !! Know this well.
Also, let us destroy the arguments of Khawarij that all Jihad groups in Afghanistan and Kashmir are deobandis. This is total lies and propaganda form the Khawarij.
All Afghan (Pashtuns/Uzbeks/Tajiks) are sunni hanafis and there are NO deobandi / barelvi anywhere in Afghanistan. Hekmaytar, Rabbani, Khalis, Sayyaf, Mullah Omer, Haqqani, Mujaddid, Gilani etc are NOT deobandis but Sunnis only, some even from sufi orders. Deobandi/Beralvi sects are only names in India and Pakistan. There are no deobandis in Iraq, syria, Libya etc or anywhere in Muslim world, not even in Afghanistan.
In Kashmir, LeT of Hafiz saeed is Salafi NOT deobandi. Hizb ul Mujahideen of Sallahuddin sb is Barelvi. These are the two large groups. JM, Harkat, albadr, are deoband but many of their commanders have left Jihad and have joined the Khawarij and are now fighting against Pakistan like Ilyas Kashmiri, Ismat ullah Muawiyyah… etc.
The reality is that Congressi Deobandi's are NOT doing Jihad anywhere. They are only fighting the State of Pakistan, serving the Mushriks and now have become the Khawarij !!!! That is the reality !!
As we said, all those who love Pakistan, must speak out against Khawarij and be counted. Else, they are one of them for staying neutral in the war between Imaan and Kufr !!!
https://www.facebook.com/syedzaidzamanhamid/posts/669002856487862
Hashaam Bin Aamir: Syed Zaid Zaman Hamid [Official] Please don't mix Khawarij and Deobandi… Deobandis belong to school of thoughts that Islam teaches… Where as TTP ppl are not from any religion as they are Khawarij … So I request you to delete the word Deobandi from the text above…
Kind Regards..
Like · Reply · 17 · 10 hrs
Hide 24 Replies
Syed Zaid Zaman Hamid [Official]: Hashaam, are you naive or deliberately trying to hide the facts. ?? All Khawarij or their supporters in Pakistan belong to deboandi sect. Mullah Fazal ullah to Hakeem ullah to Mullah aziz to Ismat ullah Muawwiyya to Samee ul Haq — all are deobandis. even they dont deny it but you are in denial.
Sabiha Saeed: Yes sir I agree deobandis are idiots & extreemists but I also want to hear about those bad shias which are being trained by Iran to bring Shia revolution in Pakistan & muslim world …… Like sipah muhammad in Pakistan & hizbullat in Lebnon …..
Like · Reply · 7 · 9 hrs
Hide 14 Replies
Syed Zaid Zaman Hamid [Official]: there may be many but at present Pak army is operating against deobandi Khawarij not barelvis, or shias or ahl hadees.
…………..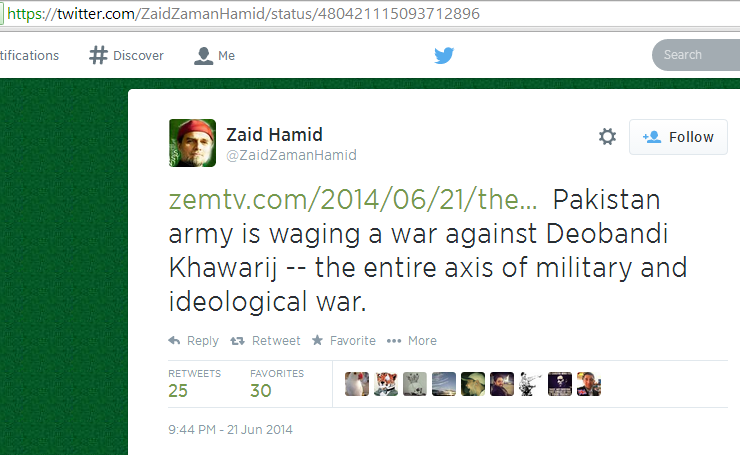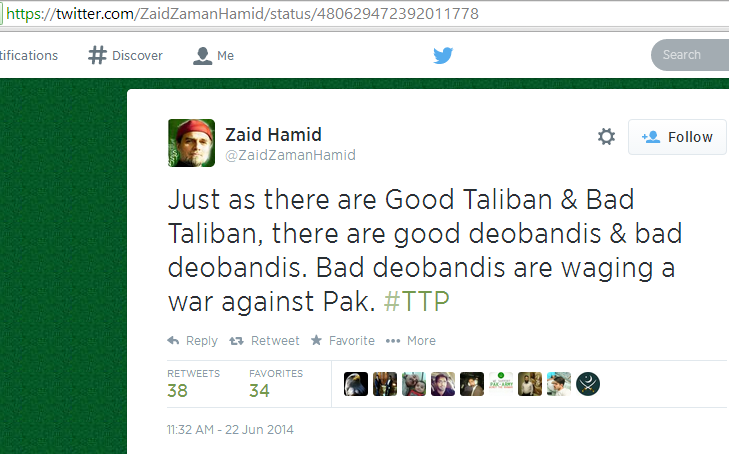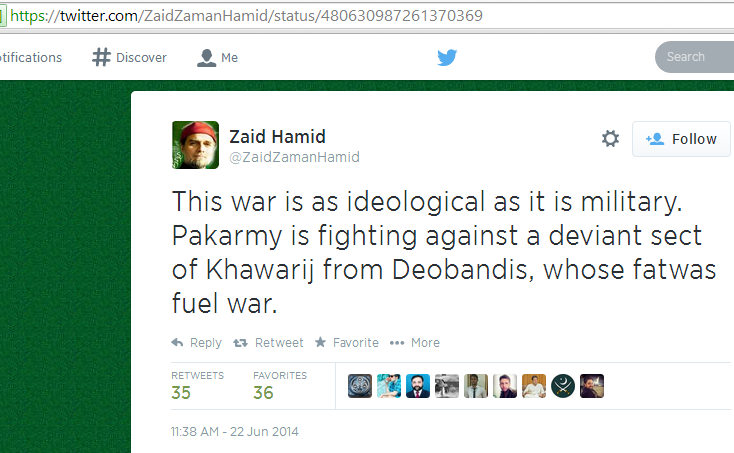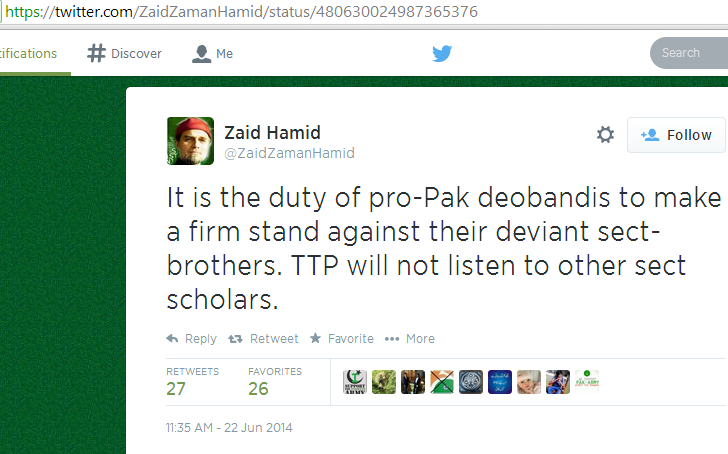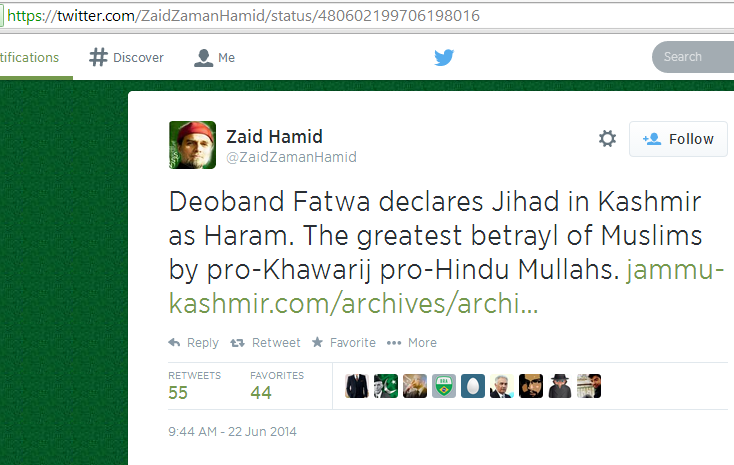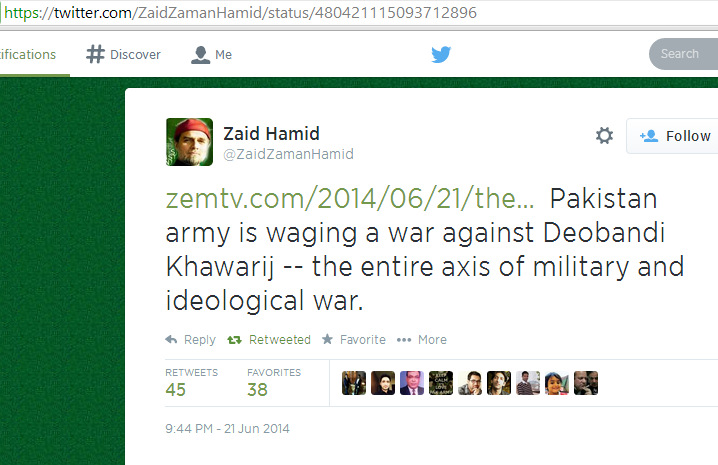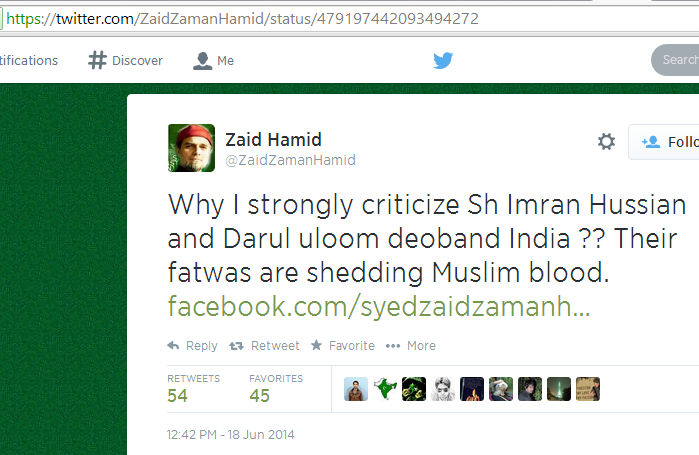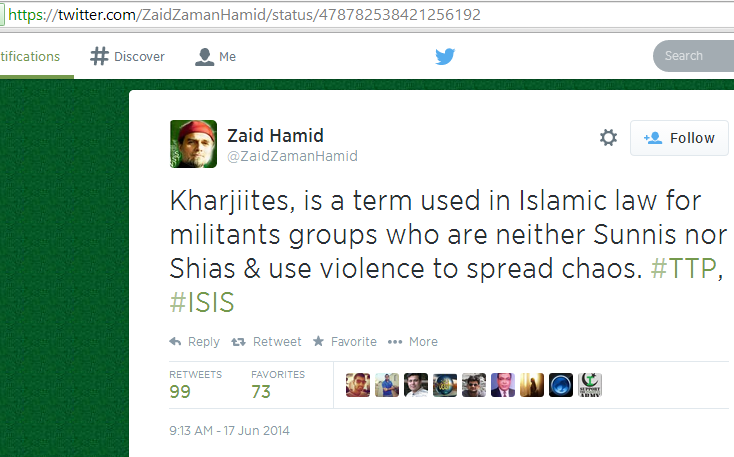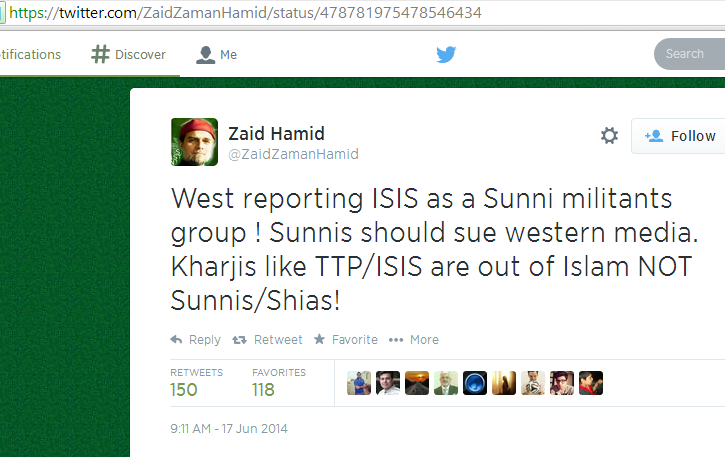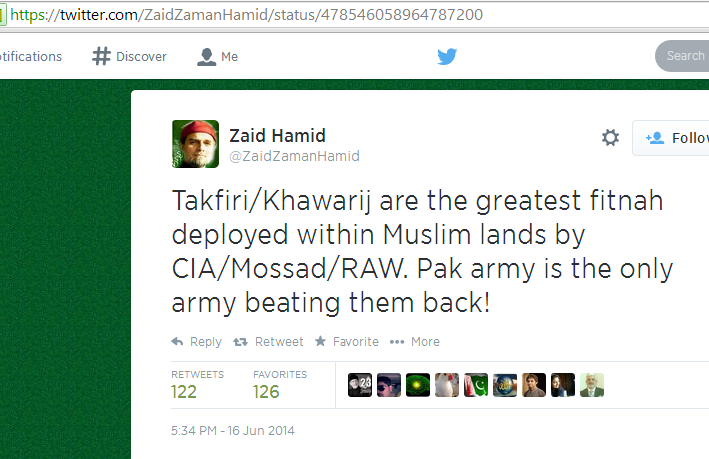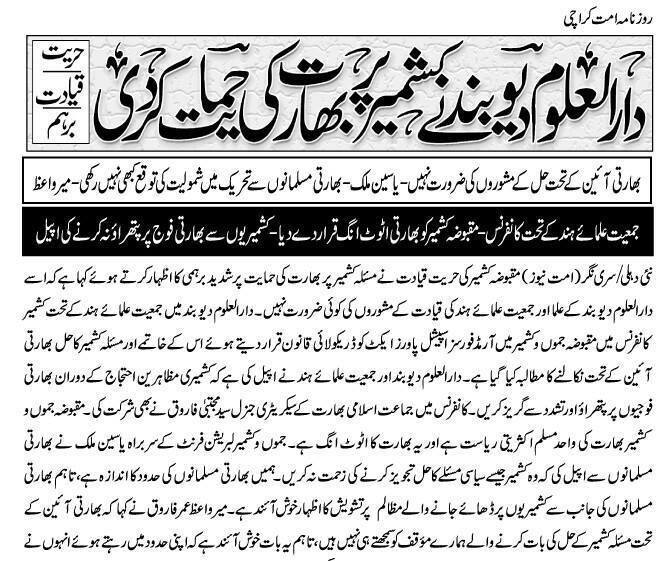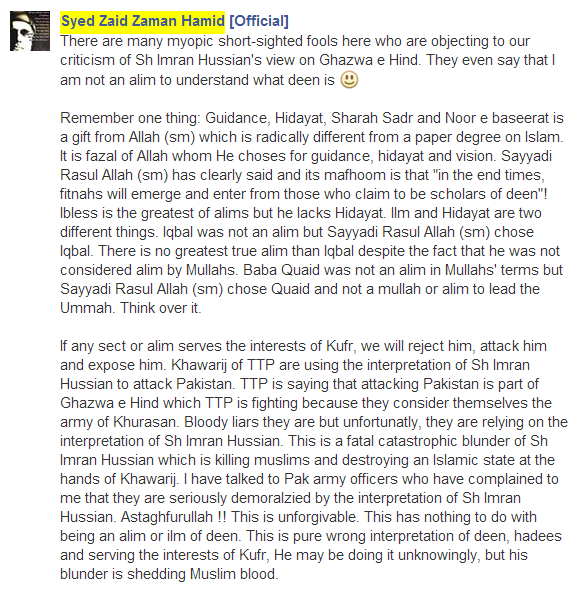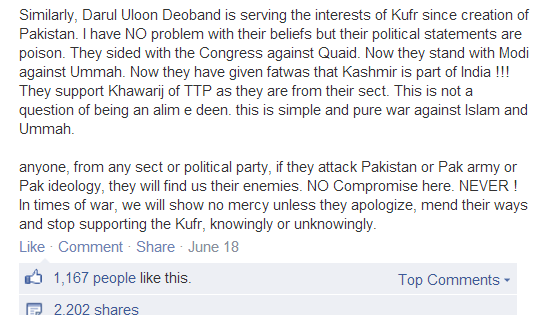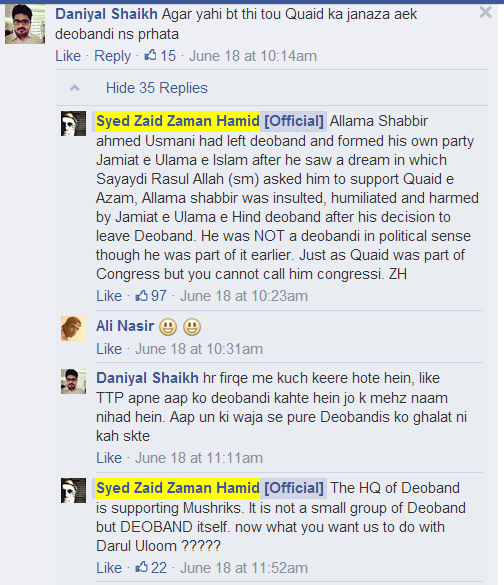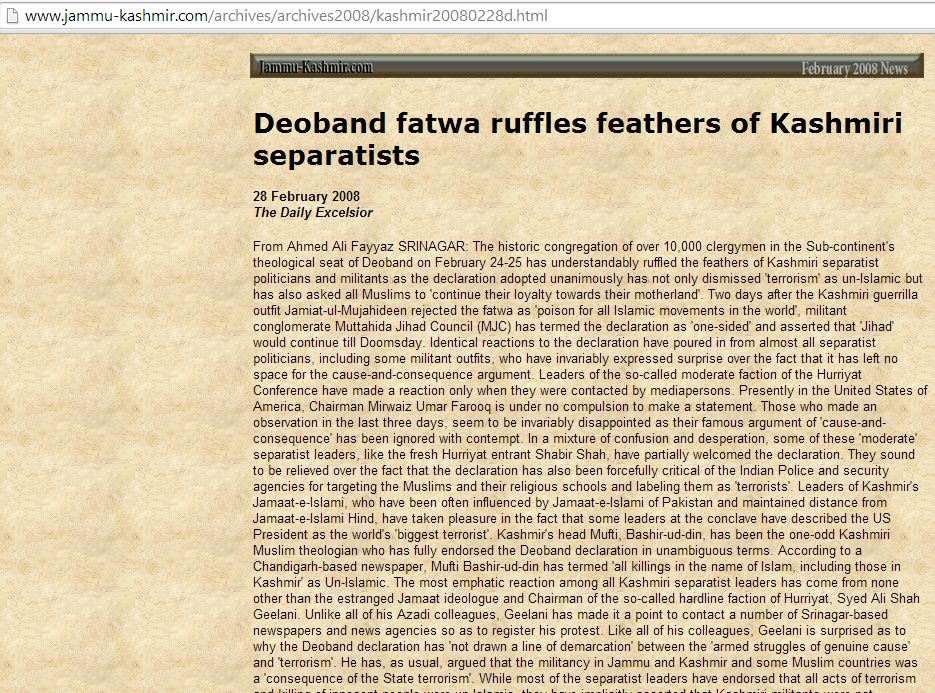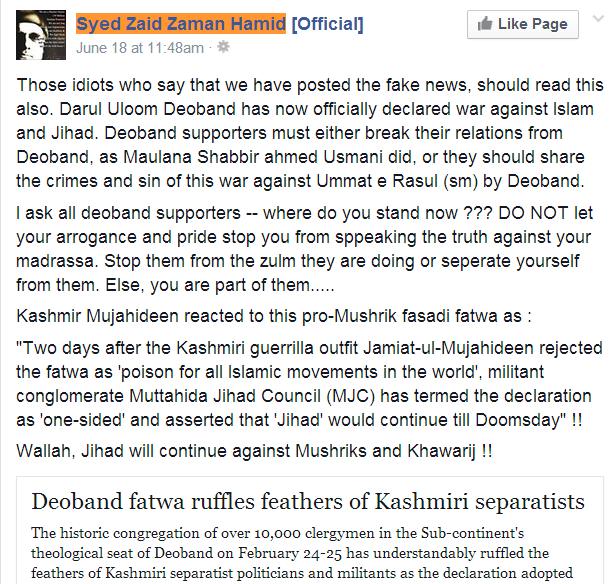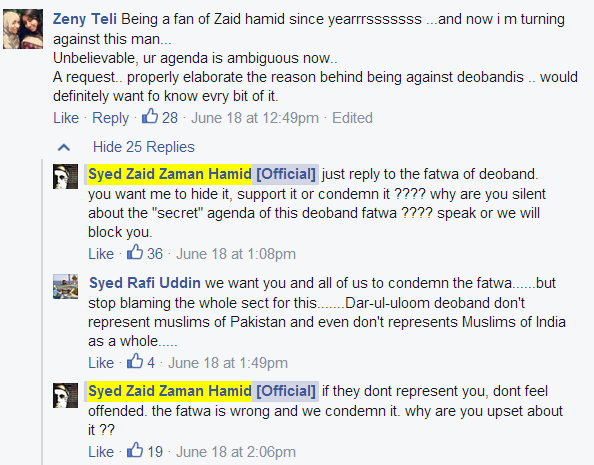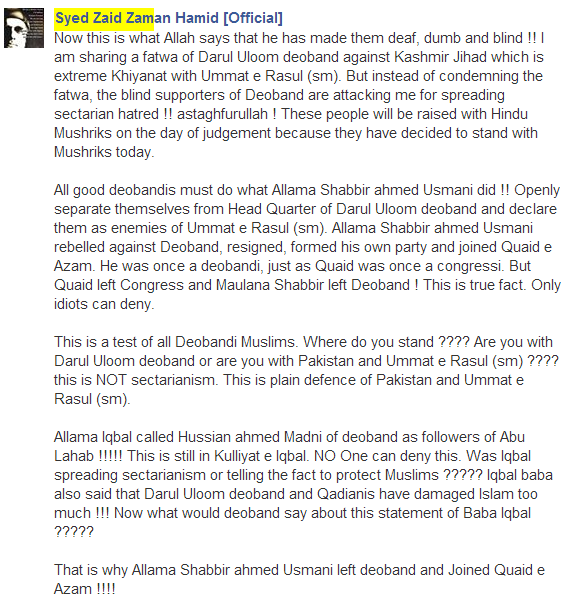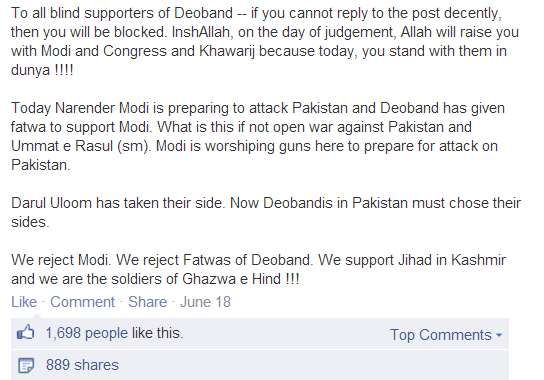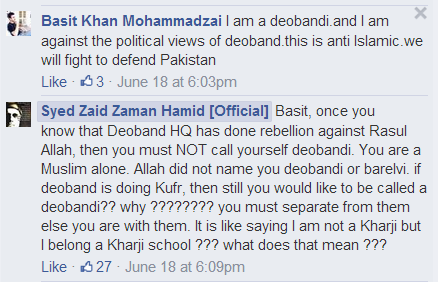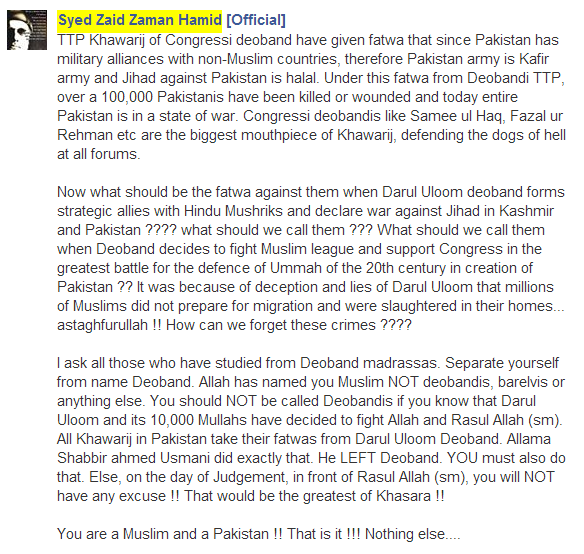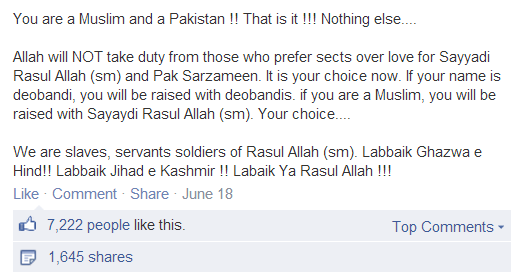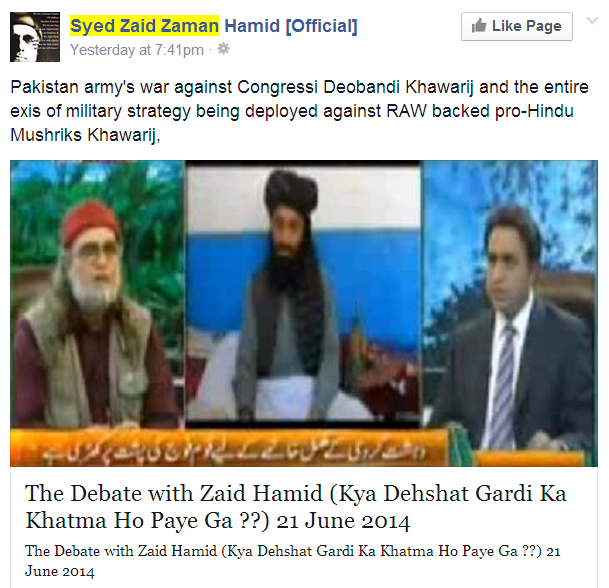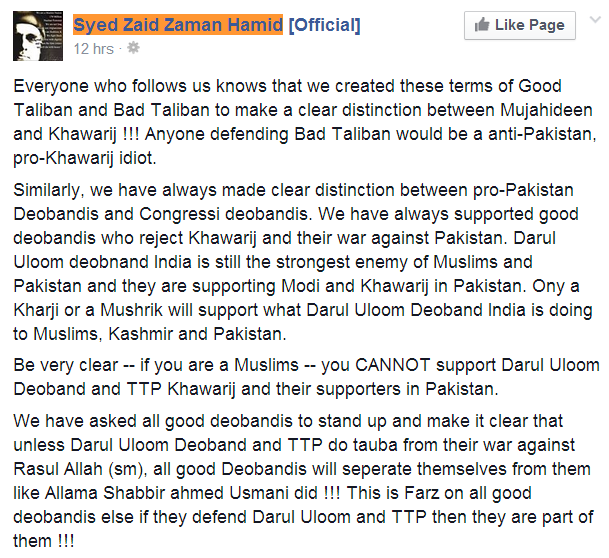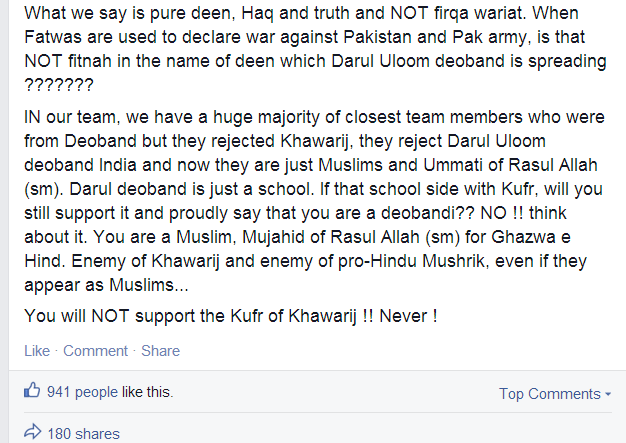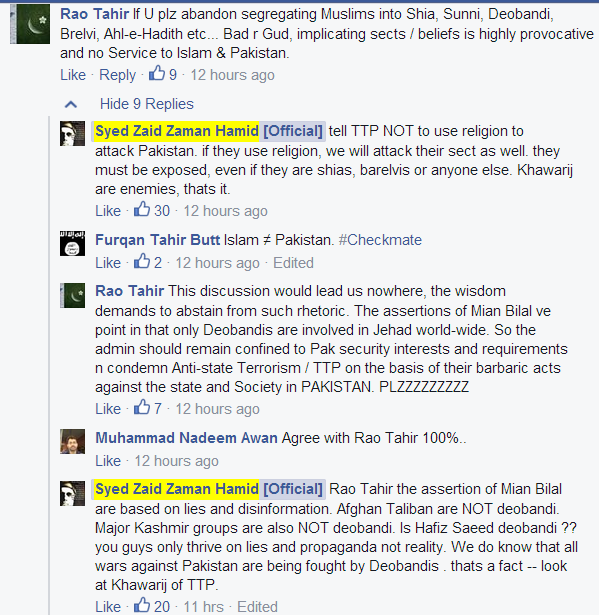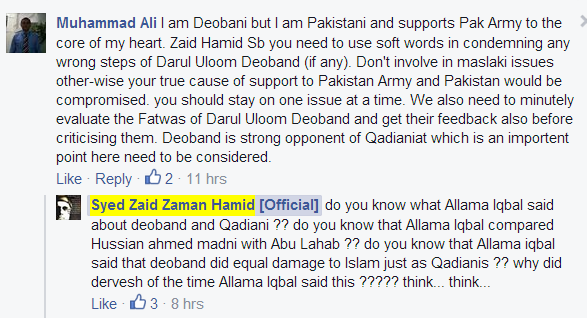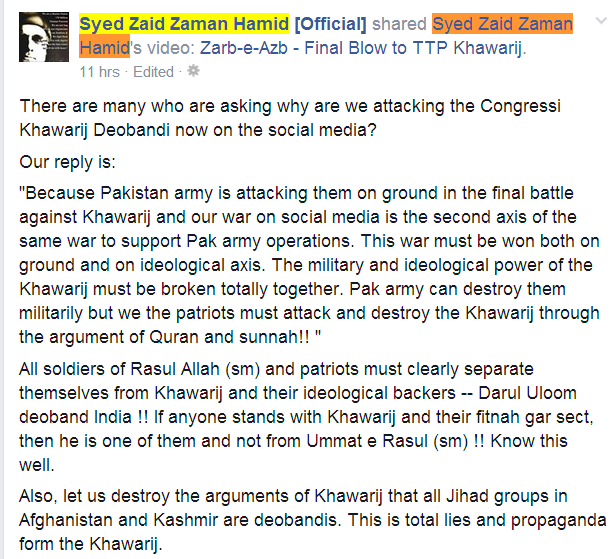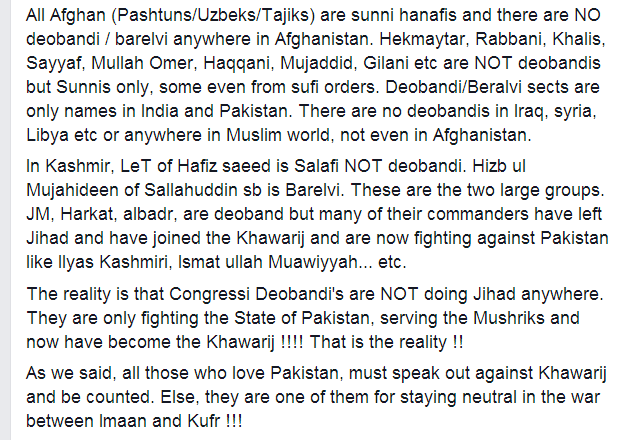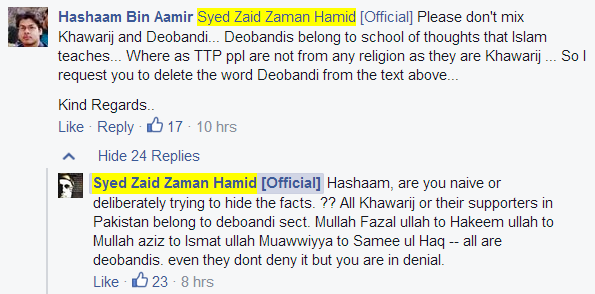 Comments
comments