Zarb-e-Azb: Deobandi ASWJ terrorists massacre eight Shia Pashtun IDPs in Hangu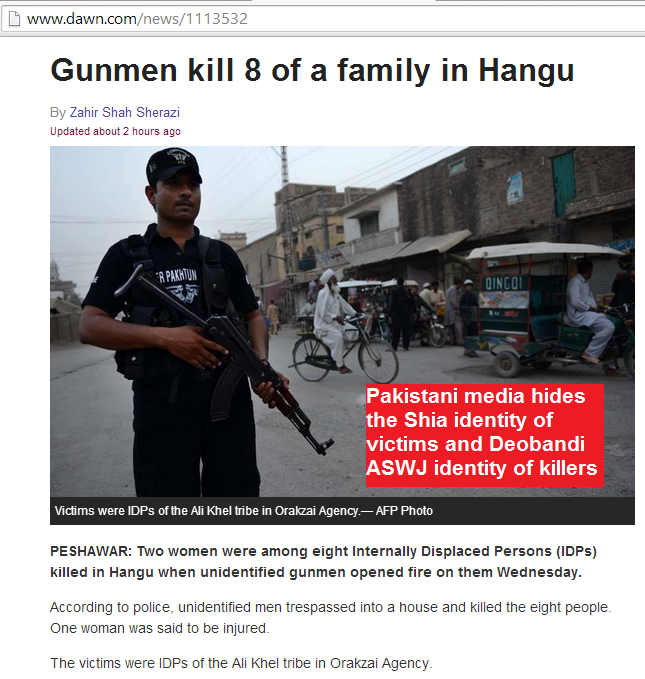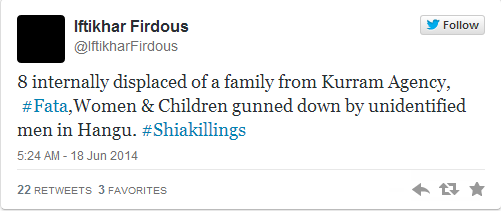 We salute 8 Shia Pashtun IDPs of Alizai Tribe of Orakzai Agency killed by Deobandi ASWJ terrorists today. This is latest in the series of Shia genocide by Deobandi ASWJ terrorists across Pakistan, and a reaction of the current military operation Zarb-e-Azb against takfiri Khawarij of TTP and ASWJ.
Why are Pashtuns silent on massacre of 8 Shia Pashtun IDPs of Orakzai Agency by Deobandi ASWJ terrorists. Is there no Ghairat (honour) left?
Since the Operation ZarbeAzb began, 6 army men and 8 Pashtun Shias have been killed by Deobandi ASWJ -TTP terrorists while 8 Sunni Barelvis killed by the pro-ASWJ PMLN in Lahore.
An entire family, of eight Pashtun Shias, gets killed in Kohat and little or no mention of Shia motive of killings by Deobandis is made in both social and electronic media in Pakistan. Shame!
Iftikhar Firdous @IftikharFirdous
8 internally displaced of a family from Kurram Agency, #Fata,Women & Children gunned down by unidentified men in Hangu. #Shiakillings

8 internally displaced of a family from Kurram Agency, #Fata,Women & Children gunned down by unidentified men in Hangu. #Shiakillings

— Iftikhar Firdous (@IftikharFirdous) June 18, 2014