سعودی حمایت یافتہ سلفی دہشت گرد تنظیم داعش کے ہاتھوں عراق میں سینکڑوں سنی اور شیعہ فوجیوں کا قتل عام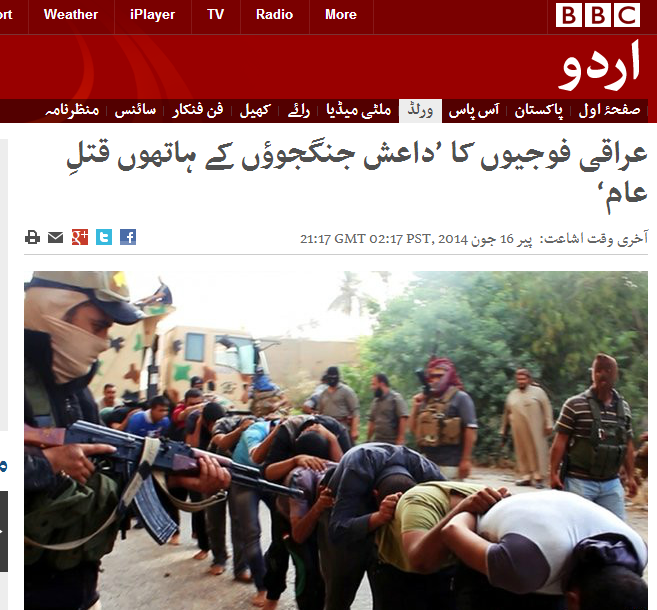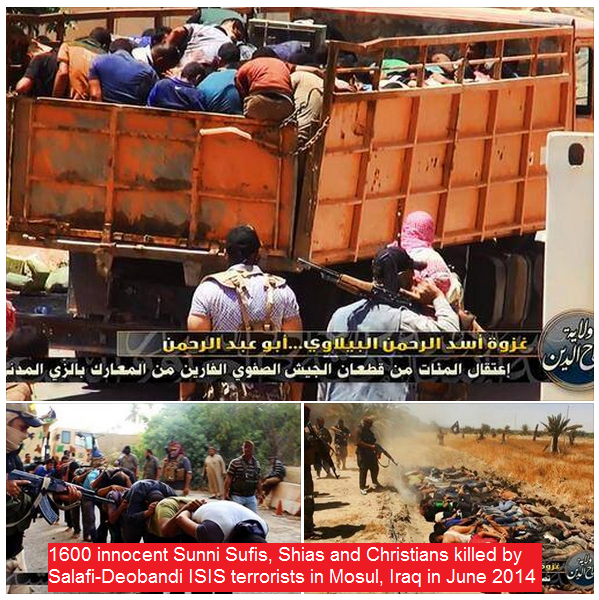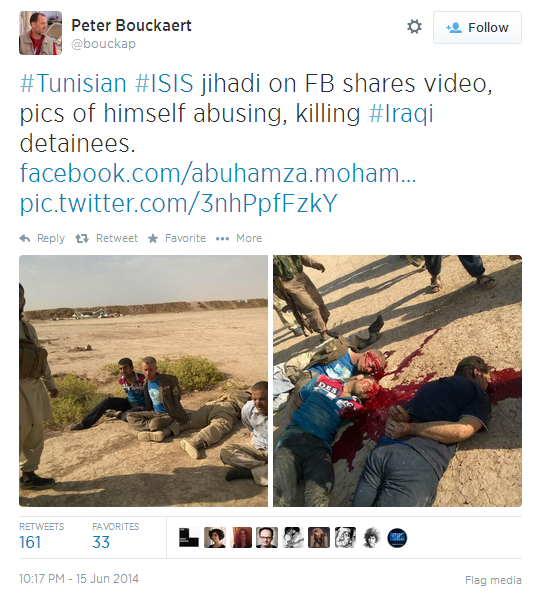 عراق میں موصل اور تکریت پر قبضہ کرنے والی سلفی و دیوبندی دہشت گرد تنظیم دولت اسلامی عراق والشام نے انٹرنیٹ پر تصاویر جاری کی ہیں جن سے ظاہر ہوتا ہے کہ اس کے جہادی جنگجو عراقی فوجیوں کا قتلِ عام کر رہے ہیں۔ ان تصاویر میں کئی عراقی فوجیوں کو ٹرکوں پر سوار کر کے دکھایا گیا ہے جس کے بعد انہیں کھائیوں میں لیٹا ہوا دکھایا گیا ہے جن میں ہلاک کرنے سے قبل اور بعد کی تصاویر شامل ہیں۔
عراقی فوج کے ترجمان لیفٹنٹ جنرل قاسم الموسوی نے تصدیق کی ہے کہ یہ تصاویر اصلی ہیں اور صلاح الدین صوبے میں لی گئی تھیں۔
شمالی عراق میں موجود بی بی سی کے نامہ نگار جِم موئر کا کہنا ہے کہ کہ اگر یہ تصاویر اصلی ہیں تو یہ 2003 میں عراق پر امریکی قبضے کے بعد سے سب سے سفاکانہ قتلِ عام ہو گا۔ گذشتہ ہفتے کے دوران جنگجوؤں نے موصل اور تکریت سمیت کئی دوسرے قصبوں پر قبضہ کیا تھا مگر عراقی فوج کا دعویٰ ہے کہ اس نے کئی قصبے جنگجوؤں کے قبضے سے آزاد کروا لیے ہیں۔
بظاہر آئی ایس آئی ایس کی جانب سے پوسٹ کی جانے والی تصاویر میں دیکھا جا سکتا ہے کہ فوجیوں کے ساتھ کیسا بہیمانہ سلوک کیا گیا جب انہیں تکریت کے ایک فوجی اڈے پر قبضے کے بعد گرفتار کیا گیا۔
تصاویر میں بڑی تعداد میں نوجوان فوجیوں کو دیکھا جا سکتا ہے جنہیں ٹرکوں پر سوار کر کے لیجایا جا رہا ہے۔
ان تصاویر کے کیپشن میں لکھا گیا ہے کہ انہیں ان کی موت کی جانب لیجایا جا رہا ہے۔
بعض تصاویر میں جنگجوؤں کو اپنے قیدیوں پر فائرنگ کرتے بھی دیکھا جا سکتا ہے۔
سلفی دہشت گرد وں کی تحریک میں موجود ذرائع جن کا تعلق آئی ایس آئی ایس سے نہیں ہے نے بی بی سی کو بتایا ہے کہ اندازاً ایک ہزار کے قریب اہلکاروں کو قتل کیا گیا ہے جنہیں سبايكر کے فوجی اڈے سے پکڑا گیا تھا۔
ان کا کہنا ہے کہ داعش کے جنگجوؤں نے انہیں باقاعدہ فوجی دستوں میں تقسیم کیا جنہیں آزاد کر دیا گیا جبکہسنی اور شیعہ فوجیوں اور حکومت کے ایلیٹ گولڈن برگیڈ کو مارنے کا حکم دیا گیا۔
موصل کے مغرب میں واقع تل عفر نامی قصبے میں شدید لڑائی کی اطلاعات ہیں جبکہ حکومتی افواج کا اجتماع بغداد کے شمال میں سامراء میں جاری ہے جو تکریت پر حملے کی تیاری میں جاری ہے۔
Source of Urdu Report: BBC Urdu
http://www.bbc.co.uk/urdu/world/2014/06/140615_raqi_soldiers_killed_tim.shtml
————————————–
————————————–
Report in English
Source: The New York Times
Militants Claim Mass Execution of Iraqi Soldiers
By ROD NORDLAND and ALISSA J. RUBINJUNE 15, 2014
BAGHDAD — Salafi-Wahabi militants from the Islamic State in Iraq and Syria boasted on Twitter that they had executed 1,700 Iraqi government soldiers, posting gruesome photos to support their claim.
This appears to be the case of the worst mass atrocity in either Syria or Iraq in recent years, surpassing even the chemical weapons attacks in the Syrian suburbs of Damascus last year, which killed 1,400 people and were attributed to the Syrian government.
The latest attack, if proved, would also raise the specter of the war in Iraq turning genocidal, particularly because the insurgents boasted that their victims were all Shiites but also included Sunnis and Sufis loyal to Iraq's central government.
The office of the Shiites' supreme spiritual leader, Grand Ayatollah Ali al-Sistani, Saturday night issued what amounted to a revision of the ayatollah's call to arms on Friday, apparently out of concern that it was misinterpreted by many as a call for sectarian warfare. The statement, billed as "clarifying the position on taking up arms," implored Iraqis, "especially those living in mixed areas, to exert the highest level of self-restraint during this tumultuous period."
The claim of the mass execution appeared on a Twitter feed previously used for ISIS announcements, so whether or not the executions were genuine, the organization certainly intended to boast of them.
"We're trying to verify the pics, and I am not convinced they are authentic," said Erin Evers, the Human Rights Watch researcher in Iraq. "As far as ISIS claiming it has killed 1,700 people and publishing horrific photos to support that claim, it is unfortunately in keeping with their pattern of commission of atrocities, and obviously intended to further fuel sectarian war."
News was slow to circulate in Iraq, however, since the government last week blocked social network sites, including YouTube, Twitter and Facebook.
An Iraqi military intelligence official confirmed that the military was aware of the reported executions in Salahuddin Province, which includes the key city of Tikrit, but he did not know how many there were. He spoke on the condition of anonymity in line with his agency's rules.
Col. Suhail al-Samaraie, head of the Awakening Council in Samarra, a pro-government Sunni grouping, also confirmed that officials in Salahuddin were aware of large-scale executions having taken place last week, but he did not know how many. "They are targeting anyone working with the government side, anyplace, anywhere," he said. He said the insurgents were targeting anyone with a government affiliation, whether Sunni or Shiite.
One of those executed by the insurgents was a police colonel named Ibrahim al-Jabouri, a Sunni official in charge of the criminal investigation division in Tikrit, according to Mr. Samaraie.
A local journalist familiar with the Iraqi military in Salahuddin Province said the Fourth Iraqi Army Division had collapsed as the insurgents advanced last week, and 4,000 soldiers were believed to have been captured. Local reports said many of the victims were Sunnis as well as Shiites, he added.
A New York Times employee in Tikrit said by telephone that residents spoke of seeing hundreds of prisoners captured when they tried to flee Camp Speicher, a former American military base and airfield on the edge of Tikrit that was turned into an Iraqi training center. Those who were Salafis or Whabis were given civilian clothes and sent home; the Shiites were taken to the grounds of Saddam Hussein's old palace in Tikrit, where they were said to be executed, their bodies dumped in the Tigris River, which runs by the palace compound.
The ISIS photographs appeared to have been taken at that location. However, the Times employee said he had not spoken to any witnesses who claimed to have seen the executions or bodies.
The still photographs uploaded on the ISIS Twitter feed were bloody and gruesome, showing the insurgents, many wearing black masks, lining up at the edges of what looked like hastily dug mass graves and apparently firing their weapons into groups of young men who were bound and packed closely together in large groups.
The photographs showed at least five massacre sites, with the victims lying in shallow mass graves with their hands tied behind their backs. The number of victims that could be seen in any of the pictures numbered between 20 and 60 in each of the sites, although it was not clear whether the photographs showed the entire graves. Some appeared to be long ditches.
The photographs showed the executioners flying the ISIS black flag, with captions such as "the filthy Shiites are killed in the hundreds," "The liquidation of the Shiites who ran away from their military bases," and "This is the destiny of Maliki's Shiites," referring to Prime Minister Nuri Kamal al-Maliki.
And another showed a couple hundred prisoners, all of whom had been made to stand, bent over from the waist with their hands clasped behind their backs, as armed men guarded them. All were in civilian clothes, and the caption claimed they had jettisoned their uniforms. "They were lions in uniform, and now they are just ostriches," it read.
Other photographs showed prisoners, mostly young men, stuffed in large numbers in dump trucks and pickup trucks. They appeared extremely frightened.
A senior Iraqi government official, speaking on the condition of anonymity because he was not authorized to make press statements, said news of the executions was slow to circulate because Twitter had been blocked. "I don't doubt they are real, but 1,700 is a big number," he said. "We are trying to control the reaction. They are trying to bring back the 2005 to 2006 days." Salafi-Wahabi and Shiite militias engaged in a wave of tit-for-tat killings of civilians during that period, killing tens of thousands.
Continue reading the main storyContinue reading the main storyContinue reading the main story
Ayatollah Sistani's statement late Saturday came only one day after his office had said it was the duty of every Iraqi to take up arms to support the government, which greatly accelerated the formation of volunteer groups, supplementing Shiite militias and planning to support the Iraqi Army.
Adamant that his words on Friday not be taken as a starting bell for a repeat of that period of bloody sectarian fighting or potentially something even more brutal, Ayatollah Sistani used plain language to make clear that he was opposed to and would condemn any sectarian behavior.
All citizens need "to steer clear from sectarian and untamed nationalistic discourse that is of detriment to Iraq's national unity," he said.
Both the Iraqi military and the informal Shiite militias already appear to have embraced each other, and in at least some cases, militia commanders are already working inside Iraqi Army bases, blurring the line between the government troops and informal squads of gunmen — some of whom may wear government uniforms but are not army soldiers.
Such groupings in 2005 to 2007 were responsible for much of the sectarian bloodletting, when as many as 1,000 civilians were being killed every week.
An Iraqi employee of The New York Times contributed reporting from Tikrit, Iraq, and Tim Arango from Erbil, Iraq.
عراق کے شہروں موصل اور تکریت میں سعودی امداد یافتہ سلفی اور دیوبندی دہشت گرد سینکڑوں سنی صوفیوں، شیعوں اور مسیحیوں کا قتل عام کر رہے ہیں
Comments
comments