Pakistan: Former Shia Muslim faces death threats after converting to Ahmadiyya Islam | Report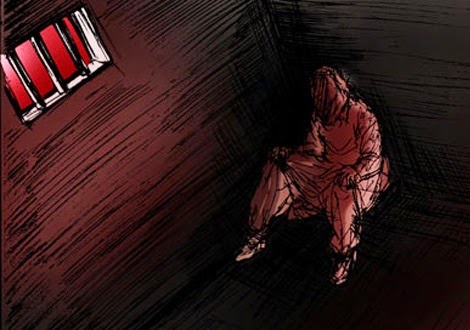 Editor's note: We are cross posting a report from Ahmadiyya Times. A Shia Muslims who has reportedly converted to Sunni (Ahmadiyya) Muslim is facing threats. It is not clear from the report who is threatening the Shia Muslim convert to Ahmadiyya Muslim. We strongly condemn these threats, right to life and right to religion is a fundamental human right upheld by Islam. Why should we bother if a Shia coverts to Sunni (Ahmadiyya) ?
The Shia community did accept even bigger changes in faith when Shia Muslims converted to Christian faith. The case of Michael James Nazir-Ali is well known who went on to become a prominent ordained minister of the Church of England. http://en.wikipedia.org/wiki/Michael_Nazir-Ali
Whomsoever is making such threats should be stopped.  There is no force in Islam. Right to life and right to religion needs to be universally upheld.
Ahmadiyya Times | News Watch | Int'l Desk
Source/Credit: Asian Human Rights Commission
By Staff report | June 11, 2013
The Asian Human Rights Commission (AHRC) issued a statement today revealing that it has received information about a former Shia Muslim who has by his own choice, converted to Ahmadi Muslim sect is now facing threats to his life.
According to the information received by the AHRC, Mr. Sharafat Din, 35 years of age, the son of Ahmed Mir and a resident of Gilgit-Baltistan province Pakistan, who hails from the Shia Sect of Islam, on his own choice joined the Ahmadi faith in June of 2013.
The Shia Sect is the second largest sect of Islam.
Further according to the information, Din's family members have kidnapped his wife and his child as punishment for joining Ahmadiyya Islam.
The community where he resides has declared him an infidel and has deemed that he is to be killed by the community due to his religious beliefs.
Din's nephew has filed a First Information Report (FIR) with the Police, accusing him of spreading hate against Muslims and for 'preaching Ahmedi ideology' in the community. According to reports the police have, in turn filed a criminal case against Din for instigating a sectarian violence.
Din is hiding in different cities as his name and photos have been distributed to different religious groups advertising that he is an infidel.
The AHRC noted with concern, the persecution of Ahmadi's by religious fundamentalists in Pakistan, which has to date continued unabated and they have viewed conversions into the Ahmadi sect as one of the biggest crimes against Islamic principles.
Pakistan has officially declared the Ahmadis to be non-Muslims and in their freedom of religion has been curtailed by a series of ordinances, acts and constitutional amendments. The Ahmadi sect was declared un-Islamic by a constitutional amendment in 1974  and all other Islamic sects continue to discriminate against the Ahmadiyya community so much so that they are not even allowed to perform any Islamic rituals.
Ahmadis are barred by law from worshiping in public places, or in structures identified as mosques, performing the Muslim call to prayer, using the traditional Islamic greeting in public and or  publicly quoting from the Quran. Any Ahmadi found engaged in any Islamic activity is meted with the ultimate punishment of death by Pakistani courts or by public killings by Islamist mobs.
http://ahmadiyyatimes.blogspot.com/2014/06/pakistan-former-shia-muslim-faces-death.html
Comments
comments