With Hafiz Saeed and Malik Ishaq receiving Financial support from the Nawaz Sharif Government, dim chances of durable peace with India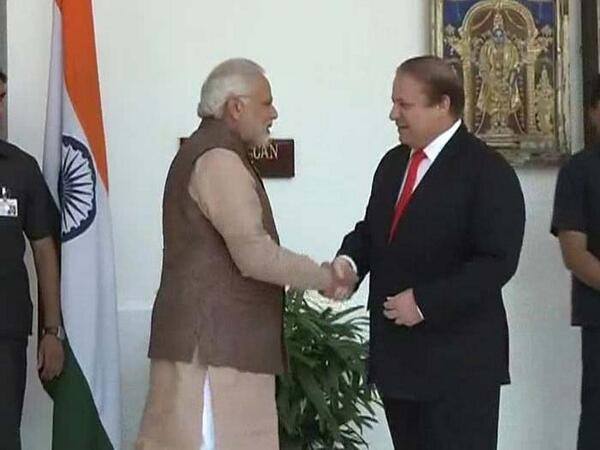 One cannot run with the hares and hunt with the hounds at the same time. Similarly one cannot promise peace with India and still have a soft corner for various Wahabi and Deobandi terrorist groups like ASWJ-LeJ, JeM and LeT/JuD as PM Nawaz Sharif does.
While it is fashionable to overhype this photo op between the current Pakistani and Indian PMs, few are highlighting the hypocrisy on the part of PM Nawaz Sharif. Then again, as an experienced crony capitalist, the current Pakistani PM has done well to procure the support of Pakistan's elitest liberals who routinely misrepresent this Pro Taliban businessman as "anti-establishement"
Even today, Nawaz Sharif is still in a coalition with interconnected Deobandi militant organizations like ASWJ and JeM who are actively involved in terrorism. Under the PML N Federal Government as well as Punjab Provincial government, the Salafi-Wahabi Hafiz Saeed and his JuD are more powerful than ever. How can there be durable and sustainable peace between Pakistan and India when these Deobandi and Wahabi terrorist groups are still in the good books of the current PML N government?
It seems that PM Nawaz Sharif, these public gestures are simply for protecting the Narrow business interests of his rapidly growing international business empire and that of a few of his select cronies. Crony Capitalism does not equal peace especially when the same cronies are also pro Jihadi!
Where is Pakistan's so-called independant media from GEO to ARY, who are not investigating alleged MNS business interests in Thailand?
When the last PPP government wanted to move against Jihadis, it is alleged that it was MNS/PML N that informed Hafiz Saeed/LeT/JuD to move their Pakistan based bank accounts to safer locations. Why is media not investigating these claims and not talking about this?
From sellout liberals to corrupt capitalists who are cheering at this photo op, why is no one talking about PM Nawaz Sharif's continued soft corner for the terrorists of the Taliban, JeM, ASWJ and LeT.
It is difficult to understand why some PPP Jiyalas are happy about this photo op. When the former Prime Minister Benazir Bhutto did this 25 years ago, she was called a "security risk" by the ISI and Nawaz Sharif camp. This was the time where the ISI and Osama Bin Laden had combined their resources to overthrow Benazir Bhutto and install their puppet, Nawaz Sharif.
Similarly, why are Jiyalas forgetting that it is the Lahore High Court and Supreme Court that is openly supportive of Hafiz Saeed and that is openly and blatantly Pro MNS/PML N. Aside from wrecking Pakistan's Judical system, this largely PCO judiciary has openly favoured the terrorists of LeT, ASWJ and Lal Masjid.
Can these PML N courts ensure that their Jihadi beneficiaries will not scuttle peace prospects with India?
For PPP, being Pro democracy should not mean accepting and supporting whatever rubbish that MNS is doing without question. PPP has disgraced itself by accepting Nawaz Sharif's policy of capitulating to the same Deobandi Taliban who have murdered over 50,000 Pakistanis. This policy by the PPP cannot be justified as Pro-Democracy! It should be more accurately described as spinelessness.
Comments
comments