Media discourse on Deobandi terrorism: 30 April 2014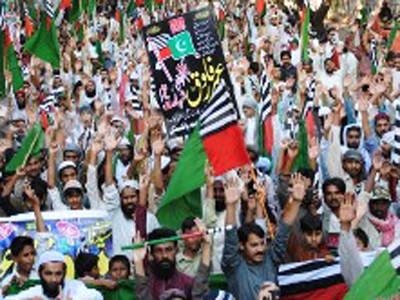 Related articles: https://lubpak.com/archives/tag/media-discourse-on-deobandi-terrorism
Extracts from Pakistan and foreign media
Earlier, the role of religious seminaries to assist the TTP in conducting terrorism in the twin cities was unearthed last month. The report, prepared jointly by the special branches of Islamabad and Rawalpindi police, suggested that TTP got full support from religious seminaries and worship places of the likeminded Deobandi school of thought. The report also identified 20 seminaries, all located in Rawalpindi, which were used by Taliban for terrorist attacks in the city.
Dawn, 30 April
http://www.dawn.com/news/1103435/seminaries-playing-courier-for-ttp-in-fund-raising-drive
In Birmingham, the majority of Muslims are from the relatively relaxed Barelvi grouping. The conservatives attend mosques that are described as Salafi, Wahabi and Deobandi.
BBC, 28 April.
http://www.bbc.co.uk/news/uk-27188055
Most Pakistanis follow a form of Islam that's entwined with South Asia's mystical Sufi tradition. They are known as Barelvis, and they are under attack from hardline Deobandis Muslims.
NPR, 28 April.
http://www.npr.org/2014/04/28/307627337/in-pakistan-ultra-conservative-muslim-movement-grows-stronger
The moment we talk of Islam we step on to the pitch where the traditional mullah, the maulvi, the Mansoora champion, the Akora Khattak seminarist, the Deoband scholar, is overlord and vice-chancellor.
Ayaz Amir, The News, 4 April.
http://www.thenews.com.pk/Todays-News-9-242173-Outrage-of-the-patriotic-brigade
A leading Islamic scholar, and a winner of the King Faisal International Prize for Islamic Studies, has slammed orientalists in the West for spreading false information about the religion.
Muhammad Mustafa Azmi, who specializes in Hadith studies, said: "Their false and misleading works are now called research but have no valid arguments." He was speaking at a workshop organized by Lajna Ilmiya, a Riyadh-based body formed by graduates from Darul Uloom Deoband, the renowned Islamic seminary in India, on Friday.
Arab News, 2 April.
http://www.arabnews.com/news/549491
It can be observed in courts these days that a certain set of lawyers come with every complainant in a blasphemy case, showing affiliation with extremists groups like Khatam-e-Nabuwwat (an offshoot of hardliner Deoband groups) and they become counsel of the complainant voluntarily. Later, they start bringing extremist elements in the courts to put pressure on judges.
Waqar Gilani, The News on Sunday, 6 April
http://tns.thenews.com.pk/constant-pressure-judges-for-blasphemy-laws/#.U2Hl6_ldVq8
Tehreek-e-Taliban linked takfiri Deobandi Wahabi terrorists of banned Lashkar-e-Islami (LI) has distributed a pamphlet in a neighborhood of the Khyber Pakhtunhwa capital threatening residents, mostly Shia Muslims, to vacate the area in the next ten days.
ABNA, 16 April.
http://www.abna.ir/english/service/centeral-asia-subcontinent/archive/2014/04/16/602911/story.html
Karachi West SSP Irfan Baloch quoted injured Mubashir as saying that the deceased Salman had brought the grenade to the seminary from a 'nullah' (storm water drain) and they were playing with it in their room when it exploded.
The SSP said it was a Deobandi madressah politically affiliated with Jamiat Ulema-i-Islam-F.
Dawn, 29 April.
http://www.dawn.com/news/1102954/three-seminary-students-die-in-blast
Comments
comments