Pak minorities are not safe -by Nasir Saeed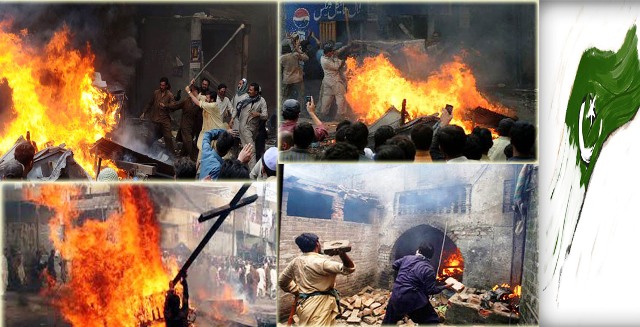 What a coincidence that on the day the Governor of Punjab, Mohammad Sarwar, is assuring the world, and in particular the Sikh community, that religious minorities are free to worship according their beliefs, at the churches, Temples, Gurdwaras and other places of religious worship in Pakistan, a Hindu temple was set on fire in the Sindh province.
In the blaze of hate not only was the Temple destroyed, but the adjoining dharmshala was also gutted, reducing the holy place to ash. The governor appeared that either this information didn't reach him, or he intentionally did not bother to condemn this hateful crime. This event not only makes a farce of Governor's statement, but reveals that minorities and their holy places are not safe in Pakistan.
Hindus living in Pakistan had refused to leave at the time of partition and had accepted Pakistan to be their new country just like Muslims, who decided to remain in India, but we never accepted them. After the incident at the Babari Mosque, Hindu temples and their towns were attacked and they secretly started their migration to India which still continues to this day. In 2012, Rehamn Malik, the then interior minister termed it a conspiracy instead of stopping the maltreatment.
However, the burning of the temple is not the only example as earlier this month the foundation of a church built by the Christian community was bulldozed by a group of 20 villagers – sending the message that churches are were tolerated. These are just a few incidents that have taken place in very recent days, otherwise every year hundreds of incidents occur against religious minorities in Pakistan.
Thanks to the media some are acknowledged, but there are many such incidents that are never reported and those that do not prompted any reaction from the Pakistani government.
On March 15 the Hindu Temple and adjoining Dharmshala were set ablaze by an angry Muslim mob after a Hindu man was accused of burning the Holy Quran. There were no witnesses, but some people claimed to have seen burnt pages of the Quran in bin next to the residence of a man who belongs to the Hindu community.
The man has been taken into protective custody, so he is not killed but emotions are running high and student and followers from the local madrasah have been demanding that the Hindu man be handed over to them so they can deliver justice themselves.
Mob justice and vigilante killings have become very popular for several years because the government has never taken action against those who have been involved, directly or indirectly, in the killings of innocent people. Instead the government's inaction encourages vigilantes who are not willing to leave it to the police and courts to deal with alleged perpetrators. Perhaps Pakistan is the only country where vigilante killings in the name of religion are quietly considered the right thing, and even some judges have passed such remarks and not been questioned.
Several people accused of blasphemy have even killed in jail, like Fanish Masih, Samulel Masih and Nazir Masih. In 2012 an angry mob wrested a person from the police and burnt him alive in the middle of the street in front of the police station. But who can forget the incident of Gojra where seven people were burnt alive and their churches and houses ransacked.
A judicial report prepared but the Punjab government has failed to implement the recommendations made by Justice Iqbal Hameedur Rehman and bring those who are named in the report to justice. Last year in March, 178 houses were set on fire in Lahore's Badami Bagh area after blasphemy accusations were made against Savan Masih. He is currently in prison but is yet to be found guilty by a court of law.
Salmaan Taseer's killer Malik Mumtaz Qadri is enjoying hero status in jail while there is no news about Justice Pervez Shah who sentenced him to death. Shahbaz Bhatti's killers have admitted their crime, but his family members are being threatened for their lives if they appear in court and pursue the case. The world is interested to see justice done, but it very difficult to say something as the perpetrators belong to the Taliban and have many supporters.
Since the beginning of his governorship Chaudhry Sarwar has given such statements on several occasions and even vowed to protect minorities' rights. But Pervez Rafique Ex-MP and several other minority leaders disagree and consider minorities the most insecure faction of the society. According to them they have been facing persecution and discrimination from the inception of Pakistan.
Unfortunately minorities are never considered equal citizens of the country and are never treated equally. However, equality can be achieved as Sarwar has expressed the desire earlier and in very recent statements but it is not possible while the blasphemy laws are still on the statue book. Neither his desire nor Quid e Azam's promise can be fulfilled, and the major challenge is to persuade the government to bring changes in the blasphemy law or at least to stop its misuse, otherwise neither minorities nor their places of worship can be safe in Pakistan.
According to Governor Sarwar's own statements, falsehood has destroyed the peace of society and problems can never be solved by implicating others in false cases (of blasphemy) or levelling baseless charges against others. He further stated that new measures were needed to deal with situations where laws had been misused, and that voices should be raised to avert such incidents in the future.
The International community has called for changes to these laws on several occasions, and recently the US commission of on international religious freedom (USCIRF) has issued its policy brief under the heading "Prisoners of Belief Individuals Jailed under Blasphemy Laws".
It is said that in practice, these laws have proven to be ripe for abuse and easily manipulated with false accusations. They encourage extremists to enforce their notions of truth on others, often through force, thereby exacerbating religious intolerance, discrimination, and violence. Blasphemy laws are incompatible with international human rights standards, as they protect beliefs over individuals, and they often result in violations of the freedoms of religion and expression, especially when persons are jailed.
Minorities have a lot of expectations of the governor because of his statements have raised their hopes high, as he knows the taste of being a minority himself and being a minority has enjoyed equal status in the UK, the country of his own choice, while minorities have been living on Pakistan's soil for centuries.
The province Sarwar is governor of was made part of Pakistan only because of Christians' endeavours, but unfortunately Christians are the most hated, persecuted and underprivileged community in Punjab and the majority of incidents because of the misuse of the blasphemy laws have taken place in this province. Minorities are looking towards the governor for support and if he wants to hold his head high when he next gives a statement, he needs to control growing extremism and religious intolerance and bring changes in the blasphemy laws. Without this minorities and their places of worship will never be safe and protected.
Courtesy: The News International, London edition
Comments
comments