The Nation's editorial on Pakistan Day hijacked by the banned Salafi-Wahhabi and Deobandi outfits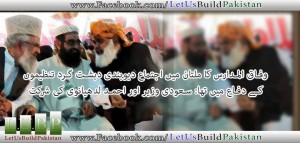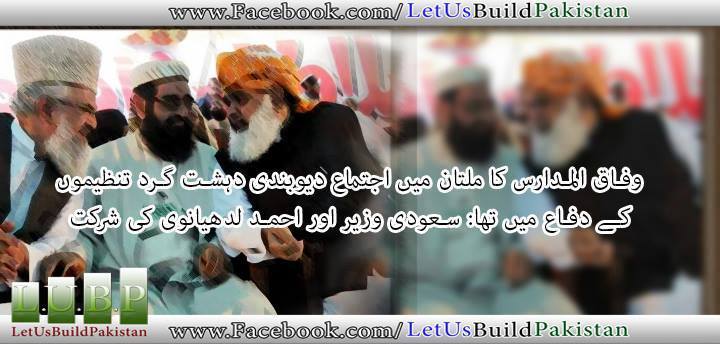 In a sign of the tragedy that is our time, the official Republic Day parade in Pakistan was conspicuous by absence, and instead replaced by multiple rallies arranged by the Jamaat-ud-Dawa in Lahore, Karachi and Islamabad. Hugely well publicised, and mysteriously resurgent, Hafiz Saeed's dubious charity group seems to be enjoying its day in the sun — or in this case rain, if considering Islamabad and Lahore. With black track pants and white horses, the theatrics at the JuD rally were not below par. But there is a difference between F-16s flying over Blue Area, and Jamaat-us-Dawa claiming sectarian conflict is an international conspiracy against Pakistan, with Maulana Ludhianvi of the Lashkar-e-Jhangvi seated on the stage.
In a farcical performance, the JuD's claim to be the protector of Pakistan's ideology, is in fact a refusal to acknowledge that it has functioned as the worst possible advocate for it. Focusing on an archaic conception of a separate homeland for Hindus and Muslims, the JuD philosophy is a misfit for the challenges that Pakistan faces today. With increasing division between sects, religions and horrific instances of targeting based on religious affiliation, further focus on deliberately alienating and maligning persons based on their faith is no less than lighting a match under a powder keg.
The real question though, is why the JuD has been allowed to hold public rallied on such a scale, in three of the largest cities in Pakistan? Where is the funding coming from? Why is the JuD back in fashion? With Hafiz Saeed choosing to grace Lahore with his presence, it may have been indication of gratitude for the particular care and attention paid by the Punjab government to ensuring the rally was received and accommodated in every possible way. With the Chief Minister Shehbaz Sharif's posters and banners eclipsed by black and white flags, it should be a cause for worry, not pride, that the government's commemoration of national days now takes a back seat to the unapologetic displays of renamed, banned militant organizations.
In the largely absent opposition to the JuD's rallies, is the nervous reality that maybe their manifesto resonates with the audience. And in the silence of the government in explaining why Mr Saeed has space to preach, lies the uncomfortable truth that the gentleman has friends in powerful places — even more powerful than the corridors of power.
Source :
http://www.nation.com.pk/E-Paper/Lahore/2014-03-24/page-6/detail-1
Comments
comments