Media discourse on Deobandi terrorism: 11-16 March 2014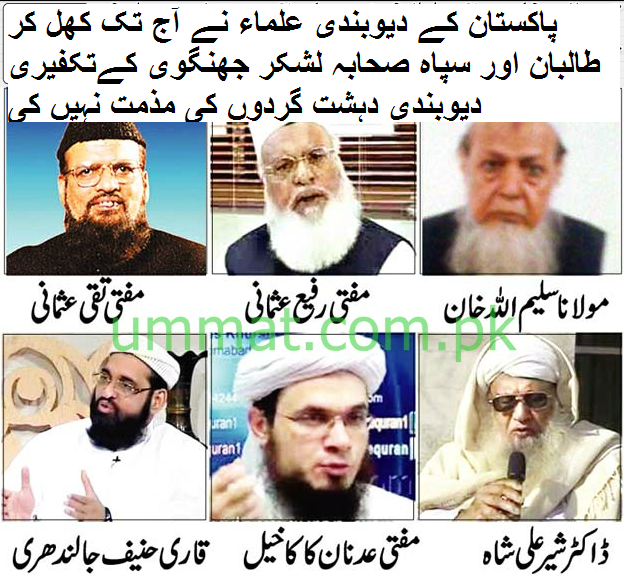 Increasingly, Pakistani and international media is clearly highlighting the Deobandi identity of terrorist outfits and the inherent takfiri and violent nature of Deobandi ideology.
This vindicates LUBP's seminal stance that it is important to clearly identify the common Deobandi identity and takfiri Deobandi ideology of the TTP, ASWJ, LeJ, JeM, Jundullah, Ahrar-ul-Hind and other terrorist outfits who are target killing not only Shias and Christians but also Sunni Barelvis and other groups due to faith differences.
Here's a glance on media reports/analyses published in last one week:
Greater Kashmir, 16 March:
Had Congress not patronized Deobandi Muslim organizations modern Pakistan would not be suffering from their depredations now……Whatever the outcome of the debate in the National Assembly, if Pakistan's army overcomes the TTP menace, Congress and India will not be complaining. Their Deobandi forbears may have associated with the Congress in days gone by, but it was a long time ago. Did not TTP offer to fight India alongside Pakistan's army without a trace of nostalgia for the time when the Ahrar and Congress fought the Pakistan demand together? The Ahrar ul Hind opposes the Pakistani State for altogether different reasons now and it wants to liberate all of India not just Pakistan. That should make everyone think a bit.
http://www.greaterkashmir.com/news/2014/Mar/16/shadows-from-the-past-6.asp
Eurasia Review, 16 March:
Pakistan has been riddled with conflicts between various jihadi groups due to their ideological divide. On one side of the ideological divide are groups fighting in Afghanistan like Al Qaeda, the Taliban, and deobandi-driven Pakistan Taliban, which aids and abets the former two. On the other side are the groups like LeT, JeM and HM which fight in Kashmir. The most prominent among the Kashmiri groups is the LeT which is driven by Ahl-e-Hadith ideology of Islam, in direct contrast to the deobandi school of Islam practiced by the Afghan groups.
http://www.eurasiareview.com/16032014-al-qaeda-indian-mujahideen-alliance-spells-trouble-pakistan-analysis/
Also: http://www.geopoliticalmonitor.com/an-al-qaeda-indian-mujahideen-alliance-spells-trouble-for-pakistan-4937/
The News, 16 March:
Dar-ul-Uloom Deoband, Dar-ul-Uloom Nadwatul Ulama, the headquarters of Tablighi Jamaat, all are in India and, if Mushirul Hassan is be believed, the belt from Mussorrie to Delhi is most renowned for the instruction of Hadith. Such facts may lead one to believe that institutionally India is still the centre of Islam. Influences from India have been triggering problems in Pakistan — anti-Shia treatise of Manzur Naumani, a Deobandi scholar, and the thoughts of Abdul Shaook Lucknavi's sectarian polemics are the cases in point.
http://tns.thenews.com.pk/panel-on-pakistan-history/#.UycfJvl_uFs
Business Recorder, 14 March:
Maulana Fazlur Rehman had earlier been venting his resentment over criticism of Deobandi madrassahs for involvement in violent extremism. To debunk what he described as unfair denigration he recalled that a while ago ulema from the Deobandi School of religious thought had issued a fatwa against suicide bombings as being violative of Shariat. That, he said, was the reason he was twice attacked by militants. He may have a point, but the problem is much wider. The security policy document is concerned about madrassahs that it notes "impinge on the national internal security", receive financing from unidentified sources, and publish and distribute hate material. Hence it has been decided to register the seminaries, monitor their funding and revise curriculum within twelve months.
http://www.brecorder.com/editorials/0:/1162458:an-uncalled-for-threat/
Dawn, 12 March:
To be fair, the Taliban are more closely aligned with Darul Uloom in Deoband, which is more radical in its religious and social outlook. Still, even the religious leaders in Deoband do not discard electoral democracy for the Muslims.
The Ulama of Deoband recognise India as a democracy and urge Muslims to vote for those who are good for Muslims and also for India. Responding to a question, the Deobandi scholars observed that while "India is not an Islamic country but it is a democratic and secular country… However, one should vote to (sic) the party and leader who are better in the favour (sic) of Muslims and the country."
http://www.dawn.com/news/1092691/pakistani-taliban-adopt-ballots-not-bullets
The Newsweek Pakistan, 11 March:
Shia Hazara leaders in Quetta have joined issue with Declan Walsh, the New York Times correspondent expelled by Pakistan for reporting too close to truth, on the label of "Sunni killers" used by him: they are clear about the Deobandi section of Sunni Muslims carrying out the carnage; they go so far as to exclude such "moderate" Deobandi organizations as Tablighi Jamaat, reminding him that a Tablighi Jamaat gathering was massacred in Swat when the current Taliban chief Fazlullah was ruling the valley. (A recent attack on a Tablighi Jamaat mosque in Peshawar has not been owned by the Taliban.)
Comments
comments