We condemn target killing of Sikh community in KP – by Abdul Nishapuri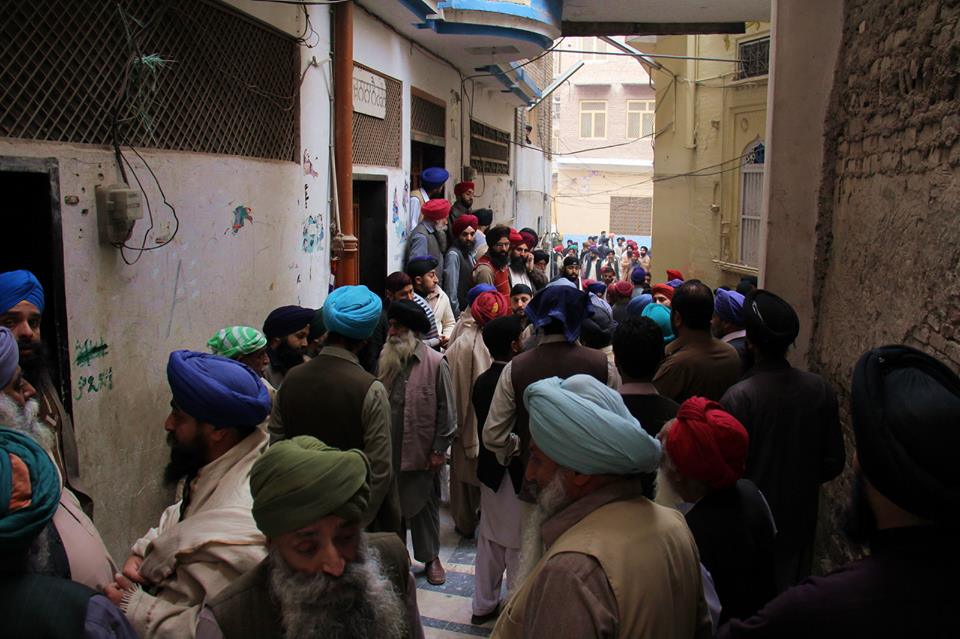 Sikh community's silent protest is the first of its kind in Peshawar's history against the target-killing of a Sikh shopkeeper in Shabqadar last night (13 March 2014).
The protestors carried black flags and demanded that government should protect the minorities. According to details provided by Hardyal Singh: "Dr PramJeet Singh was shot dead by Deobandi militants in Shabqadar area near Peshawar. This is alarming for Sikh community in Pakistan as we are a minority, earlier last month Bhagwan Singh was shot dead by target killer in same area, and same month two Sikhs were kidnapped from D I Khan and are still missing."
According to news reports:
A Sikh herbal merchant was shot dead by unidentified gunmen in the Khyber Pakhtunwa province of Pakistan.

The victim, Paramjit Singh, 35, was murdered in broad day light on Thursday when he was sitting at his shop. Another person, who came to his aid and tried to nab one of the assailants, was also killed.

The incident has sent shock waves amongst the minority Sikh community in the area.

This is the second murder of a member of the minority community in less than two months, and many victims has fallen prey to the bullets in the recent pasts. In January 24, Sikh hakeem Bagwan Singh was gunned down in Tangi area.

Earlier, two Sikhs were abducted at gun point from Dera Ismail Khan and there is no news about their whereabouts.

Sikhs traders are living in fear because they are being asked to pay jaziya (a tax paid by minority religious group), and those who refuse, are killed.

The area is infested with the gun-toting Deobandi fundamentalists, including Taliban and ASWJ who roam around in the area freely. There are more than 25000 Sikhs living in the area, and recently had been facing violence, abduction and ransom from the terrorists groups.
Afterwards, a funeral service was held at Gurdawara Bhai Jogan Singh inside Peshawar's Walled City before taking the body of the deceased to Attock for cremation purposes. Muslims also participated in the gathering to show solidarity with the Sikh community who have otherwise lived peacefully in the region since 1830s.
It may be recalled that since 1 June 2013 when Imran Khan's PTI formed government in Khyber Pakkhtunkhwa, there is a surge in target killing of Shia Muslims, Sunni Baelvis and religious minority groups. From 1 June 2013 to 9 March 2014, in at least 32 incidents, 78 Shia Muslims have been target killed and 95 injured due to their faith by takfiri Deobandi terrorists. https://lubpak.com/archives/308165
On 22 September 2013, a twin suicide bomb attack by Deobandi terrorists took place at All Saints Church in Peshawar in which 90 Christians were killed and 130 injured.
Deobandi terrorists use various aliases such as Taliban (TTP), Sipah-e-Sahaba (ASWJ) etc to carry out terrorism against Shias, Sunni Barelvis, Sikhs etc. However, the roots of their Deobandi hate ideology and the name of the ASWJ terror group is never mentioned in the public discourse of not only right-wing parties but also of so called progressive parties.
Incidents of kidnapping and killing of Sikh community members are on the rise more noticeably since the last few months. In the past, Sikh families from Kurram and Orakzai agency were forced to flee the tribal region due to ongoing threats to their life and property from Deobandi Taliban (TTP) and allied Deobandi groups (ASWJ, LeJ). Many Sikhs have sought refuge at Punja Sahib in Hasanabdal while Shia Muslims are relocating to Islamabad and other, relatively safe, areas.
Source: Zee News, Qissa Khwani
Comments
comments