From Faqir of Ipi to Taliban – by Raja Anwar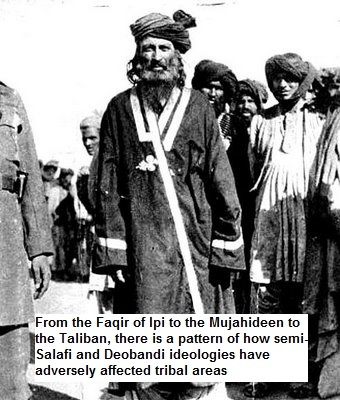 In this article (published in daily Dunya), veteran progressive writer Raja Anwar says that Pakistan and Afghanistan must develop a joint strategy to deal with the radical Deobandi and Salafi extremists hiding in Pakistan's tribal areas and adjoining areas in Afghanistan. Raja Anwar notes that the Deoabndi or/and Salafi fanatics and terrorists (currently operating as TTP, ASWJ, LeJ etc) have been, for the last two hundred years, using violence to blackmail governments of Afghanistan and Pakistan (previously India), and hold a sectarian and bigoted worldview. Raja Anwar says that from the Faqir of Ipi to the current Taliban, the violent tactics of Deobandi and Salafi terrorists have a historical pattern, and these terrorists need to be curbed, with full might of the State.
The column suggests that from the Faqir of Ipi to the Afghan Mujahideen to the Taliban, there is a historical pattern of how semi-Salafi and Deobandi hate ideologies have increasingly adversely affected tribal areas and local Pashtun population. Unless such hate ideologies are boldly identified and eradicated or reformed, there is little hope of overcoming terrorism and violence.

Comments
comments