Imran Khan, once again, clearly condemns Shia genocide at the hands of terrorist outfit LeJ-ASWJ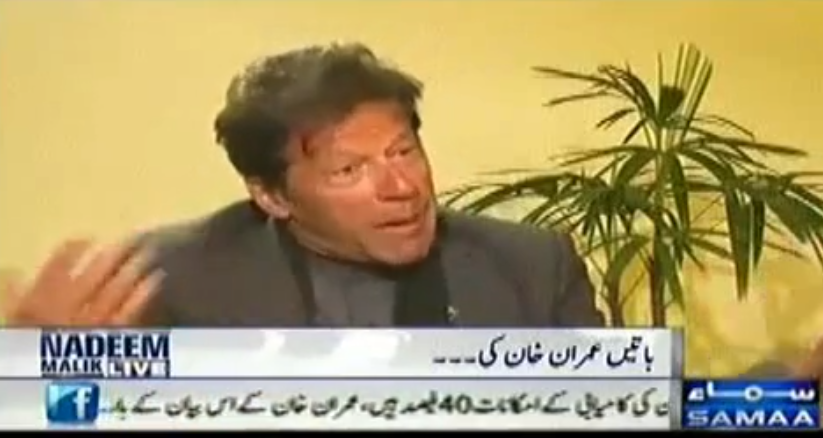 In a recent TV interview with Nadeem Malik (Samaa TV), Imran Khan, once again, clearly names and condemns the banned Deobandi terrorist group (Lashkar-e-Jhangvi, currently operating as Ahle Sunnat Wal Jamaat ASWJ) behind Shia killings in Pakistan. He questions Punjab Government's support for the Lashkar-e-Jhangvi (LeJ). He openly says that what LeJ is doing to Shia Community is not Islam; in fact LeJ is destroying Islam.
We acknowledge and appreciate that Imran Khan is one of very few party heads in Pakistan, perhaps the only one, who has categorically condemened the banned Deobandi terror outfit LeJ (aka ASWJ-SSP) which is responsible not only for Shia genocide but also for massacres of Sunni Barelvis, moderate Deobandis, Christians etc.
We also agree with his assertion that PM Nawaz Sharif and Punjab CM Shahbaz Sharif are directly complicit to country-wide terrorism through their undeclared alliance with ASWJ-SSP thugs.
We believe that Pakistan's mainstream media, a significant part of it is on PMLN's role, is harshly critical of Imran Khan and PTI while remaining silent on PM Nawaz Sharif and Punjab CM Shahbaz Sharif who are active partners in the spread of Takfiri ideology and terrorism across Pakistan. Imran Khan may be, at times, misinformed or naive in his assessment of the Taliban (TTP-ASWJ) but Nawaz Sharif is pure evil, willingly in bed with TTP-ASWJ-LeJ.
Comments
comments