Debunking the high rating of ISI-funded movie WAAR – by Anas Abbas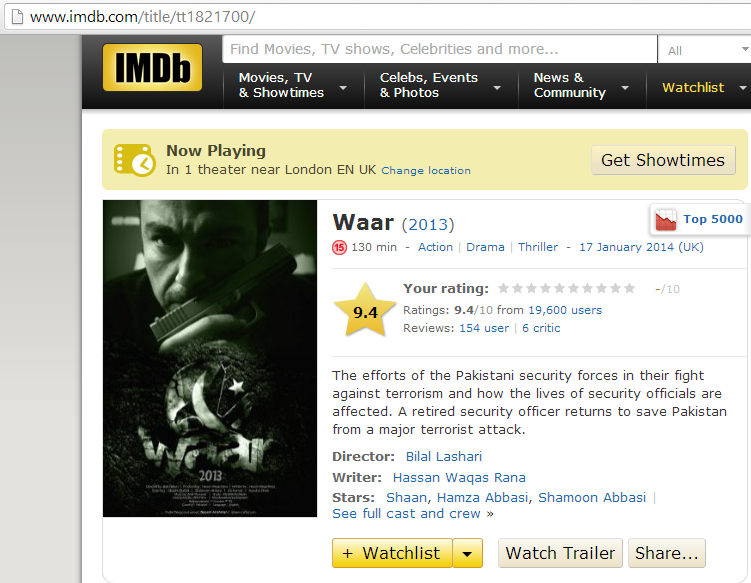 The rating of ISI funded movie WAAR is 9.4 on IMDB. WAAR was a huge success in UK among the Pakistani community. However, here are the reasons why the 9.4 rating on IMDB has been fudged big time:
1) Total 19600 people contributed towards the 9.4 rating out of which only 1.34% voted from USA. This is an astoundingly low % as far the US is concerned since good foreign movies are hugely popular in US market and the average % of US voters in another (5 foreign movies namely: A separation, The Kite runner, the chaser, old boy, lagaan ) has been 30%. This gives the glaring conclusion that over 95% of WAAR voters were from Pakistan.
2) The IMDB has a list of "Top 1000 voters". In order to qualify for this list, one has to be a regular critic and rating provider for most movies watched. The users from this list only gave an egregious rating of 2.4 to WAAR. This means that the substantial majority of users who gave a favourable rating to WAAR were either amateur users or those who only created their accounts just to provide a high rating.
3) 90% of the 154 user reviews are highly favourable for WAAR. But here's the catch:
(A) 135 out of the 154 reviews were given by people who registered on IMDb website in the last 1.5 years.
(B) Out of these 135 users, 96% (130) have only rated the movie WAAR in their entire history at IMDB. This means that they never provided their views on any other movie except WAAR.
To sum it up, The rating of WAAR has been highly tampered and majority of users who contributed to this, registered just recently. This is an obvious conclusion that those who voted only wanted this WAAR rating to burgeon. Hence it's a no brainer to deduce this apparent conclusion that the 9.4 rating of WAAR is a complete bullocks.
Comments
comments