CM KP Pervez Khattak: Incompetence, corruption and appeasement personified – by Khan Mohammad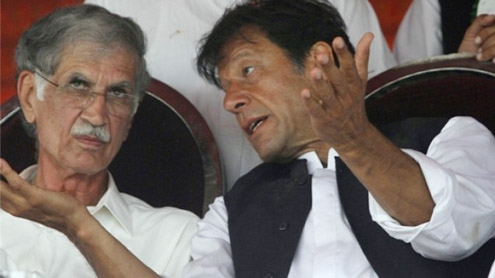 Riding on hollow sloganeering of change and with support from Taliban and the intelligence agencies, PTI got a chance to materialize the promises they had made to the people of Pakistan by governing Khyber Pakkhtunkhwa (KP) as an example. However, the start to their abysmal journey was characterized by two horrible decisions: an alliance with the obscurantist Jamaat Islami; and selection of Pervez Khattak, an incompetent and highly corrupt politician, as the Chief Minister.
The performance of KP government led by Pervez Khattak has been abominable to say the least. The government has been plagued with poor governance, lack of direction and a spate of terrorist incidents that have killed scores of innocent civilians. Most of the casualties have been Shias, Barelvi Sunnis and religious minorities, although the list also includes law enforcement personnel.
According to a report published by Pakistan Equality and Human Rights Commission (PEHRC), between 1 June 2013 and 4 February 2014, "in more than 93 terrorist attacks, at least 441 innocent people have been killed while 635 have been injured by radical Deobandi terrorists in Pakistan's Khyber Pakhtunkhwa province. The province is currently ruled by Imran Khan's PTI in coalition with Munawar Hasan's Jamaat-e-Islami."
While on the one hand Pervez Khattak is seen as a highly corrupt and incompetent politician who thrives on nepotism, on the other, he is considered complicit not only in the infamous Dera Ismail Khan Jailbreak but also the general appeasement of Sipah-e-Sahaba/Taliban who have been allowed to operate freely from KPK and target the innocent Shias, Sunni Barelvis and law enforcement personal in the province.
The latter policy of appeasement of Taliban and religious terrorists seems to be PTI's party policy that enabled them to win the elections in the province. The party now hopes that it can neutralize the liberal parties in the province like ANP and PPP and continue to rule with support from the Taliban.
Pervez Khattak has also been trying to wield maximum power ever since he has taken over. While he seems to be supine in front of the central party leaders from Islamabad, Khattak has been trying to appoint his favorites – and accomplices in crimes – on positions he deems necessary. The news of his tussle with Chief Secretary KPK Shehzad Arbab, who is considered an honest and competent civil servant, on rules of business and merit has been making headlines for months. Khattak has been trying to replace Arbab and instead appoint someone who he can easily puppeteer.
Left with only Jamaat Islami as a major ally after Aftab Sherpao's QWP broke the alliance with them, the future for Imran Khan and PTI – with their fate resting in Pervez Khattak's hands, does not portend pleasant news. PTI's government in KPK seems destined for the doom.
Comments
comments