After all, he is Taliban Khan! – by  Laleen Ahmad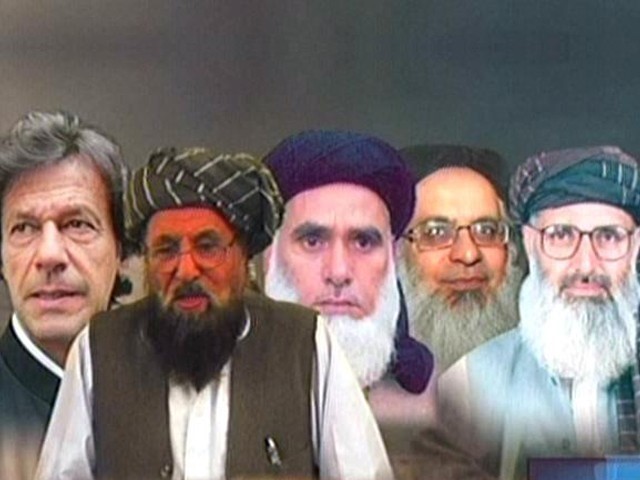 Pakistan's fake liberal society and cyber-jihadis have always criticised LUBP for calling Imran Khan "Taliban Khan". LUBP scribes and editors have been claiming that Imran Khan is a "civil society" face of the Taliban. He has been calling the Taliban "our brothers". He has been in the forefront of obfuscating the Shia genocide in Pakistan by claiming that the Takfiri (i.e., the Taliban/ASWJ/SSP/LeJ) assault on the Sunni Brelvis, Shias, Christians, Hindus, and Ahmadis is a result of American drone attacks. He has been shamelessly denying that the Takfiri Deobandis have been killing the Shias and Ahmadis long before the Afghanistan war stated.
Taliban Khan has never let an opportunity slip to come to the defence of "our brother" and now the brothers have returned the favour. They have nominated him to negotiate with the government on their behalf.
http://tribune.com.pk/story/666445/peace-talks-ttp-lists-imran-khan-samiul-haq-in-5-member-committee/
Yes, now Taliban Khan is supposed to negotiate with the government of Pakistan on behalf of the Taliban. He will be a member a team comprised of Jamiat Ulema Islam-Samiul Haq group (JUI-S) chief Samiul Haq, Jamiat Ulema Islam-Fazal's (JUI-F) Mufti Kifayatullah, Jamaat-e-Islami (JI) provincial chief Professor Mohammad Ibrahim, and the former cleric of Lal Masjid Abdul Aziz.
What is common between this Talibanic negotiators' team? The answer is: They are all Takfiri Deobandis and have their hands dripping with Shia blood. Imran-Taliban Khan has found an ideal company. Whereas these Takfiris openly call for the destruction of the Shias, Imran Khan is their political face advocating their cause by giving a human face.
Imran Khan will represent Fazalullah who was only a month before nominated as the prime suspect in the FIR about the assassination of Chaudhry Aslam, a police officer who arrested a number of Deobandi Taliban terrorists in Karachi. Thus, Taliban Khan will represent a suspect who is also a criminal as he has rebelled against the state of Pakistan and is behind the killing of thousands of innocent Pakistanis.
For his part, Taliban Khan is delighted and humbled. He has put great faith in the Takfiri team representing the Taliban, but has humbly submitted, "TTP should select their own Taliban representatives 4 peace talks." But he is so thrilled that he cannot restrain himself from being in the team, and in his very next tweet he does not rule out the prospect of standing with and for his brothers. He says, "However we will discuss how PTI can be of further assistance to further the dialogue in our Core Committee meeting on Monday."
Whatever vestiges of respectability and neutrality Imran Khan has had are now gone. There is no difference between Imran Khan and the bloodthirsty Takfiri Deobandis. The King Khan wears no clothes!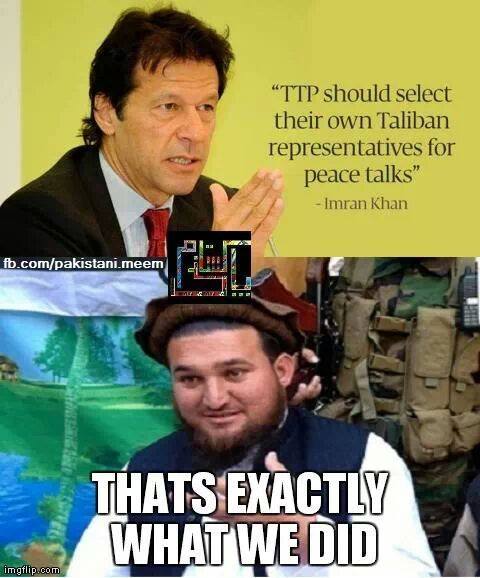 Comments
comments