Top 10 reasons why Baloch missing persons and mass graves recieved little media attention – by Syed Riaz Al-Malik Hajjaji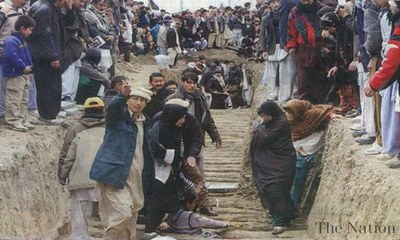 In the last month, Pious Patriotic Puttar Fauj has dealt a major blow to Iranian Shia Rafidi and Indian RAW agents in Balochistan. In addition to the Jihad against Iranian Shia Rafidi pilgrims bus in Mastung, two mass graves of Indian agents have been accomplished by Pakistani Fauj commanders like Lt. General Shafiq Mengal Deobandi, Col. Ramzan Mengal Deobandi and Major Rafiq Mengal Deobandi. I propose that they be awarded medals in the following order. Nishan-e-Yazeed for General Shafiq Mengal Deobandi LeJ, Tamgha-e-Abu Sufyan for Col. Ramzan Mengal Deobandi LeJ, and Sitara-e-BinQasim for Major Rafiq Mengal Deobandi LeJ.
Our media and good liberals have done their patriotic duty and ensured that these two mass graves and the Long March for missing persons by Baloch activists did not get much attention and real reasons remained vague.
Here are top 10 reasons why Baloch missing persons and mass graves recieved little media attention:
Because they were not drone victims, silly!
Because they are Zikris, not Deobandis.
Because they are not ASWJ/LeJ/SSP/TTP A-Z.
Because they are not paying enough money to Honda Civic Society Activists.
Because PPP is no longer in the government in Balochistan or Islamabad.
Because the whole idea of PML-N, PTI and Hamid Mir's vague support for the Baloch cause was to fool people when really they were using the Baloch cause to justify cuddly pillow talks with the Taliban, equating Baloch nationalists with TTP-ASWJ.
Because Big Boss Bilawal (BBB) is not doing a Baloch Cultural Festival.
Because it is too hot and uncomfortable to do real marches as opposed to boutique protests like the Liar's, oooops, Lawyers' Movement
Mummy Daddy Burger Insaafian Youthiyas have many relatives in Pious Patriotic Puttar Fauj – after all, would you want to he un-invited from the next Dubai wedding with Generals, Bureaucrats and Media hot shots?
Because Abu Arsalan aka Iftikhar Chaudhary who used the "Missing Persons Case" like a Ghairat Tissue, has now retired and moved on to more lucrative business deals with his HONEST son Dr. Arasalan 16% walla.
Comments
comments