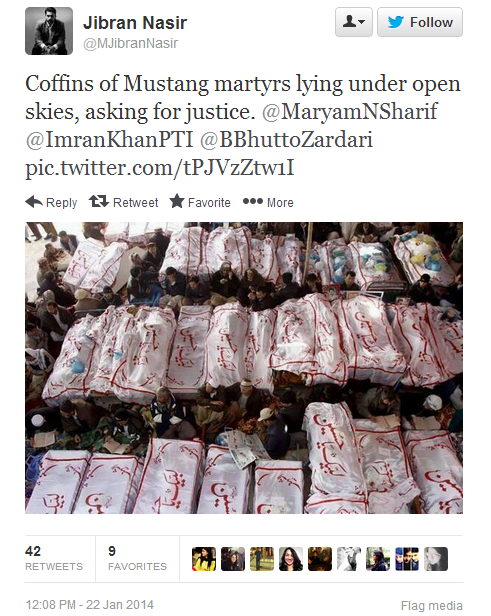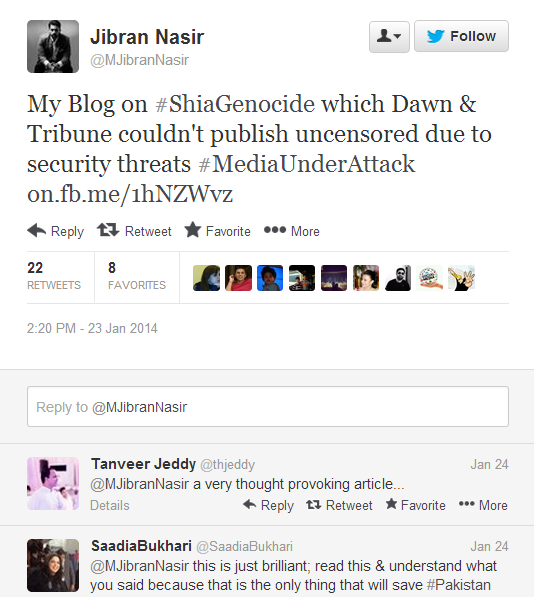 Since January 2013, the year has changed and so has the government. What remains same is the season and the tragedy.
PML-N's competence has put forward the exact same view for all of us which PPP's government did; numerous dead with their coffins lying on Alamdar Road in the freezing winter of Quetta. Amidst our growing ignorance and indifference to the atrocities being committed against minorities specially the Hazara community, the loudest, sanest and most unequivocal voice of protest belongs to the dead.
Just like last year sit-ins are taking place across Pakistan in support of the families of the departed who refuse to bury their loved ones till Army is called in for an operation against Terrorist outfits responsible for Shia and specifically Hazara Genocide. Lashkar-e-Jhangvi (LeJ, a banned Deobandi terrorist outfit, an offshoot of banned Sipah-e-Sahaba Pakistan currently openly operating as ASWJ) took the responsibility for the Mastung attack.
In urban centres the youth is more interested in debating where "Shia Genocide" is a politically correct term or not. There are threads, memes and even blogs advocating that Terrorists are killing without discrimination and using the term "Shia Genocide" is an exaggerated expression which will further polarize our society.
The Jamaat of under 50 men who offered Fajr prayers at the Numaish Sit-in in Karachi today was enough evidence for me as to how polarized we already are. I discovered by way of the difference in posture and mannerism between Shia and Sunni prayers that I was perhaps the only Sunni in that Jamaat.
As a Sunni muslim I form part of the 70% majority of Pakistan. The city of Karachi also has a Sunni majority but like 2013 I am still the minority during such sit-ins. However, we should not use the term "Shia Genocide" because it will be a public declaration of our polarization.
However, since I belong to the country of the politically correct I should refrain from admitting or advocating harsh realities. After all even the superior judiciary of Pakistan spent over 30 years debating whether Jinnah was Shia or Sunni and finally declared him just "Muslim". Guess one had to be the founder of the Country to have the distinct fortune of only being known as a Muslim.
But it begs one to question that if people are so interested in chanting "One Nation" during such times and they stress the fact that Pakistani and not "Shias" have been killed by terrorists then why this social media sentiment does not transcend out on to streets when protests take place? Be it the Raja Bazar in Rawalpindi, Alamdar Road in Quetta or Abbas Town in Karachi, when terrorism strikes we do not mourn the lives lost as a Pakistani tragedy nor do we admit the fact it is sectarian violence and Shias are being specifically targeted. We do something worse. We claim that terrorist are killing Pakistanis in general but at the same time we fail to show up at protests to show solidarity and hence force the Dharnas to become Shia. Here not just the victim and the mourner is shia but the act of protest also becomes Shia. The only advantage Shias have here over Ahmadies, Christians and Hindus is that they are allowed to protest and their protests get some fair time on the media.
All those people who believe "Shia Genocide" is an exaggerated term do not take into account the fact that the fatwa is "Kaafir Kaafir Shia Kaafir, Jo Na Manay Woh Bhi Kaafir". The fatwa does not read "kaafir Kaafir Sunni Kaafir, Jo Na Manay Woh Bhi Kaafir". They do not pay heed to the fact that the (mostly Deobandi) leadership of TTP, LEJ, or SSP/ASWJ has no Shias in their ranks. Furthermore, they are not keeping count that since 2001 an estimated 362 terror incidents specifically targeting only the Shia sect have taken in Pakistan which has killed 2190 and injured 4119 people. Where it is true that LEJ and SSP/ASWJ were formed specifically to target Shias wheras TTP has a more generic approach in spreading violence, people still fail to realise that top TTP leaders – such as the late head of the suicide training squad, Qari Hussain, and the TTP's current spokesman, Ehsanullah Ehsan – were all members of Lashkar-e-Jhangvi in Punjab at one time or another before they became part of the TTP. They ignore that Lashkar-e-Jhangvi and its affiliated groups also provide crucial technical and manpower support to other major groups in the tribal region, such as the Haqqani network and other groups. It was only as recent as November of 2013 when five TTP members upon their arrest confessed to have been given instruction to specifically kidnap Shias and Ahmadis for ransom and specifically loot their houses to fund operations. And since none of us bothers speaking to the Home Ministry we would not know that areas of Karachi with a majority Shia population like Ancholi, Abbas Town, Jaffar Tayar and Gulistan-e-Jauhar are considered more sensitive than the rest.
Every single time a tragedy such as this takes place the ignorance of the masses comprising mostly of Sunnis confirms to not only the Government but also to the terrorist that the minorities do not have popular support and that we as a society are as polarized as one can be. We confirm there is no united sentiment against terrorism in this country and in fact we are more interested in debating if Shias because of their beliefs actually provoke attacks on themselves or not.
Admitting our bias or presenting the case of same is not called creating differences. It is called a reality check and it is about time we get one. Just like we were One Nation when Misbah won us the test at Sharjah let us also exhibit the same spirit of solidarity when our fellow Pakistanis lose their lives in this war which is upon us all.