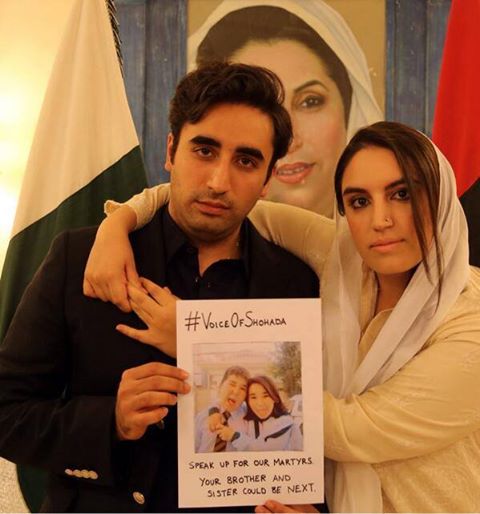 While Pakistan's disgraceful media was busy in obfuscating yet another incident of Shia genocide, this picture of Benazir Bhutto's children, Bilawal Bhutto Zardari and Bakhtawar Bhutto Zardari, was a powerful gesture of solidarity with the Shia Hazara victims of Quetta. Posing as Rida (Shia Hazara girl killed in Deobandi terrorists' attack on Shia pilgrims bus in Mastug) and his injured brother Ibtihaj, Bakhtwar and Bilawal wrote:
"Speak up for our martyrs. They can no longer speak for themselves. Your Brother + Sister could be next."
This is the sort of thoughtful, empathetic and courageous gesture gestures that separates leaders from chauvinist ISI-bred posers like Nawaz Sharif and Imran Khan.
This would have made Shaheed Mohtarma proud and it reaffirms the fact that only a PPP (which still needs some major repair work) can protect Pakistan from the religio-sectarian monsters created by its military establishment.
Since the last couple of months, PPP leader Bilawal has taken encouraging initiatives and taken a bold and courageous anti-Taliban stance that has clearly differentiated him from cowardly apologists like the Sharifs and Imran Khan.
Two significant gestures that need to be applauded along with this latest one is his is introduction of the Sindh Cultural Festival and his bold stance on Chaudhary Aslam's death (already highlighted on LUBP).
As for Bakhtawar Bhutto Zardari and Aseefa, we are used to their intelligent statements on social media, where they stand further than Bilawal in terms of their awareness of right-wing and fake liberal thugs.
The latest gesture of support by Bakhtawar and Bilawal deserves credit. It was quickly picked up by real activist groups like SK etc who appreciated both this as well as Bilawal's timely condemnation of his own government's baton charging of a peaceful dharna in Kharadar, Karachi. These are important steps as Bilawal seeks to rebuild the PPP and make it relevant on the national stage.
Still, gestures and rhetoric only go so far.
The Sindh Government, currently under the provincial government of the PPP, has failed to do anything about reigning in Deobandi ASWJ terrorists like Aurangzeb Farooqi and hate mongers like Mufti Naeemi. These two pro-Taliban clerics roam freely in Karachi spreading hatred against Sunni Barelvis, Shias, Christians, Ahmadis and Hindus. Scores of Sunni Sufis/Barelvis have been murdered in Karachi along with Shia and Ahmadi doctors and professionals. Aurangzeb Farooqi and Mufti Naeemi are two of the central characters in this bloodbath, and should be put behind bars without late.
Even a pro-Taliban ASWJ collaborator like the PML N government of Punjab has managed to detain Malik Ishaq Deobandi. By instructing the Sindh Government to detain hate mongers and terrorists like Aurangzeb Farooqi and Mufti Naeemi, Karachi could see an immediate improvement in the current Law and order situation.