Pakistan should protect minorities says UK Attorney General
Britain's Attorney General Dominic Grieve MP has said that it's the responsibility of the government of Pakistan to protect its religious minorities from persecution by the extremist groups through vigorous action against those who perpetrate crimes in the name of religion and sects against Pakistanis.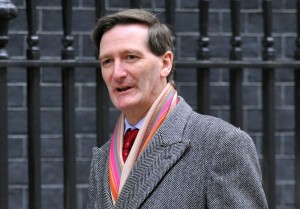 Speaking in the Houses of Commons at a reception organised by the New Horizons International Initiative on Peace and Tolerance and Pakistan Christians Concern about the situation of Christians in Muslim countries and how they are targeted, the attorney general said that Christians faced difficulties in various Islamic countries. He called on the government of Pakistan had an important role to play in changing "the underlying prejudices" and that always took time but the government should protect "all law abiding citizens of the country".
He said it was important to get out the message that the Pakistani government, its officials and the police would not tolerate minorities being targeted and would not tolerate those who persecuted them. "It's a question of changing attitudes but it's also about persuasion. It's about building bridges and removing prejudices and making people understand that they are all same, all are patriotic and that diversity is welcome and most be accommodated. This is something we have learnt in Britain but it's important that we promote it elsewhere too."
He said it's clear that "everyone in Pakistan is suffering from terrorism. Terrorists need to be condemned and we must stop them collectively."
Others who spoke on this occasion included former Defence Minister Dr Liam Fox MP and parliamentarians Jason McCartney, Julian Smith, Alec Shell Brook, Alastair Burt, Steve Baker, Tony Baldry, Sir Edward Leigh, Canon Yaqub Masih, Christian leader and representatives of several embassies in London.
Comments
comments