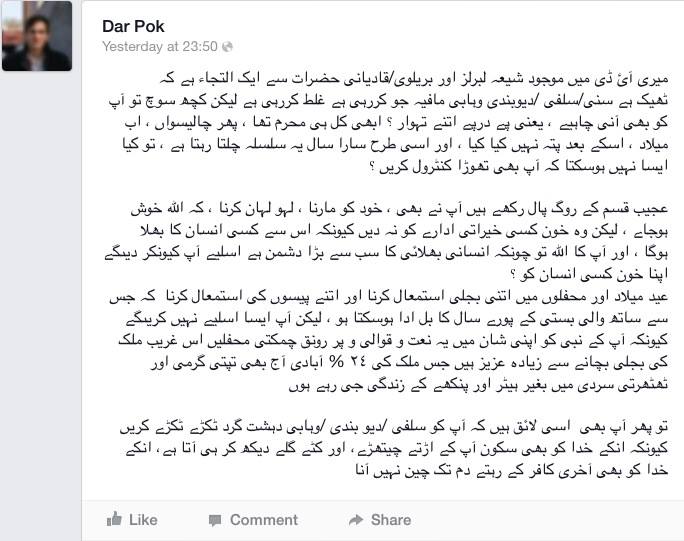 Ale Natiq: Not only darpok by name but actually tells the world he is a coward of worst degree. Will blame the victim because it's easy and risk free (and sometimes fashionable) and strategically ignore or cover up the shit of actual culprit. Also, wherever needed, specially when the culprit is too brutal and crime too blatant, will always try to present the the victim and culprit equally bad – squaring off both and settling the scores. Additionally, as a fashion statement, will indulge in religion bashing and make fun of religious people claiming himself to be a progressive (but is either a fundo Salafi inside or a internet age atheist) believing religious people can do no good, are source of all evil and religion must be eliminated.
Here, we have a moron who is justifying the genocide of the Shias and ruthless killing of the Sunnis under the garb of liberalism. Basically, the argument used is the same as used by ASWJ Taliban. The coward claims that the Sunnis and Shias deserve to die because they've too many rituals. The moron argues for the killing of Sunnis and Shias at the hands of terrorists just because he doesn't like them, he doesn't approve of their rituals.
Tunnelled vision and low intellect. But, let's tell him some basics. The Muslims who celebrate Milad, and Shia/Sunni/Christisns/Hindus who are part of the Ashura processions are definitely brave than this coward to be out there. It takes guts to defy the threats to Taliban and stay steadfast to your belief and identity. Despite bombings year after year and knowing it could be the end of your life, these people are out there, telling these terrorists that they refuse to give up to their cannibalism, that they will not bow down. These processions are a "march of freedom" in this age of intimidation and terror. They are indeed more brave and useful to society than a coward hiding behind a fake ID and giving lectures on social values and all. It's easy to be an arm chair anonymous activist but it's courageous to do what millions of men, women and children do every year on Milad and Ashura. Those Taliban don't give a fuck about a coward like you but are scared of these very people and so the bombings at shrines, mosques, processions.
And a bit of history lesson – until late 70s the processions only occupied one lane while traffic used the other lane. Then the terrorists took over because cowards like him were being drawing room philosophers and hiding and destroyed the country. It is because of presence of LEAs that the roads have to be blocked, not that the people of procession ask for it. The mobile services are also blocked for security reasons. Are you blaming the victims for they have been intimidated or you want them die?
And finally a suggestion for greater good, may be you can stop using FB and give away your laptop to a charity. Your anonymous rants on FB are doing no good to the world hence your laptop has a better use at a charity and the electricity saved can be consumed by a well deserving school. Let's start there. Oh, and I hope you'll go donate blood next Ashura – I know its tough for you. It's dangerous to go out there and you can't be anonymous in real life. And if you get killed, we'll blame you for that. You brought death onto yourself by being out on Ashura disrupting public when you could've caught up on latest Bollywood flicks for greater good of humanity.
Syed Riaz Al-Malik Hajjaji : Good Liberals love Good Ghairatmands like Hamid Mir who loves Good Yazid Lovers like Maulana Ludhianvi. It is one big chain of love.