6 Bodies With Their Throats Slit Were Found Near a Shrine in Gulshan-i-Maymar area.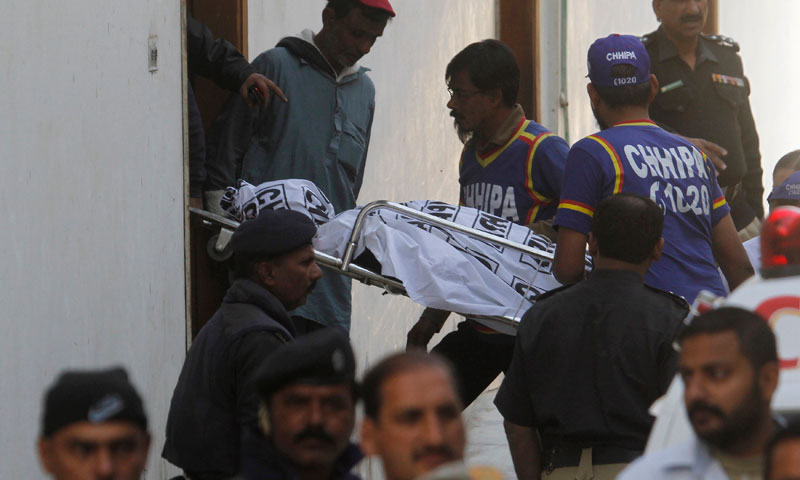 KARACHI: At least nine people were killed in different incidents of violence in Karachi on Tuesday, DawnNews reported.
The bodies of six men were found near a shrine in Gulshan-i-Maymar area, police said.
Two of the men had been beheaded, while the rest had their throats slit, a policeman told news agency Reuters, in the first such instance of a mass killing at a shrine that he knew of.
The corpses were lying near the shrine of Ayub Shah Bukhari, considered a saint by Sufi Muslims. Three of the dead worked at the shrine while the others were frequent visitors.
Police said a note reading "Stop visiting shrines — from the Pakistani Taliban" was found at the scene along with a bloodstained knife, news agency AFP reported.
"People visiting shrines will meet the same fate," a senior police officer quoted the group as saying in the note, Reuters reported.
But senior police officer Amir Farooqi voiced caution over the note, telling AFP he would not draw any conclusions until further investigation.
According to the police, all the victims had been abducted and tortured before being killed with the knife.
Police said the victims were aged between 20-30 years. Five of the deceased persons were identified as Munawwar, Saleem, Javed, Ramzan and Abid, respectively.
One victim could not be identified.
Police cordoned off the area and investigation went underway to apprehend those responsible.
Later, police detained some suspects and sent the bloodstained knife for forensic tests.
Separately, two people, including a police officer, were killed in firing incidents in the city's Pak Colony and Quaidabad areas whereas a body was recovered near Malir checkpost.
Meanwhile, police arrested a target killer from Karachi's Musharraf colony. Police alleged that the arrested suspect was wanted in the killings of 28 people and that he hailed from a political party. Moreover, two Kalashnikovs, two hand-grenades and two home-made bombs were also seized from the suspect.
Karachi, the largest metropolitan city of Pakistan, is riddled with targeted killings, gang wars, kidnappings for ransom, extortion and terrorism. Targeted operations led by Rangers' forces with the support of police are ongoing in the city under a directive issued by the federal government against criminals already identified by federal, military and civilian agencies.
Source :
http://www.dawn.com/news/1078958/nine-killed-in-karachi-one-alleged-target-killer-arrested
Comments
comments