In Karachi, Shia families look for safety in numbers – by Ammar Shahbazi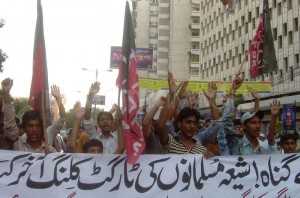 Karachi
Soldier Bazaar No. 1 has all the discontents of a typical Karachi neighbourhood: regular power outages, on and off water cuts, and worse, long traffic jams. But Nargis Rizvi cannot care less.
The housewife is looking for a two-bed apartment in the area – one of the dozens of Shia-majority neighbourhoods in the city. "I'd prefer some peace of mind over other conveniences," she says. "I want a place where my children can go out to buy household items and return safely."
An increasing number of Shia families, real estate professionals say, are opting to live in Shia-majority areas in Karachi for the sake of security. "The demand book is full and this is not only for Soldier Bazaar, but for all other Shia-dominated neighbourhoods in the city," said Maqbool Hussain, who runs an estate agency near Numaish.
Since the recent wave of sectarian killings began in Karachi, an increasing number of Shia families have been moving to areas like Jaffer-e-Tayyar Society in Malir, Old Rizvia in Golimar and Ancholi.
"Call it a silent migration; [but] this has been going on for a few years [now]. It's a post-Musharraf phenomenon to be precise," claims Mohammed Shaikh, another real estate agent working in Gulistan-e-Jauhar. He previously operated out of Amroha Society – another Shia-dominated neighbourhood.
Urban planners also agree that the trend is rife. They say, however, it is not only the Shias who are opting to live in their own 'ghettos,' but every community in Karachi has carved out its own space over the years owing to discrimination and violence.
"The multiculturalism that once defined Karachi has simply disappeared from the city," said one of city's top urban planners, who wished to remain anonymous given the sensitive theme of the story. "I think for the past several years Karachi has been divided into small ghettos, not only on sectarian lines but also ethnic, which are more evident."
She claims, however, it is only the city's low-income population that prefers to be cocooned in a small communal ghetto of their own. "The rich can afford to move overnight to a place of their own choice but it is the middle- and lower-income groups who need that comforting sense of security."
Not a new thing
This is not the first time Karachi has seen an internal migration over sectarian lines.
Back in the early '80s, when Shia-Sunni clashes surfaced during the reign of General Zia-ul-Haq, the geography of the city first took shape along sectarian lines. Over the years, housing schemes like Jaffer-e-Tayyar Society and Abbas Town in Gulshan-e-Iqbal came into existence.
"Families, if not the whole communities, moved into [these] areas to live where the majority of their community lived," said Meraj Mohammad Khan, a veteran politician and labour rights activist. "This is very much a human phenomena. When you are shot on the roads for being who you are, you tend to look for areas that are comparatively safer. This is what our Shia brothers are doing today."
Before Zia's "dark era", Khan said, there was hardly any distinction between the Sunnis and Shias in Karachi. "I remember in our student days, when we used to protest with labour unions, the police hounded us and we would hide in each other's houses, Shia or Sunni. We had bigger issues on our mind and never really thought along such petty lines."
Blurry lines
But past, as they say, is another country. Rizvi, who currently lives in Gulistan-e-Jauhar, recalls a recent incident. A few weeks ago, an estate agent took her husband to see a house near Abid Town in Gulshan-e-Iqbal.
The owner, seeing them, shouted at the agent for bringing in a prospective Shia tenant.
The landlord had already told the estate agent that he won't give his house to Shias. "My husband was embarrassed, and returned quietly."
Source :
http://www.thenews.com.pk/Todays-News-4-224718-In-Karachi-Shia-families-look-for-safe
Comments
comments