Dawn newspaper's report on Deobandi madressahs and the tide of sectarian hatred in Pakistan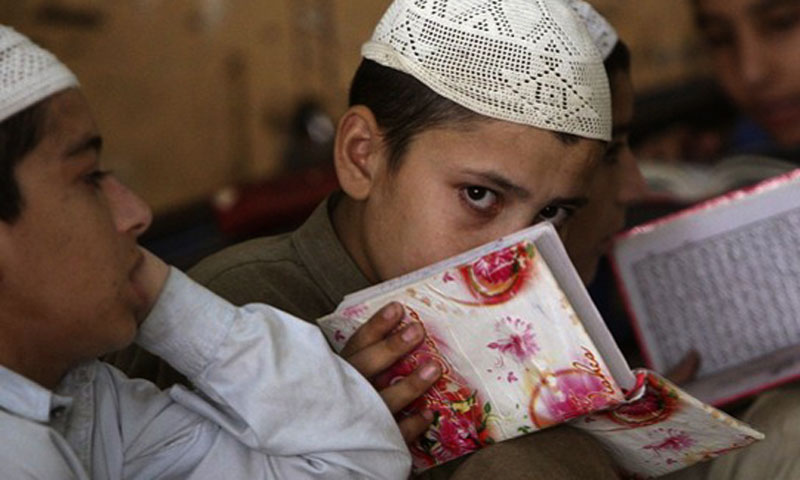 The Takfiri Deobandi mindset that has come to increasingly dominate the religious discourse in Pakistan has in large part been attributed to the Deobandi hold of the madressah system of 'education' in the country. Even in areas considered 'secular', such as large parts of Balochistan and Sindh, Deobandi madressahs have made significant inroads as our story on Sunday indicates.
The madressahs that proliferated in the 1980s during the Afghan war were different from the traditional seminaries in the subcontinent that taught subjects other than just religion.
The new Deobandi madressahs focused on political Islam. They were nurseries for a kind of militancy that spawned a new Islamic army whose goals expanded from challenging Soviet and Western domination to imposing on society a way of life that came close to its religious ideals.
"There were 570 madressahs in the country in 1979," says Amir Rana, an expert on religious militancy and director of the Pakistan Institute for Peace Studies based in Islamabad. "Ten years later, by the time the Geneva Accords were signed, there were more than 7,000." Their funding, he points out, came from different sources. Saudi-funded Wahabi Deobandi madressahs, the ones most blamed for the export of religious extremist thought, were not the only variety. Funding by the Pakistani diaspora helped state institutions within the country to ensure the proliferation of mostly Deobandi madressahs.
Unfortunately, today, the government seems to have no control over the growth of Deobandi madressahs. Far more than the ones whose details have been recorded are the unregistered seminaries that receive funding through private donations. And though Deobandi madressahs are attractive options for poor families as they provide free board and lodging, what they are teaching is anyone's guess.
What is clear is that the government, after committing its initial mistake of encouraging the growth of seminaries of a starkly militant bent, has failed to develop the counter-narrative that is so desperately needed. A ready instrument for this narrative would have been the formal schooling system. According to the Education Emergency report released in 2011, only 6pc of students learn in madressahs; the rest attend government or private schools.
Increasingly, parents are turning to low-cost private schools, which may include Islamic chains of schools that teach religion and more mainstream subjects. But public-sector schooling is still believed to have the edge in terms of enrolment. It is unfortunate then that the government's neglect of these schools has caused parents to look elsewhere for more viable alternatives.
This is what the report says of government schools: only "65pc have drinking water; 62pc have a latrine; 61pc a boundary wall, 39pc have electricity." Inaccessibility and teacher absenteeism are other factors, among numerous, that have contributed to the diminishing interest in public sector schooling. Thousands of such schools are only a statistic, and referred to as 'ghost schools'.
Here too, education has become imbued with religion. Although stridency in religious views is still reserved for the madressahs, national ideology as taught in public schools has come to be increasingly associated with Islam.
According to retired Prof A.H. Nayyer, who has extensively studied the curriculum of these schools, "Citizenship-making is part of the curriculum. In Pakistan, national identity is defined in terms of religion which can then lead to the revision of history and to contradictions. For instance, a textbook may state that Islam is a religion of peace and tolerance. But another one might put Hindus in a bad light or incite jihad."
Indeed, evidence suggests the curriculum document offers resistance to any concept of plurality, to ideas that promote the emergence of diverse religious or cultural identities.

Karachi Kids Trailer- Documentary About American Boys in Madrassa from Progressive Activists on Vimeo.
The state will have to find a solution before the discourse turns more dangerous. One suggested by Prof Jaffar Ahmed, director of the Pakistan Studies Centre at the University of Karachi links education to a standard system of schooling. "Before we move to reform either the madressah or government schools in terms of the curricula, there should be structural reforms. We need one main schooling system — after Matriculation students should be able to decide what they want to study ie theology or other subjects."
Just as they criticise the system, academicians and educationists may have valuable suggestions to offer. The question is, is the state listening?
http://www.dawn.com/news/1076043
Comments
comments