Let's exploit women while we champion women's rights: From Devyani Khobragade to Sharmeen Obaid-Chinoy
Both women are champions of gender equality while both shamelessly exploit women for their own personal causes.
Indian champion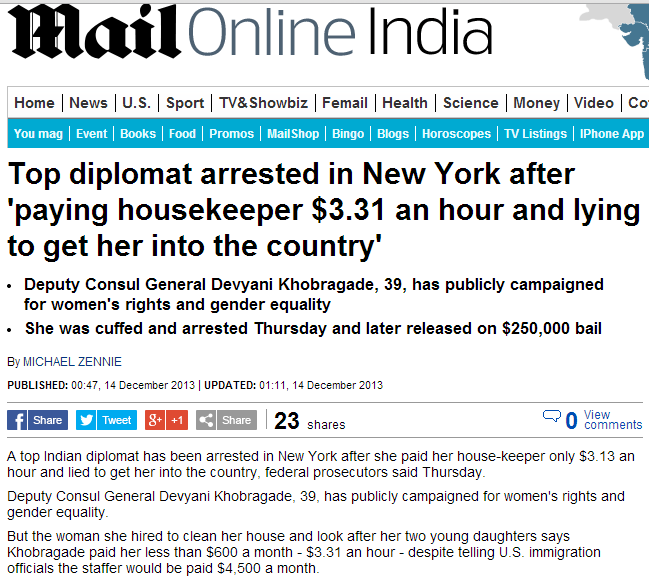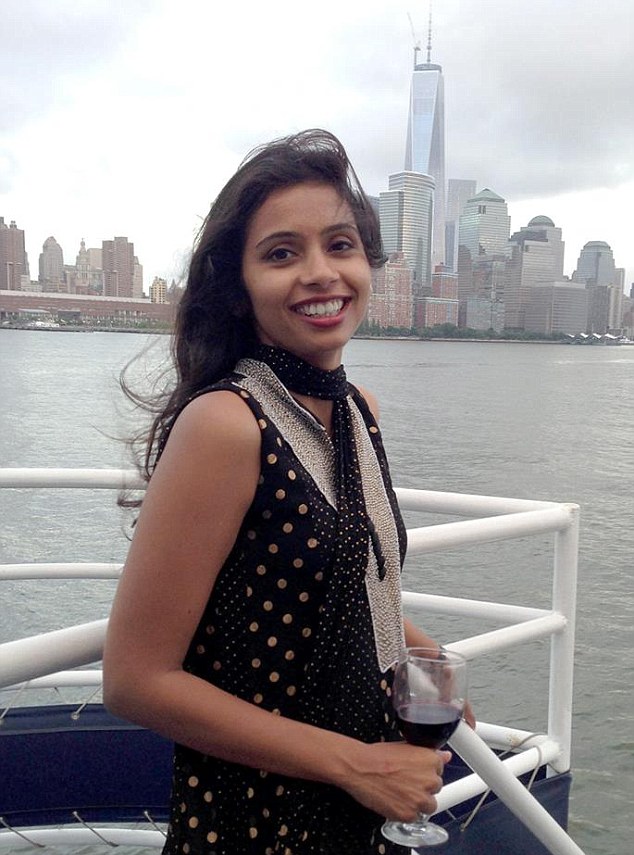 A top Indian diplomat has been arrested in New York after she paid her house-keeper only $3.13 an hour and lied to get her into the country, federal prosecutors said. Deputy Consul General Devyani Khobragade, 39, has publicly campaigned for women's rights and gender equality. But the woman she hired to clean her house and look after her two young daughters says Khobragade paid her less than $600 a month – $3.31 an hour – despite telling U.S. immigration officials the staffer would be paid $4,500 a month.
Further, when the allegations against Khobragade first surfaced, an Indian court issued an order against the housekeeper, ordering her not to take legal action against the diplomat, according to the Hindustan Times.
When it became apparent that the woman was cooperating with American authorities, the court issued an arrest warrant for the housekeeper and requested the U.S. officials have her detained and extradited back to India.
http://www.dailymail.co.uk/indiahome/indianews/article-2523530/Top-diplomat-Devyani-Khobragade-arrested-New-York-paying-housekeeper-3-31-hour.html
The Indian government is perfectly justified in arguing whether or not the US went overboard when it handcuffed Ms Khobragade. It should definitely make sure that proper process was followed as befits a consular staff member. As consular staff member representing India abroad, Ms Khobragade enjoys many rights. The right to a domestic help at cut-rate wages however is not one of them.
http://www.firstpost.com/world/devyani-khobragades-consular-rights-dont-include-a-cut-rate-nanny-1291527.html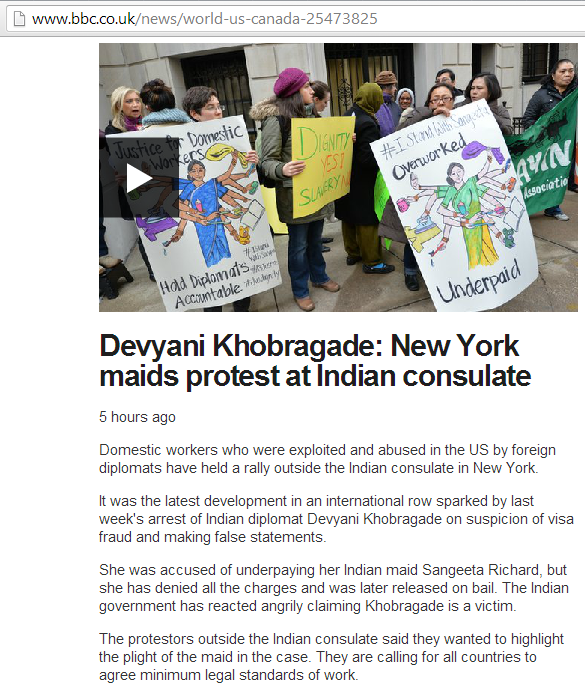 Devyani Khobragade: New York maids protest at Indian consulate
21 Dec 2013
Domestic workers who were exploited and abused in the US by foreign diplomats have held a rally outside the Indian consulate in New York.
It was the latest development in an international row sparked by last week's arrest of Indian diplomat Devyani Khobragade on suspicion of visa fraud and making false statements.
She was accused of underpaying her Indian maid Sangeeta Richard, but she has denied all the charges and was later released on bail. The Indian government has reacted angrily claiming Khobragade is a victim.
The protestors outside the Indian consulate said they wanted to highlight the plight of the maid in the case. They are calling for all countries to agree minimum legal standards of work.
http://www.bbc.co.uk/news/world-us-canada-25473825
Pakistani champion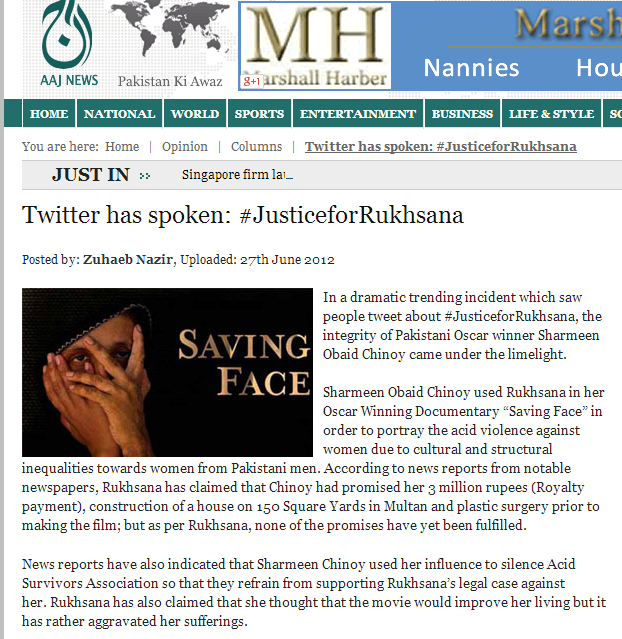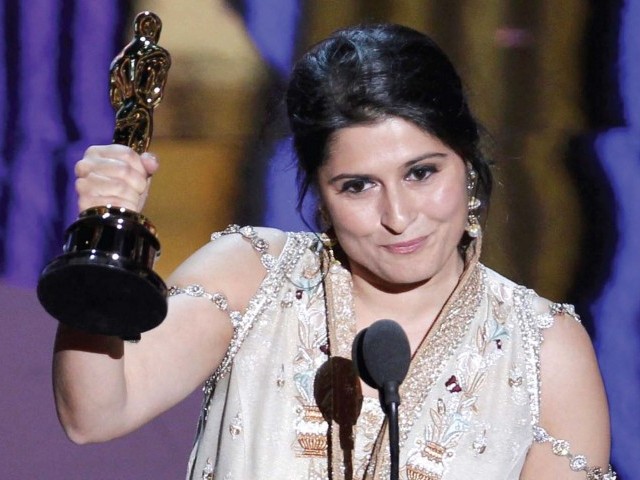 In a dramatic trending incident which saw people tweet about #JusticeforRukhsana, the integrity of Pakistani Oscar winner and women's rights activst Sharmeen Obaid Chinoy came under the limelight.
Sharmeen Obaid Chinoy used Rukhsana in her Oscar Winning Documentary "Saving Face" in order to portray the acid violence against women due to cultural and structural inequalities towards women from Pakistani men. According to news reports from notable newspapers, Rukhsana has claimed that Chinoy had promised her 3 million rupees (Royalty payment), construction of a house on 150 Square Yards in Multan and plastic surgery prior to making the film; but as per Rukhsana, none of the promises have yet been fulfilled.
News reports have also indicated that Sharmeen Chinoy used her influence to silence Acid Survivors Association so that they refrain from supporting Rukhsana's legal case against her. Rukhsana has also claimed that she thought that the movie would improve her living but it has rather aggravated her sufferings.
Many individuals have posted their comments with respect to the oppression against Rukhsana. Some have even inquired her about Rukhsana's claims to which she has stated that Rukhsana's family is basically trying to extort money and the allegations are false.
http://www.aaj.tv/2012/06/twitter-has-spoken-justiceforrukhsana/
https://lubpak.com/archives/tag/sharmeen-obaid-chinoy
Comment
The exposure of Indian deputy consular and human rights activist, Ms Khobragade, for misusing her previleges (diplomatic status) to deny human rights to another is a frequent sight in Pakistan.
Here, human rights is mostly limited to an elite cadre of opportunists who make a career out of their selective human rights work. The same activists are also at the forefront in obfuscating human rights violations and ignoring the threat to targeted communities.
Take the case of Sharmeen Obaid Chinoy. Her film Saving Face could have been a step in the right direction for advocating the plight of women who suffered acid attacks. Unfortunately it turned out to be a typically shallow case of exploiting victims on the basis of false assurances to further one's career. Previously, she had misused a history exhibition to grotesquely distort events in favour of a military dictator whose subversion of human rights remains unparalleled. A prominent sketch that was shown to school children depicted the late BB, a feminist icon, sitting in the lap of Zia ul Haq who had killed her father and brother and imprisoned her mother and her. The same activist then proceeded to deny the on going Shia Genocide in Pakistan.
Or, take the example of Sherry Rehman. Her ineffective advocacy for amending blasphemy rights is dwarfed by her advocacy for the Afghan Taliban via her notoriously pro-ISI think tank, the Jinnah Institute. Like other fake civil society elitists, she could not tolerate the protests by disenfranchised and economically suppressed women outside her posh residence in Karachi, and lobbied support by elitist liberals in condemnation of 'armed goons of Lyari'. Her cosmetic and self serving activism diminishes even further by her support for the pro-Taliban former Chief Justice Iftikhar Chaudhry.
Sadly, such examples abound. Peace activists are more concerned in securing jobs with Pro Taliban media groups. how else to explain an Aman Ki Asha initiative being funded by the same xenophobic media group (Jang) that frequently gives airtime to Hafiz Saeed, Ahmed Ludhianvi, Hamid Mir and Ansar Abbasi.
Elitist liberals of Pakistan and India remain selective and opportunistic in their causes, known for safe-cause activism, while remaining oblivious to serious issues and challenges facing the respective country's oppressed communities.
Such blatant double standards and opportunism has damaged the issue of human rights.
Comments
comments