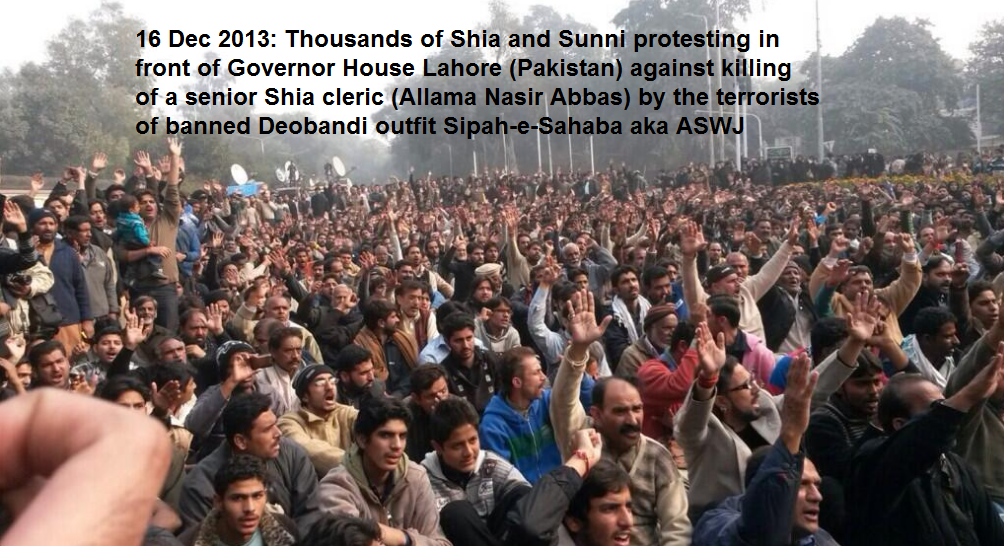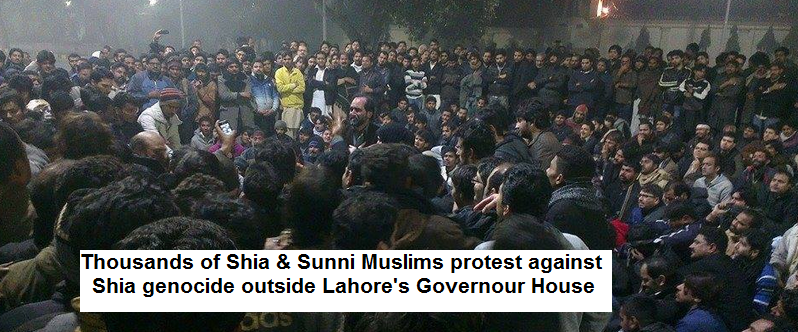 Urdu version: شیعہ نسل کشی کے خلاف لاہور میں دھرنا دینے والے شیعہ اور سنی مظاہرین کے مشترکہ مطالبات https://lubpak.com/archives/296867
News report (Lahore, 16 Dec 2013): At present, thousands of Shia, Sunni, Ahmadi, Christian and other Pakistanis are part of a huge sit-in (dharna) outside Lahore's Governor House. The protestors, including members of the Shia party MWM and the Sunni party (Sunni Ittehad Council) and others, have presented the following list of demands in the wake of continued assault by banned Deobandi terrorist outfit Sipah-e-Sahaba ASWJ on Pakistanis of all faiths and sects.
Allama Nasir Abbas was shot dead by Sipah-e-Sahaba aka Ahle Sunnat Wal Jamat (SSP-ASW) assassins on Sunday 15 December 2013 in Lahore. The hate-mongers of the SSP-ASW have been given a free hand by the provincial government of Shahbaz Sharif. Only a couple of days before Allama Nasir Abbas' assassination, leaders of the SSP-ASWJ made hateful speeches against the Shias and called for their apostatization.
In the wake of the assassination of Allam Nasir Abbas, members of Shia and Brelvi Sunni communities have come up with the following demands:
1. The killers of Allama Nasir Abbas should be apprehended immediately and brought to justice.
2. The Punjab Law Minister Rana Sanaullah who is a great supporter of the banned Deobandi terrorist outfit SSP-ASWJ should be suspended. The Shahbaz government should stop aiding and supporting all Deobandi outfits which are involved in terrorism. Federal Interior Minister Chaudhry Nisar Ali Khan is a key supporter of the banned terrorist outifts SSP and TTP. He too should be suspended.
3. Ahle Sunat Wal Jamat (ASWJ) is another name of the banned Sipa-e-Sahaba Pakistan. The ASWJ should be banned because it is in fact SSP. The ASWJ leaders should not be allowed to be appear on TV and spit venom against non-Deobandi Pakistanis. The Deobandi assault on the Shias must not be named "a Shia-Sunni probem". Sunnis have nothing to do with the Shia genocide. It is the Takfiri Deobandis who have been murdering Sunnis, Shias, Chriastans, and Hindus.
4. In Punjab, hundreds of innocent Shias, Sunnis, Christians, and Ahmadis have been imprisoned in the name of fake charges though nothing has ever been proved against them. These innocent people should be released immediately and those policemen and agency men responsible for torturing them should be punished for their illegal acts of torture. Their backers should also be brought to justice.
5. Those responsible for attacking the Shia-Sunni Ashura procession in Rawalpindi should be brought to justice. People like Ahmad Ludhianvi, Mullah Amanullah, Mullah Ashraf Ai, Adnan Kakakhel, Muavya Azam Tariq, Khadim Dhilon, and Masroor Jhangvi should be brought to justice for planning and executing hundreds of thousands of innocent Pakistanis.
6. Those Takfiri terrorists of the SSP-ASWJ who have been sentenced to death by various courts should be sent to the gallows to set an example to their fellow terrorists. Justice delayed is justice denied.
7. A compensation of at least Rs. 1 milion be provided to each Sunni, Shia, Ahmadi, Christian victim of terrorism by banned Deobandi outfits ASWJ-SSP and TTP. At least one member of the deceased's family must be offered a government job. At least Rs. 0.5 million be paid as compensation per person to all those injured in Deobandi terrorism. Their treatment must be taken care of, free of cost, by the provincial government.
8. Shrines of Sunni Sufis, churches, temples and Shia and Sunni mosques should be given security. Selected members of the victim communities should be given anti-terrorism training and equipment, so they can assist law enforcement agencies against the Deobandi terrorists.
9. A high-level judicial commission should be instituted to find out the SSP-ASWL links with Pakistan's secret service agencies. Those found responsible for aiding and abetting terrorists should be brought to justice.
………..
Shias, Sunnis, Ahmadis, Christians, and Hindus are united against the Deobandi assault on the soul of Pakistan. Their leaders should come out in unison and send the world a message of solidarity against Deobandi Islamofascism.
In the meanwhile, Chief Minister Shahbaz Sharif is personally contacting TV channels and newspapers to ensure total blackout on the coverage of the Lahore sit-in against Shia genocide.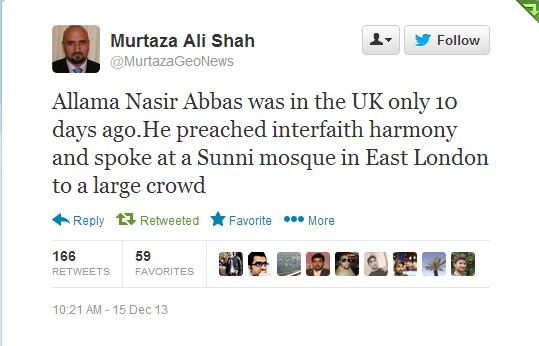 Video: Sunni Shia Solidarity: Pakistan's senior Sunni cleric Allama Javed Akbar Saqi expresses solidarity with Shia Muslims on murder of Allama Nasir Abbasi by Takfiri Yazidi (Deobandi) terrorists: