RIP Amir Haider Kazmi: The Forgotten Jiyala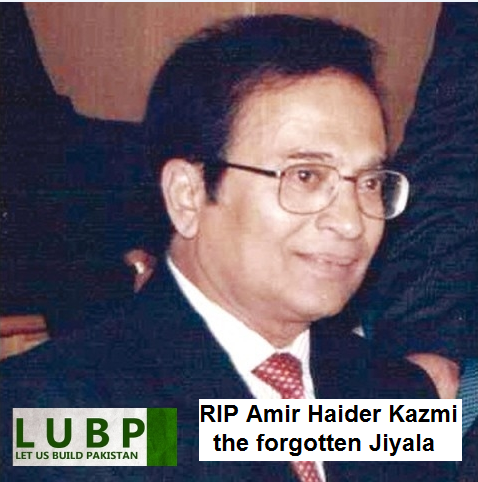 On 5 December 2013, former federal minister and Pakistan Peoples Party's (PPP) leader, Syed Amir Haider Kazmi, passed away after fighting a long battle with ill-health in London.
Mr Kazmi served the government of Pakistan as a federal minister for health, social welfare and special education from 1988-1990. His foray into politics started as a student – poineer leader of National Students Federation (NSF), after which Kazmi served the PPP as president of the party's Karachi chapter, then information secretary of the PPP Sindh chapter and later on, vice-president of the PPP's Sindh chapter.
In his student life, Kazmi served as a member of the executive committee of the National Student Federation (NSF) and the president of the NSF- Kazmi Group.
http://www.dailymotion.com/video/x187ep8_veteran-ppp-leader-amir-haider-kazmi-passes-away-in-london_news

Veteran PPP leader Amir Haider Kazmi passes… by MurtazaAliShahSadly, not a single PPP leader, including those who are very active on Twitter in engaging with and giving legitimacy to life-time haters of PPP, spared a moment to write a message of condolence and appreciation for Mr. Amir Haider Kazmi.
Other than this tribute by LUBP, the only other column written in his memory has been written by Mr Ajmal Khattak Kashar who too has mentioned how real Jiyalas remain ignored and neglected by the current leadership of the PPP. http://jang.com.pk/jang/dec2013-daily/15-12-2013/col10.htm
Unlike several pro-establishment fake liberals who are only good at flattery and opportunism, Mr Kazmi spent his life struggling for democracy and was arrested multiple times during martial law regimes and spent many years of his life behind the bars. Unlike fake-leftist opportunists such as Meraj Muhammad Khan who dumped Benazir Bhuttto's PPP for pro-Taliban PTI from 1998-2003. Same can be said about Sherry Rehman (the founder of the pro-ISI think tank, the Jinnah Institute) and others who actively undermined the PPP from inside to promote her personal interests.
Kazmi was a steadfast supporter of democracy and served many jail terms during different periods of martial law. In 1960, he was detained and punished by a military court for taking out a procession against General Ayub Khan.
In 1961, he was expelled from Karachi and others cities for one year for leading in the students' movement.
In 1964, Mr Amir Haider Kazmi took active part in the running of Fatima Jinnah's election campaign and carried Mashel-e-Shama from Karachi to Peshawar. He was arrested and detained for two months by the Ayub regime.
He was again arrested in 1965 and jailed for one month for his political and democratic views and taking out processions against Gen Ayub.
In 1977, he won the Sindh Assembly election on a PPP ticket from Karachi and, in 1988, he was elected as member of the National assembly from Karachi.
Shaheed Benazir Bhutto's special regard for Karachi can be seen from the fact that shae made the only Urdu speaking MNA, i.e., Amir Haider Kazmi, a federal minister for health.
He can be called a sacrifice of the PPP-MQM tussle of the 1980s and 1990s. Because of systematic vilification campaign and threats to his life, he had to escape from Karachi and spent the later years of his life in exile.
Here is an example of harassment and vicitimization faced by late Amir Haider Kazmi: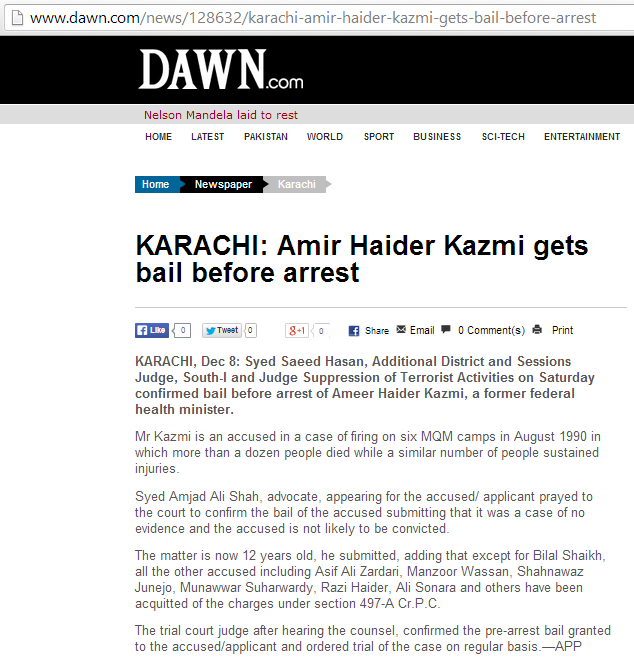 In the post 9/11 secenario, when several pro-establishment fake liberals were describing Al Qaeda and Taliban as class-based legitimate movements against imperialist USA, effectively acting as apologists of Deobandi and Wahhabi terrorists, it were only a few leaders including Amir Haider Kazmi who took a clear stance against Al Qaeda and Taliban.
The following TV discussion was recorded a day after the killing of Osama Bin Laden in 2011 in Abbottabad. The guests included the veteran Pakistani politician Amir Haider Kazmi of the PPP and a supporter of Imran Khan's PTI. The callers, all Brtish Pakistanis were unanimous that OBL had not been killed and blamed President Zardari, not the Pakistan Army for failure to stop the US helicopters that carried out the raid. It is an insight into the schizophrenic nature of Pakistan's right-wingers and fake liberals, and their Alice in Wonderland attitude to life.
http://www.dawn.com/news/128632/karachi-amir-haider-kazmi-gets-bail-before-arrest
Mr. Kazmi leaves behind a widow, two sons and two daughters.
The funeral prayers were offered in London on Friday 6 Dec after which he was laid to rest in Gardens of Peace Muslim Cemetery on Elmbridge Road, Hainault Ilford IG6, United Kingdom.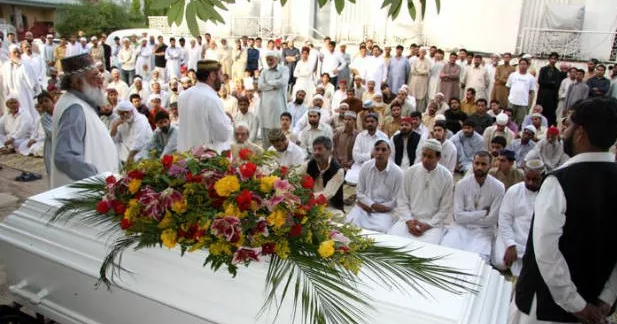 Liberal and Jiyalay – Urdu column by Ajmal Khattak Kashar (daily Jang, 15 Dec 2013)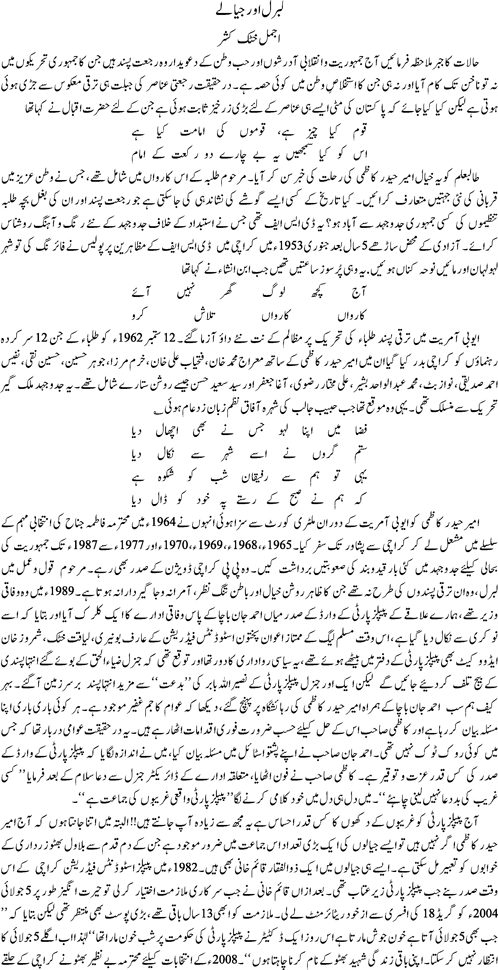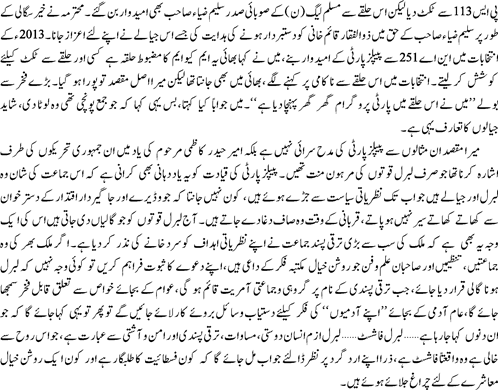 http://tribune.com.pk/story/641665/transitions-amir-haider-kazmi-ppp-leader-passes-away/
http://www.pakistantribune.com.pk/7198/former-federal-minister-amir-haider-kazmi-passed-away.html
Comments
comments