White Paper on CJ Iftikhar Chaudhry (Part 2): Removal, Reinstatement, Emergency 2007 and PCO Cleansing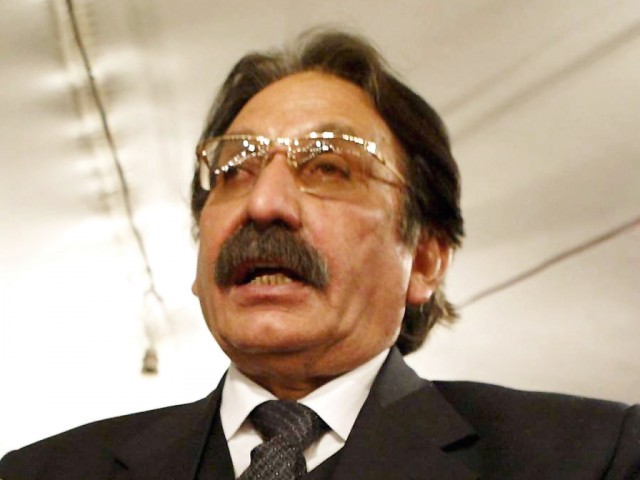 Related posts: White Paper on CJ Iftikhar Chaudhry (Part 1): Pakistan Steel Mills' privatization and its impact on the economy – See more at: https://lubpak.com/archives/293679
Justice (retired) Yasmin Abbasey's petition against CJP Iftikhar Chaudhry https://lubpak.com/archives/293687
With just less the a fortnight left in the retirement of Chief Justice Iftikhar Muhammad Chaudhry, it is essential that this character who has single handedly run Pakistan's judiciary in the name of rule of law for last eight years, be unmasked and his impact of his decisions, judgments and remarks be brought to light.
In March 2007, with just few months left in the completion of term of Parliament led by PML-Q under the patronage of General Pervez Musharraf, an event happened that changed the equation of the nation's politics. That was the suspension / removal of Iftikhar Muhammad Chaudhry as Chief Justice of Pakistan, on a reference submitted by Prime Minister Shaukat Aziz to the President General Pervez Musharraf. 2007 was an important year as a number of events were happening.
· In January 2007, Mohtarma Benazir Bhutto had announced her intention to return to Pakistan before the elections were to take place. Adamant, she ignored all threats to life, yet made it her homeland and later lost her life along with many other Pakistanis and her party workers
· In that same month, the Jamia Hafsa – Lal Masjid State within the State situation came to light, in which the burqa wearing and baton wielding students of Jamia Hafsa and their more dangerous armed brethren from Lal Masjid were running havoc across Islamabad. They wanted enforcement of Sharia across Pakistan, going to the extent of picking up people involved in "immoral" activities and doing things like enforcing banning of shaving in barber shops and burning "immoral" cds and dvds.
· The state finances were deteriorating fast: with the privatization program coming to a halt because of Iftikhar Muhammad Chaudhry's decision to declare the Steel Mills privatization void, increasing fuel prices internationally, a crippling circular debt was being raised. No government, however strong it may be, doesn't want inflation to seep in the election year, chose not to raise fuel prices domestically and kept subsidizing power tariffs.
The media had also become a nuisance, highlighting government excesses against "students" of Jamia Hafsa and Lal Masjid and giving them more prominence, while in fact the increasing activities of the Tehreek-e-Taliban Pakistan was being ignored.
In light of this situation, Iftikhar Muhammad Chaudhry made a defiant stance and refused to get removed. With the election year well under way, the opposing parties found a rallying point and provided support to the "Lawyers Movement". If one thinks that it was Iftikhar Muhammad Chaudhry and his lawyers who showed defiance, then they are sadly mistaken. An involvement of PPP workers and PML-N workers in the movement gave it the necessary leg strength. Why they did it, only God knows for this man, Iftikhar Muhammad Chaudhry, took his revenge on politics and democracy than those who did anything wrong to him.
As many as 13 PPP workers were killed when a suicide bomber struck outside Islamabad courts awaiting for the Iftikhar Muhammad Chaudhry's arrival. No other political party can even claim losing workers while supporting that man.
In July 2007, his brother judges restored him to the position of CJP. While one expects dictatorships to hit back and stop all dissent. The Musharraf regime accepted his return albeit with a pinch of salt. Instead of correcting what was wrong with his personality, Iftikhar Muhammad Chaudhry went on with his vindictive attitude against Gen Musharraf and the PPP. While a number of times he didn't listen to cases related to the PPP, he immediately began hearing cases which were in cold storage for a long time. First was to release javed hashmi, then parliamentary leader of the PML-N. Then he began challenging the presidential elections which were supposed to take place in September of 2007. One after the other he was taking steps which were not in the name of rule of law but to disrupt the process towards democratic rule. While he was expected to rule General Pervez Musharraf's reelection void, Emergency Rule was declared and a new set of judges were asked to take oath on Provisional Constitutional Order.
That's where the real politics of Iftikhar Muhammad Chaudhry comes into play. He apparently declared the Emergency unconstitutional and those who take oath under the PCO to be invalid. As the case is, the oath by judges is taken, however, the act of forgery committed by Iftikhar Muhammad Chaudhry and his fellow judges will go down as one of the biggest acts of cheating and deceit with the whole nation in the name of rule of law. According to a recent petition filed by Justice (retired) Yasmin Abbasey:
"That in view of the aforesaid mis-statement of CJP Iftikhar Muhammad Chaudhry who was the author of judgment of 31-7-2009, certain questions and doubts cropped up in mind of the petitioner as to the genuineness of this so called order of 03-11-2007 and the dubious characteristics of this so called order were unmasked when a draft of that so called order came out in public through some source with definite evidence of forgery. A mere glance or a bare perusal of that draft of the said so called order is enough to discover the humbug placed by CJP Iftikhar Muhammad Chaudhry and his fellow judges in their judgment of 31st of July 2009 to gain sympathy of the public by deceiving the people of Pakistan in a manner hitherto unknown in the judicial history of this country. When this fact of forgery of CJP Iftikhar Muhammad Chaudhry came to the knowledge of petitioner, she in May 2010 in Criminal Original petition No.9/2009 raised almost 40 questions, with reference to the so called order of 03-11-2007, before Supreme Court. But as Supreme Court headed by CJP Iftikhar Muhammad Chudhry had no answer to those questions therefore he avoided the same and went on to render an illegal and illogical judgment removing the majority of the judges of the superior courts unconstitutionally and victimized the petitioner in particular by depriving her from her services as well as service and pensionary benefits.The facts of forgery committed by CJP Iftikhar Muhammad Chaudhry brought forward with sufficient evidence makes out at a case of gross misconduct and extreme form of corruption against him as stipulated in Article 209 of constitution of Pakistan, therefore it is requested that till decision of this reference service and pensionary benefits of all the respondents be withheld, otherwise the very purpose of filing of this reference will be frustrated". https://lubpak.com/archives/293687
Comments
comments