Third national #media conference by Individualland @individualland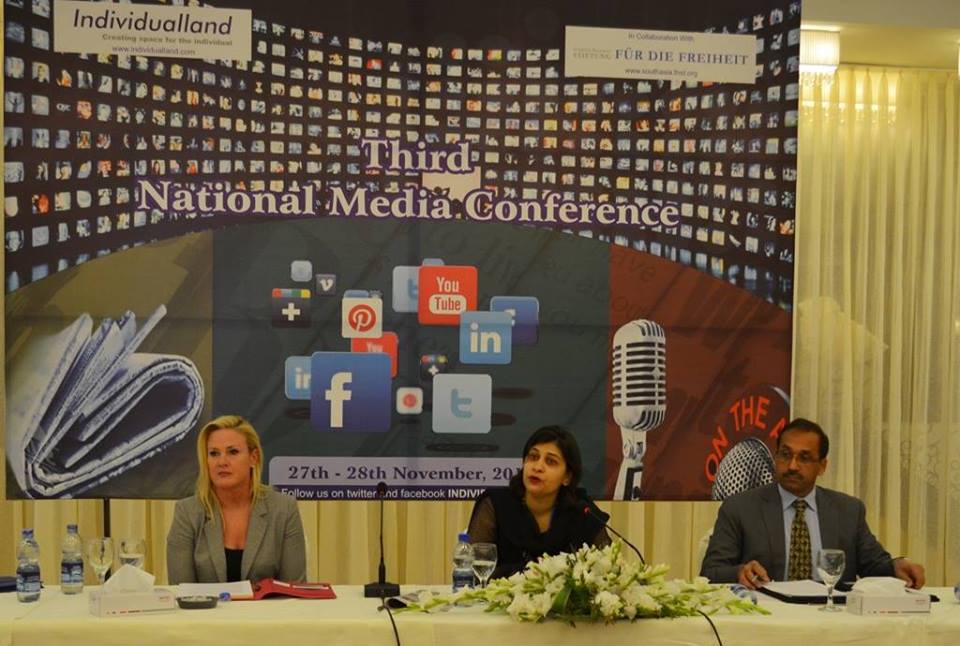 The two-day of media conference entitled "Evolution of Media: requirements, facts and fears from a free, independent and responsible media's (FIRM) perspective" arranged by Individualland(IL) in collaboration with Friedrich-Naumann-Stiftung für die Freiheit (FNF), drew a large number of journalists from all parts of the country including a strong representation from a frontline province in the war against terrorism, Khyber Pakhtunkhwa and from southwest province of Balochistan, one of the high rates in the world for journalists killings.
Terming media an integral part and pre-requisite for a strong and stable democracy, US Embassy Counsellor for Public Affairs Angela Aggeler said training of media persons is a must to make them capable of providing accurate information to the general public.She said that provision of accurate information to the general public is one of media persons' main responsibility.
"Media need to provide accurate news to the general public as provision of false information is better than no information, as false information is highly dangerous for state and general public," Angela Aggeler said.
Aggeler said all of us witnessed quite an eventful past decade in and around Pakistan and the citizens would not have felt more informed without the existence of a free and independent Pakistani media. "When I was a child, there were less sources of getting news but nowadays, news can be read even on mobile phones," she said.
"I sometimes visualise our media as a car racing event, where every driver wants to reach the finish line before the other without caring for smaller bumps and speed breakers and without looking into the mirror. But now it is the time to introduce a rearview mirror in these cars." These were the opening remarks of Individualland Pakistan Executive Director Gulmina Bilal Ahmad.
Ms. Gulmina said that according to PFUJ as many as 18,000 journalists working in Pakistan of which 80 percent were aged 40 or younger, however there is no proper training mechanism to train them. Similarly, countries all over the world have proper system of addressing complaints related to the media, however, in Pakistan there is no one to answer questions of media consumers, she said.
She also said that the main objective of the National Media Conference 2013 is to get an idea from journalists as to what can be done to improve journalism in the country.While highlighting the importance of right to information (RTI) law, Centre for Law and Democracy Executive Director Toby Mendel said that the quality of access to information is improving with passage of time. "Pakistan had adopted Right to Information Law in 2002 but unfortunately it is a very week law," he said. He appreciated the right to information law recently launched by the Khyber Pakhtunkhwa government.
Toby Mendel Executive Director Centre for Law and Democracy, while highlighting the importance of Right to Information (RTI) law, said that earlier, RTI law was adopted only in 14 countries, but presently 95 countries have adopted it including Pakistan due to which quality of access to information is improving with each passing day. He said that Pakistan had adopted Right to Information Law in 2002, but unfortunately it was a very weak law. Pakistan got very low points in a survey that was carried out to check the usage and quality of RTI law world-wide, he said. Toby appreciated the Right to Information law recently launch by Khyber-Pakhtunkhwa government. Right to information law is one of a powerful tools for journalists for breaking news stories, he said.
Mukhtar Ahmed Ali, Chief of Party Citizen's voice project also highlighted the need of 'RTI' and the role of media in a democratic society. He said that KPK government has launched a strong RTI law, but unfortunately federal government and the government of Balochistan have taken no initiative in this regard. Zahid Abdullah, Center for Peace and Development Initiative, who is an expert on the subject matter focused on the implementation of RTI. He further added, "Although the right is in existence from more than a decade now, but its implementation is still weak."
Speaking on the occasion Daily Times Editor Rashed Rahman said that there was a legacy in Pakistan of the government and its structures withholding information from the public. "The small number of requests submitted for access to information were because of long procedure and expectations of disappointing outcomes," he said. Rahman said society wants access to information but government does not want it. After independence, he said, Pakistan inherited a colonial and non-transparent system and that same system was still operational.
Speakers at a conference stressed for capacity building of working journalists and urged strengthening the press clubs with the purpose to ensure freedom of press in the country. All the panelists unanimously agreed that the press clubs are faced with massive problems like corruption and influence of government. Expressing his views on lack of training or nourishing of new journalists, Kamal Siddiqui said that senior journalists are not helping their juniors in grooming themselves and this is one of the reasons the standards of journalism is going down.
Civic Action Resources Media Development Director Adnan Rehmat said that number of trainings for journalists is not reflecting the quality of journalism, hence there is need to improve quality of trainings. During a session titled "Pakistani media, a graveyard of trainings he said that as many as 96 journalists killed in the line of duty in the country, Rehmat emphasised the need to improve quality of trainings.
Senior journalist Ikram Hoti said the media had transformed into 'militant media', proposing drastic changes including imparting of training to working journalists. According to him, the state media was still the same and following the same old trend of controlling information which was dangerous for the citizens.
President Karachi Press Club Imtiaz Faran said that despite being the pioneer of press clubs, Karachi Press Clubs is faced with challenges like sectarian issues, adding that there are around hundred press clubs, however most of them have failed to practice their roles.
Highlighting press clubs' role in protecting and promoting democratic values, Imtiaz Faran, President Karachi Press Club, narrated how they were resisting demands to either relocate the press club or stop public demos there, as the club falls in the red zone.
Arshad Ansari, said there has been Section 144 imposed around the Lahore press club for years now to discourage public rallies there. "But we never accepted this restriction, and daily demonstrations tell us that nobody accepts it."The panel also discussed ways to overcome financial problems of the clubs.
Ansari said Lahore Press Club's annual budget was over Rs30 million. "Punjab government contributes a mere Rs2.5 million, and we raise the rest through advertising hoardings and other means."He said it is shameful that a subeditor gets paid less than a constable in this country, and sought NGO sector's help in overcoming financial problems of the clubs.
President of the PFUJ Afzal Butt emphasized the need to differentiate between clubs and unions. "Club's basic purpose is recreation of members whereas a union strives for media workers' rights."But Matiullah Jan took a swipe at the way affairs were being managed at clubs and by the unions. "A club is meant to be just a facility. Its elected body has to exercise its role within the club premises."He said corruption is rampant at most press clubs and questioned why public funds are not distributed equally among all the recognized press clubs."Unfortunately, clubs are richer and more powerful today than unions, which have lost all their credibility.
Clubs should be restricted to their basic role i.e. facilitation of members and the unions should assert themselves." Instead of clubs, we should be strengthening unions, Mati concluded.
The chair Saleem Shahid agreed that the profession is faced with all these problems due to its rapid expansion over the last decade.Senior journalist Mazhar Abbas said clubs are important but should not overtake the unions. He said many union and club members do not fulfill the membership criteria and hence all these problems.For press clubs, he proposed other ways to generate funds, like enrolling diplomats as ex-officio members, than submitting before the government.
Nighat Dad also urged for training of journalists and added that highlighted the importance of social media can be judged from the fact that most of the mainstream journalists are now taking the route of social media to spread their news stories.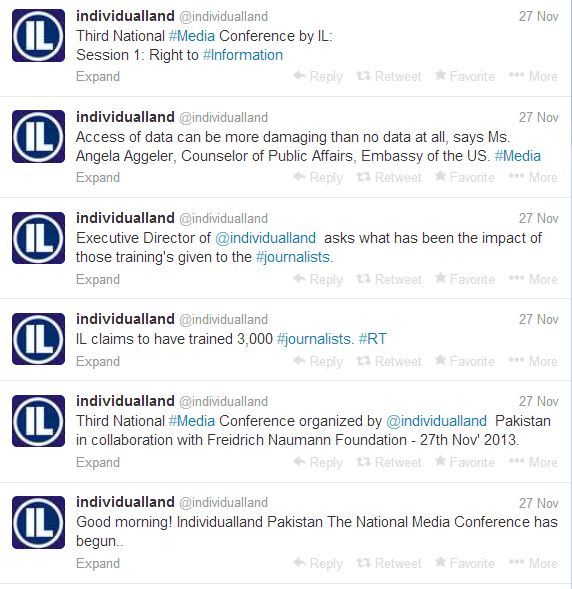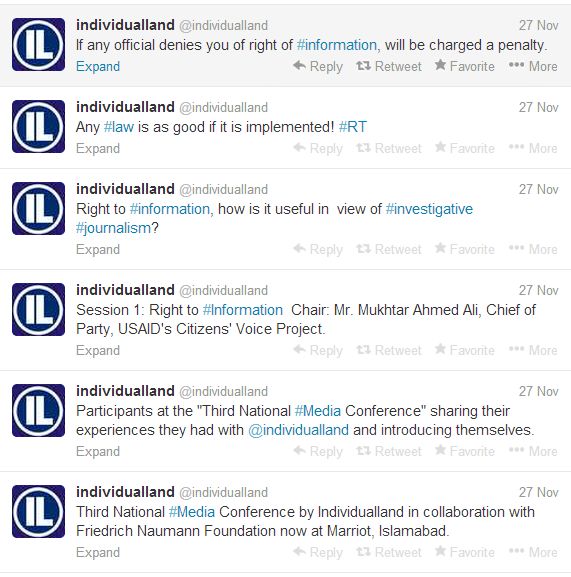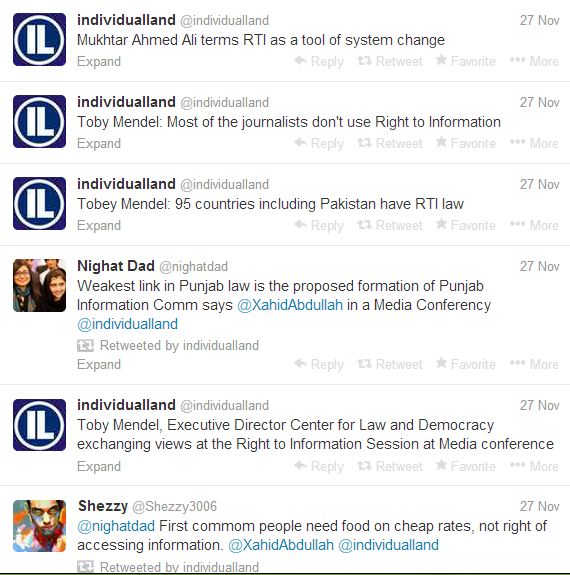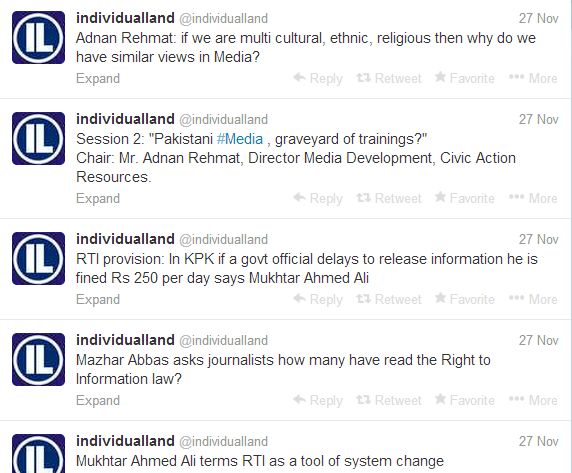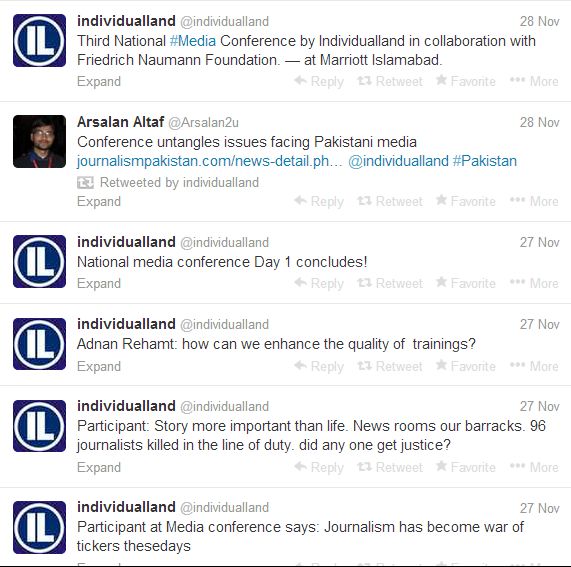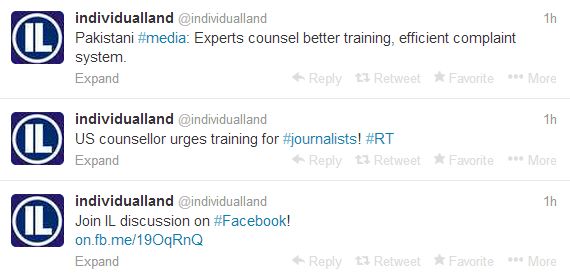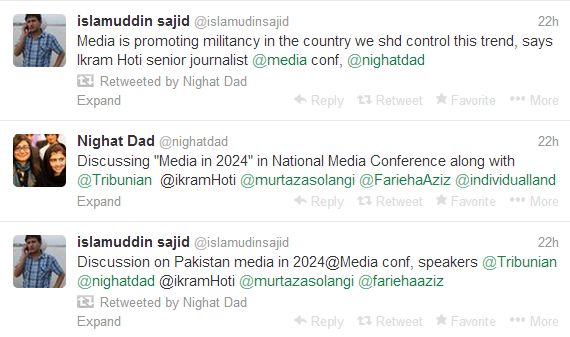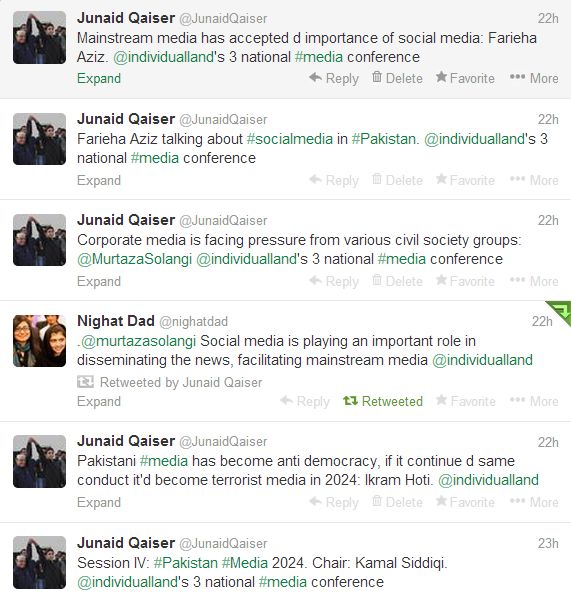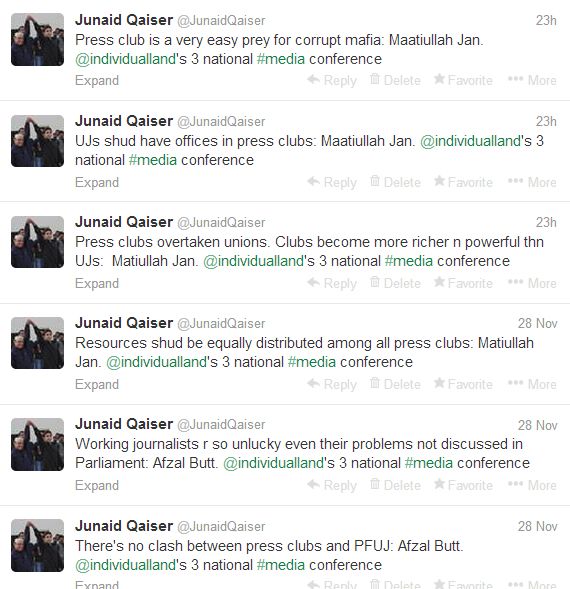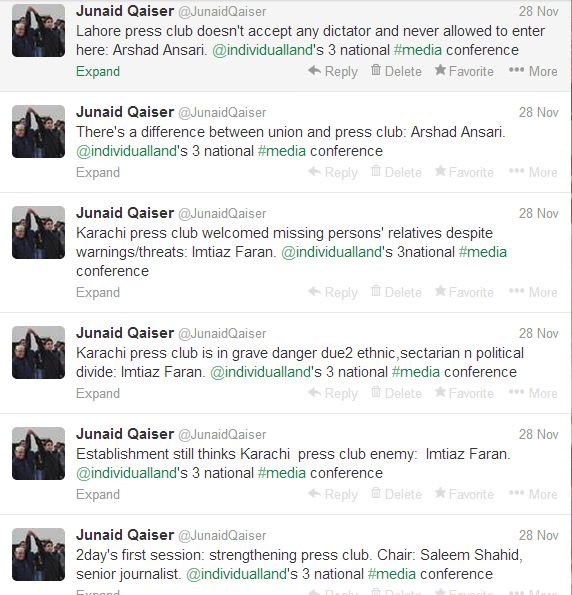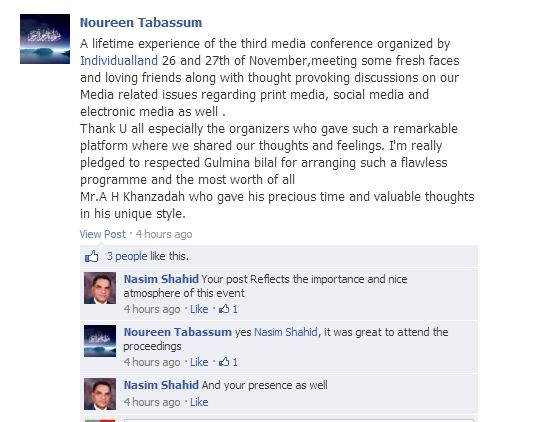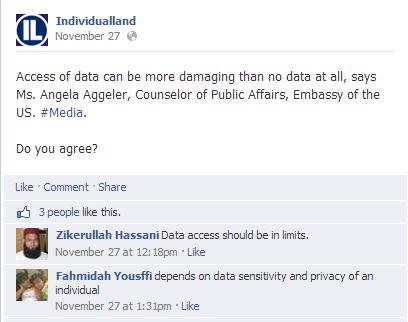 Comments
comments