Eyewitness account from Rawalpindi Procession – by Mohammed Ali
I already tried to convince a lot of my friends and I was the first to tell the story on my page. But no one believed me coz I did not have any convincing video. There facts given in the initial articles posted by you are quite right. What I heard when I got there was that the Molvi in the mosque was giving some furious speech against the procession and in the favour of Yazeed. Praising Yazeed and naoolubillah condemning the grand son of the Prophet PUBHP.

Real story of ashura day violence in rawalpindi 3 LeJ/ASWJ terrorists killed by police inside the deobandi mosque from Progressive Shia Activists on Vimeo.
At that time there were quite a number of mourners( mostly Zanjeer zan) were already there waiting for the procession to reach there as it's a custom to wait there and get a place well ahead so that one gets the first turn to do matam with zanjeers. When they heard the molvi giving this speech they raised the slogan of Labbaik Ya Hussain which went on for a while. At this time the molvi threatened them that if they didn't stop this procession then he will make some arrangements himself to stop it. Then the mourners started banging the grills of the shops beneath that mosque as the mosque has the main entrance on the opposite side. then some of the people from the mosque and adjacent rooftop of the seminary started throwing bricks and stones. At this time first the mourners dispersed to save themselves from the bricks.
Then a few went forward to react the same way. This continued for a while and the people in the procession at the back came to know about it and started running towards the battle ground. It was then when some gunshots were heard from above. Till now no one has seen who fired those shots but a few got hit and fortunately or unfortunately there was no casualty at that time. At this time I reached there with my 2 year old son in my lap, they were carrying two injured mourners, the procession dispersed to save their lives and policemen were winning the race. When everyone got settled a bit, it was then some cursed the police and some did beat them and snatched their rifles. They started firing towards the mosque and I saw a trail of smoke rising from the back side of the mosque during the gun battle. Note that there was no procession on the back side and no one went there coz it was on the front side where all this was going on. As there was a sun shed just beneath the mosque, those who were trapped beneath it tried to break the grills of the market to enter the mosque. after a while and between few gunshots after every second or so, some managed to break that grill. After that I could not see how many entered first but I saw about 20-30 people mostly youngsters running towards the mosque.
I heard some gunshots from inside the mosque and they carried a body of a 14-15 year old boy who was wearing black clothes, obviously he was shot when he entered the mosque. then they took out 3 people from the mosque and beat them quite badly, which I later came to know that they died. The loud speaker we had was too loud coz some mourner was giving a moral boosting speech with slogans of Labbaik Ya Hussain. No one knows what happened within the mosque, but those who entered were throwing things from above,some clothes and stuff like books furniture etc.. I was there for 2 more hours until maghrib when the police commandos reached there. It seemed that nothing has happened but the procession did not proceed ahead from Fawara Chowk which is about 100 meters from the mosque. I went in front of the mosque for the first time at around 4pm when I could see a small flame in the market beneath the mosque which turned in to a big fire within a while when the gas pipe line blew up. The trail of smoke got bigger but most of it was still rising from the back side and no one could tell what has happened on the back side. Note there is a different road and cloth market on the back side. I didn't see any dead bodies being thrown from above like being told by many.. it certainly didnt seem that around 90 people died etc..everything got quiet for quite while but the fire grew bigger. Now some true facts. Our Shia brothers did enter the mosque and kill some people there. Some even stopped fire brigades and beat their drivers in front of my eyes, they were very angry and didn't want them to put down the blaze. I heard from a very dear friend of mine who is a doctor in the army that he received a dead body in CMH, it was of a child whose throat was slit, which was later proved to be the spark for unrest in Hangu/kohat etc coz the boy belonged to that area they literally waved his dead body in front of the whole community and bazars there to raise anger and hatred.
It was a tragedy in which Shias were forced into a mob response versus a sensible response.  It seems the government and administration ensured that stupid Takfeeri Molvi had all the means to be the cause of all this. Me and my family feel more insecure now because we worked very hard to reach where we are now, and it seems that some day someone will be knocking our doors as well. Pakistan is not safe any more, it's a country which now belongs to savage animals. They think Shias to be worse than animals, disrespect our sisters and parents, abuse us openly on every forum, their comments are disgusting, they talk about slaying our children within our homes now. Above all they have started a campaign to stop the processions and no one is dear to us than these processions.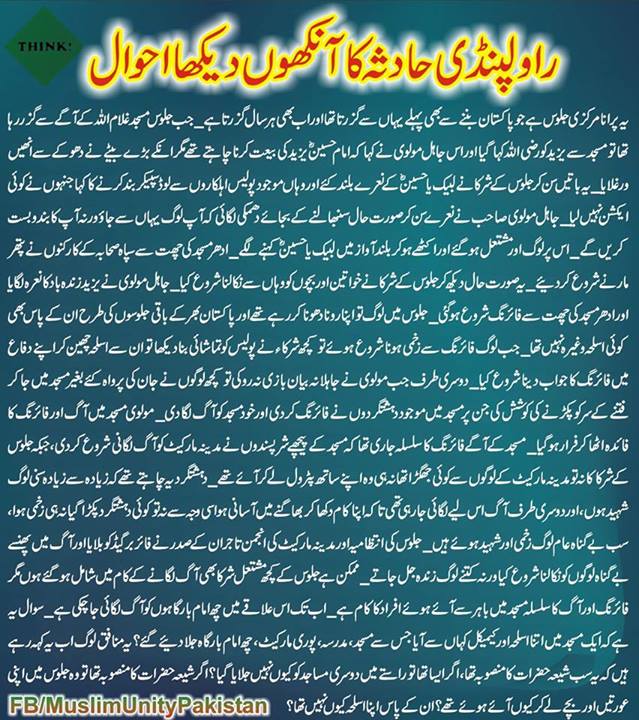 Comments
comments