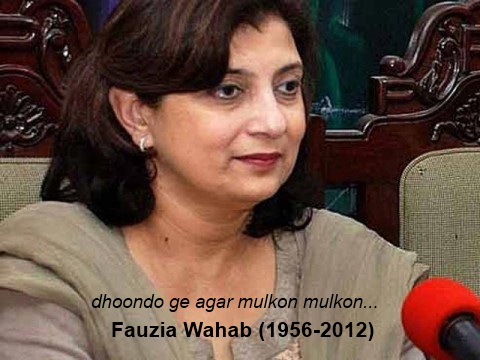 On November 14, 1956, Pakistan gave birth to a gutsy woman who stood up for what she wanted. She played a major role in empowering Pakistani women. She spread smiles with her wit and spoke out in spite of criticism. Throughout her life, Fauzia fought for democracy, human rights and women's empowerment. Through sheer hard work, dauntlessness and sincerity, she became the face of the PPP.
In countries like Pakistan, it is difficult for a woman to participate in politics and earn the kind of respect Fauzia was destined to get. Through her visible and indirect role as PPP MNA and office bearer, she accomplished milestone after milestone for women's empowerment. She played a key role in a number of bills related to their empowerment, changing the face of how women are treated in Pakistan.
She never shied away from helping women who hailed from lower and middle classes. In fact, many women felt secure in sharing their problems with her. Her efforts for making quiet, oppressed Pakistani women come out of their shell and ask for their due rights are commendable.
Fauzia embarked on her political career by volunteering for the PPP in the 1988 general elections. In 1995, she became the information secretary of the PPP Sindh Women's Wing. She also remained a member of the party's advisory council from 1994 to 1996 and chairperson of the Karachi Metropolitan Corporation's information committee from 1994 to 1995. She was mainly interested in foreign affairs, finance and women development issues. In 1998, Benazir Bhutto nominated her to become the Coordinator of the Human Rights Cell and she was tasked to correspond with human rights' defending organisations abroad.
In 2003, she attended a National Defence College course for bringing politicians and armed forces' personnel closer to each other. In June 2004, she was invited by the National Democratic Institute to attend the Democratic National Convention in Boston.
She was appointed information secretary of the party in 2009. She upheld the liberal face of the PPP in a highly polarised and charged environment of Pakistan. She was extremely outspoken against the enemies of Pakistan. During her political life, not even a single allegation of corruption was leveled against her.
Fauzia Wahab died on 17, June 2012 due to complications in elective gall bladder surgery in most expensive private hospital of karachi. She will be long remembered for her services to democracy, women empowerment, introducing secular and liberal values, spreading the message of tolerance and supporting the war on terror. On August 14, 2012, the president of Pakistan honored her with a posthumous Hilal-e-Imtiaz award for her services to democracy and parliament. Leading journalist, mujahid barelvi compiled a book of tributes which captures the essence of Fauzia Wahab: "a smile never dies".
Our leadership lacks courage to speak the truth over the issues related to war on terror, Fauzia Wahab had openly debated those issues in the media and received death threats for speaking the truth. The trust deficit between souring Pakista-US bilateral relations, be it raymond davis issue or drone issue or OBL killing, Fauzia Wahab always tried to bridge the trust deficit between Pakistan and US. Regarding these issues and drone in particular. Regarding drones, She said "There is a segment in the country that supports drone attacks, and they feel that drone attacks have been helpful in eliminating many militants".
She worked for the larger interest of the nation contrary to other other politicians who are working towards self-interest. Fauzia Wahab did her best to reduce misunderstandings between the two countries and she is role model for rest of politicians, all politicians should follow her path.
Fauzia Wahab's death was a big blow for Pakistan and the vacuum created after her death will never be filled. When I think about it all then I feel that people of Pakistan were never as poor as they are today without Fauzia Wahab on her 57th Birthday. Happy Birthday to you Fauzia Wahab.